If you've ever stepped on a sharp rock or slipped on a dock, then you know how important wearing the right footwear is when at the beach.
And the best aqua shoes can make all the difference.
For adventurers who engage in outdoor activities that involve frequent transitions between water and dry land, aqua shoes are your best friend. These shoes provide ultimate comfort for every kind of water activity. These reliable shoes serve two important purposes — protection to prevent cuts and abrasions, and traction to avoid slippage.
But choosing the perfect pair of aqua shoes can be confusing.
Not sure what's the best fit for your feet? Don't worry, we've got you covered. Here is our list of the top 5 best aqua shoes in 2023: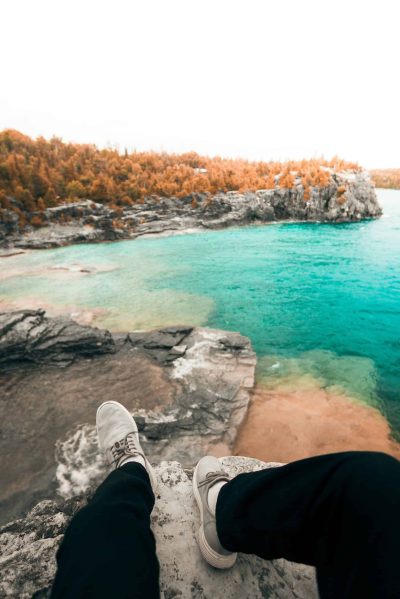 1. Merrell All Out Blaze Sieve
By providing the perfect balance between a sandal and a shoe, the Merrell All Out Blaze Sieve provides users with the best of both worlds. Its smart design features a waxy nubuck leather that has been tested as being 100% water-resistant and neoprene uppers which provide sufficient protection from abrasions. It is this unique combination of materials that gives this aqua shoe its quick-drying capabilities. With a reliable grip and stiff outsole, these aqua shoes provide excellent grip and traction — so you can go from sand to water with ease.
 Key Features:
Sturdy Vibram outsole

Waterproof nubuck leather

Neoprene uppers

Bungee cord lacing system

Neoprene collar

Protective toe cap

3mm lug depth

Unify midsole

Antimicrobial technology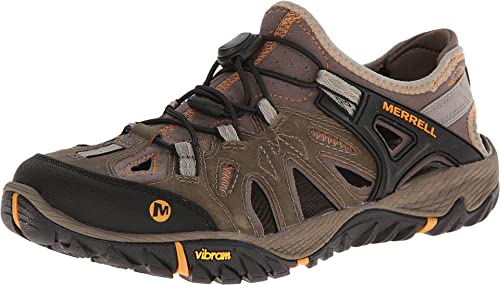 Verdict: The Merrell All Out Blaze Sieve is designed as an closed-toe sandal but has less bulk than your typical hiking shoes. It provides sufficient protection for your feet but without compromising on breathability and flexibility. These aqua shoes are completely adjustable, with a bungee cord lacing system and elastic neoprene collar that provides a snug fit — guaranteed to keep you on your feet no matter the terrain.
2. WAVE RUNNER Water Shoes
Looking for a budget friendly option that won't empty out your wallet? Then the WAVE RUNNER Water Shoes are your best bet. This slip-on pair does not trade off when it comes to high quality features, with comfort being its core purpose. It comes with breathable mesh fabric combined with tiny drainage holes over the whole shoe, making it both breathable and lightweight — perfect for any kind of water sport, from kayaking to surfing. It also has a lot to offer when it comes to traction, featuring thick, anti-skid outsoles that offer maximum traction even if you just got out of the water.
Key Features:
Non-slip anti-skid thick rubber outsole

Breathable mesh lining

Multiple drainage hole sole

Elastic auto adjustable laces

Breathable stretch upper

Verdict: Designed specifically to combat Australia's hot weather, the WAVE RUNNER Water Shoes are jampacked with features that can keep your feet cool even on the warmest of days. Its elastic auto adjustable laces keep your feet in place while stretch mesh uppers provide the right amount of cushioning for your feet — minus the extra weight of traditional sports shoes.
3. ALEADER Men's Mesh Slip On Water Shoes
From scrambling over rocks to running on the shore, the ALEADER Men's Mesh Slip On Water Shoes are a perfect fit for anyone who enjoys water sports. Much like traditional sports shoes, this pair features a thick sole with a slight raised heel. But upon closer inspection, the soles are not solid but is scattered with holes that allow for easy drainage. It's also constructed with a breathable mesh upper with relatively large holes — adding to its quick-drying capacity. An internal cushioning system also adds an extra layer of comfort to keep you on your feet for longer.
Key Features:
Thick rubber sole

Breathable mesh upper

Hot melt overlays for support

Synthetic hot melt toe caps

Quick adjusting elastic bungee

Removable footbed

Integrated drainage system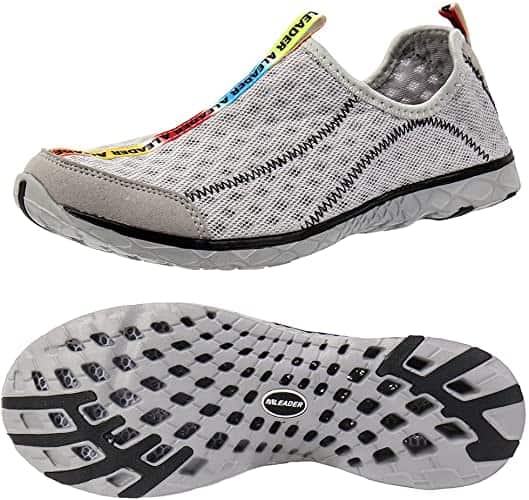 Verdict: With features that specifically to an active outdoor lifestyle, the ALEADER Men's Mesh Slip On Water Shoes can transition from fully submerged to dry with ease. Its high quality rubber sole is designed specifically to provide maximum traction on slippery wet surfaces, while sections for lateral support keep your feet snug inside while you're in the water.
4. SPEEDO Men's Surfwalker 3
Durability is the name of the game when it comes to the SPEEDO Men's Surfwalker 3. This lightweight sports shoe features a tight fitting slip-on design that is easy to take on and off, but stands its ground in heavy currents. At the top of its many quality features is its sticky, rubberized outsole that showcases the Speedo brand's S-TRAC technology — a unique grip that not only improves traction and performance, but also does an excellent job at dispersing water to keep your feet clean and dry.
Key Features:
Neoprene-free construction

Hydrophilic insole

Engineered mesh uppers

S-TRAC rubberized outsole

No-slip grip

Slip-on design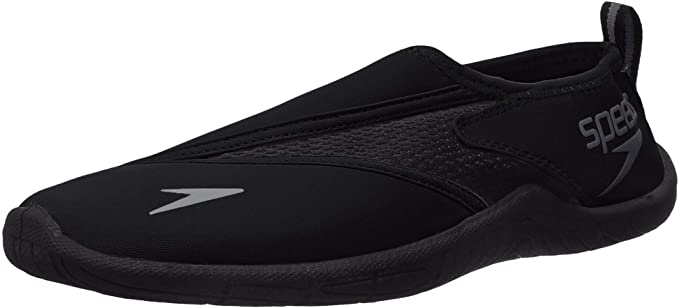 Verdict: The Speedo brand is a household name when it comes to sports shoes — and the SPEEDO Men's Surfwalker 3 is no different. The breathable mesh upper drains water well and isn't heavy when wet compared to other aqua shoes that are constructed with neoprene fabric. Its hydrophilic insole is completely waterproof, while sole channels keep water out so you never have to worry about slipping on wet surfaces.
If you're not comfortable wearing closed shoes at the beach, then the KEEN Evofit One is a great option for you. This pair is designed as a cross between a sandal and a shoe, but still remaining durable with its added protective toe guards. Its standout feature is an Evofit upper made of synthetic fabric that has a unique 4-way dynamic stretch — intended to adapt to the natural movement of your feet to relatively increase performance when doing water sports. This upper is infused with a quick-drying component that improves overall breathability.
Key Features:
Evofit fabric upper

4-way dynamic stretch

Thermo Polyurethane inserts in midsole

Aquagrip traction

Metatomical footbed

Rubber toe cap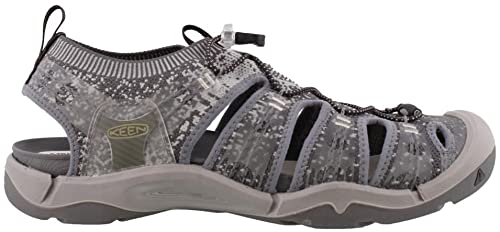 Verdict: At first glance, the KEEN Evofit One looks like your regular hiking sandal — but it is actually equipped with lots of water-friendly features. At the top of this list is its Thermo polyurethane inserts in the midsole that add stability and durability — specially engineered to provide arch support and properly cradle the feet for a more snug overall fit.
THE BEST AQUA SHOES -- WHY SHOULD YOU BUY ONE ANYONE?
Flip flops are great, but let's face it — they can't provide the protection you need in and out of the water.
This is especially true in Australia, where enjoying the outdoors means treading through hot sandy shores and rocky sea floors.
1. They protect your feet
Aqua shoes cover your entire foot, offering full coverage against cuts and abrasions.
This comes particularly handy when wading through water with unpredictable terrain.
2. They provide traction and support
Wet environments are slippery — so you'll need extra support when treading through water.
The best aqua shoes grippier and more aggressive tread patterns coupled with deep lugs that provide superior traction.
3. They keep your feet comfortable
Aqua shoes are flexible and made with well ventilated material, usually mesh, that is both lightweight and breathable.
Unlike regular shoes which retain water, aqua shoes don't get waterlogged when wet and are designed with multiple drainage points and perforations that help your feet dry quickly. This not only reduces the risk of developing blisters, but also saves you from carrying extra weight on your feet.
THE BEST AQUA SHOES -- BUYING GUIDE
Choosing the right aqua shoes could spell the difference between a good and bad day at the beach.
If you're planning on buying your first pair, here are a few important factors to consider:
This is one of the most vital considerations especially if you engage in water sports like kayaking.
The best aqua shoes need to follow your movements well and need to be flexible enough to adjust to different kinds of terrain.
Flowing water and a rocky seabed can easily gnash in your shoes.
Try choosing aqua shoes that will serve you for a long term. Look for shoes with sturdy outsoles that won't wear out quickly.
Closed toe aqua shoes protect your feet from possible cuts and abrasions.
Opt for aqua shoes that are constructed with thick soles and built-in toe guards to keep your feet safe. You can also choose shoes that provide great arch support, especially when you have muscle or foot problems.
Similar to climbing shoes, the best aqua shoes use a specialized sticky rubber that grips surfaces well. It's also important to choose shoes with outsoles that are razor-siped or feature a tread pattern to keep you on your feet at all times.