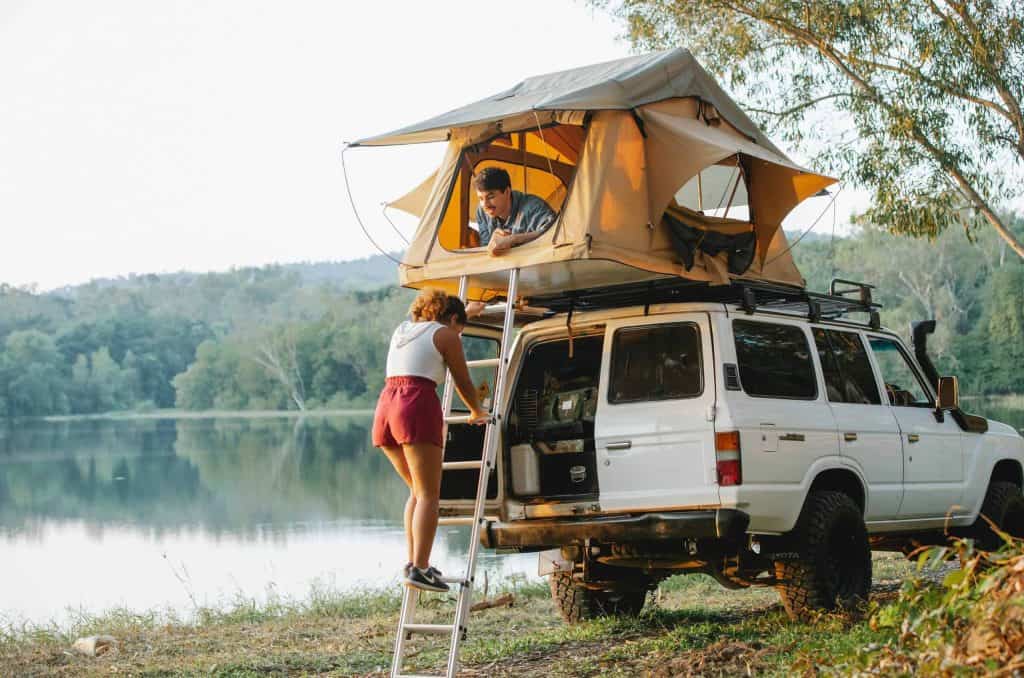 After a long drive, the last thing you want to do is spend hours trying to set up shade.
The solution? Adding a 4wd awning to your vehicle. Specifically, you'll want best SUV awnings.
Awnings are the perfect accessory for your next family outdoor activity because it provides an extra surface of protection close to your SUV — but with less hassle and installation time compared to traditional tents. It's also one of the most convenient and reliable ways to protect yourself from any sudden change in the weather.
But with so many choices in the market today, choosing the right awning for your SUV can be tricky.
If you're not sure where to start, we've got you covered. Here is a list of our top 9 picks of the best SUV awnings in 2023:
Planning to go an off-road adventure by yourself? Then you'll love the beginner-friendly features that the RHINO RACK Batwing Awning has to offer. This awning features a one-person installation process — it comes complete with ropes, pegs and poles that are all packed and stored neatly for easy access. When you're done, you can simply pack it away into its PVC bag, so it's ready for your next outdoor trip.
Key Features:
11 sqm total coverage

210D polyester ripstop canvas

Pre-set awning legs

UV 50+ sun protection rating

Large branded zipper tabs

Magnet locking feature

Black powder coated poles and frame

Front plastic moulding for impact protection
Verdict: Because this awning features a batwing design, the RHINO RACK Batwing Awning offers 270 degree coverage that covers both the side and rear of your SUV. It has also been tested against hot weather, and features a high UPF rating of 50+ to provide maximum sun protection. It comes in both right and left hand models.
Whether you're stopping on the side of the road for lunch or setting up camp for the week, the BUSHWAKKA Next Gen Extreme 270 Awning has got you covered — literally. These SUV awnings are mounted on the top of your SUV and unlike others on the market, don't come with any support poles or legs. But despite this, it's extremely durable featuring a heavy duty hinge and a quality square tube aluminum frame with 2 tubes at the base.
Key Features:
600D ripstop canvas fabric

PU waterproof coating

UV 50+ rating

2.5m total coverage

L brackets for mounting
Verdict: With a simple pole-free design and high quality features, the BUSHWAKKA Next Gen Extreme 270 Awning is built for the sunny Australian weather. It features a durable ripstop canvas enforced with PU waterproof coating and a high UV 50+ sun protection rating. This awning also comes in a modern grey color with heat repelling features to keep you cool even in summer.
If privacy is what you're looking for, then the ADVENTURE KINGS Awning Tent is the perfect choice for you. This accessory features a traditional side awning which you can easily convert into a fully enclosed tent — the ideal companion for any overnight trip. The sides are easy to install with tough velcro straps and a sailtrack/zipper front skirt. And the best part? You won't need to worry about sudden rainfall, since this awning is fully equipped with polyethylene bucket floor that is completely waterproof.
Key Features:
170gsm polyester side

2.5 meters coverage

Waterproof polyethylene bucket floor

Durable velcro straps

Sailtrack/zipperfront skirt

Sandfly and midge proof mesh windows
Verdict: As its name suggests, the ADVENTURE KINGS Awning Tent combines the best of both worlds. It gives you a completely enclosed sleeping area while still being lightweight. To ensure proper airflow, this awnings feature mesh windows and door flaps. A zippered internal door ensures you're safe and protected, especially at night.
Going on a quick 4×4 tour or a trip to the beach? Get on board with the Aussie adventurers who already love their awnings! Bring along the Dune 4wd awning to give you the shade you need when relaxing and enjoying the wonders of Australia.
Key Features:
Waterproof
200gsm ripstop canvas material
UPF50+ sun protection
PVC-reinforced corners
With 1000D PVC cover
Rollout design
Aluminium poles with twist lock mechanism
Verdict: Use Dune 4wd awning for your warm camping, hiking, or expeditious trips and have reliable shelter and protection from harmful UV rays or light rain showers. With its top-class features, it is sure to last long and give you a flexible and comfortable experience. 
Traveling is a great way to explore new places and learn about different cultures. However, it's important to remember that safety and protection should always come first. With the Dune 270 Awning Tapered Wall, it is the perfect addition to your journey. 
Key Features:
Alloy pole material

8 Oz polycotton canvas
With 2-year warranty
UV50+ sun protection
100% waterproof
Verdict:  The Dune 270 Awning Tapered Wall provides an extra layer of safety, security, and comfort during your travels so you can focus on exploring the world without any worries. It ensures that you can always stay safe during any outdoor adventure, so don't forget to pack your Dune 270 Awning Tapered Wall for your next trip! 
Awnings are a great way to keep the sun and rain off of you while you're relaxing outside. and whether you're traveling across the country or just enjoying your backyard, the Dune 4wd 270° awning will provide protection wherever you go. You can now enjoy the great outdoors in style, safety, and comfort. 
Key Features:
11 sqm shade coverage

200gsm ripstop and silver-coated canvas

Aluminium poles
Includes 1000D PVC cover
UPF50+ sun protection
Twist lock mechanism
Verdict: Going on to adventures and taking risks while exploring new territory can be a lot of fun, and if you are looking for ways to stay cool in the warm summer sun or remain dry during wet winters or when it's raining, the Dune 4wd 270° awning is your ideal companion for any outdoor adventure. 
Keep cool, have fun, and be able to enjoy the warm or chilly outdoors with the Rhino-rack Sunseeker awning. With its fantastic shade coverage, you'll be prepared for anything mother nature throws your way during your ventures.
Key Features:
Anodised aluminium telescopic poles

UV50+ rated sun protection
PU 2000mm water-resistance
210D R/S waterproof canvas material
Sunseeker extension adaptor included
With PVC 540gsm heavy-duty bag
Verdict: Hot summers and wet winters shouldn't stop an adventurer at heart and the Rhino-rack Sunseeker awning is your must-have companion on your trips that will help you to keep going. Whether it's family day or just a lazy day in the backyard, you are all set to be comfortable. 
Lightweight and budget friendly, the Oztrail RV Shade Awning is a must-have for every outdoor adventurer. It is compatible with your SUV but comes in the size intended for an RV — so you can expect this awning to have a larger coverage area. It comes with several tough and reliable features, including a heavy gauge aluminum frame that sets up instantly in just a matter of minutes. The design promotes easy access, with a UV reinforced vinyl storage case that allows for hassle-free and fast packing.
Key Features:
SatProof 800+ ripstop canvas material

Taped Dryseam fabric

PVC reinforced front corners

Aluminum frame with 25mm twist lock side ridge

UV reinforced vinyl storage case

Complete with pegs, ropes, and 2 L shaped attachment brackets

One year warranty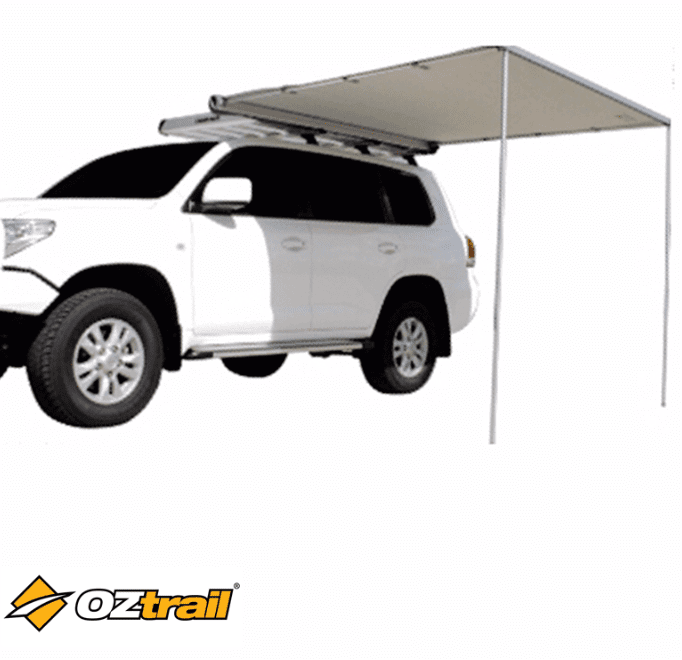 RRP $345.00 - Price: $203.00
Overnight camping can be a struggle for even the most experienced camper; but the IRONMAN 4×4 Instant Awning will help make it a lot easier. These SUV awnings come with some unique features — a built-in dimmer for LED light strip so you see easier in the dark, coupled with glow-in-the-dark guy ropes so you can still set up properly even if you arrive late at the campsite.
Key Features:
280gsm ripstop polycotton fabric

Flexible nylon joints

1000D PVC cover

UV 50+ sun protection rating

Glow in the dark guy ropes

Integrated dimmer for LED light strip

Seam sealed stitching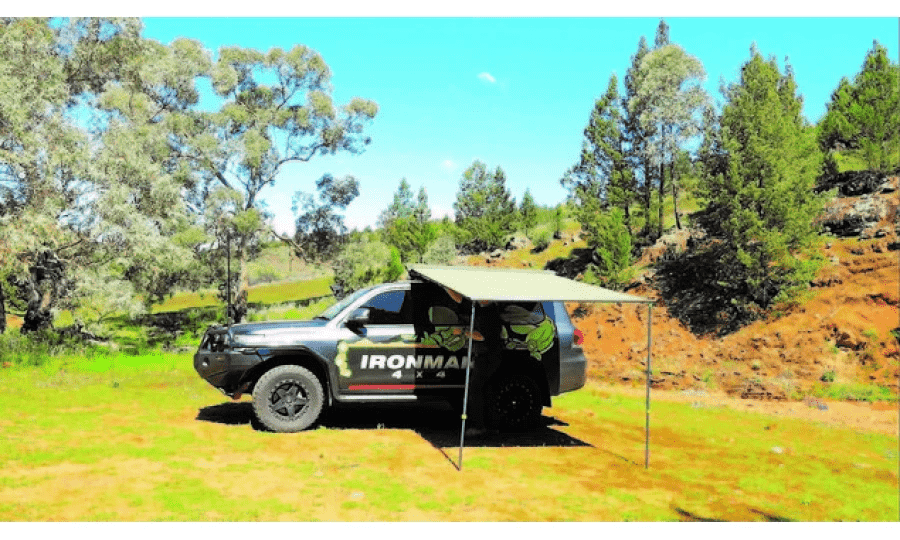 Verdict: Featuring a durable and compact build, IRONMAN 4×4 Instant Awning is a great accessory to have onhand especially during rainy season. It features cam-lock telescopic uprights and supports with flexible nylon joints that allow wind to pass through without damaging the structure. These SUV awnings are made more secure with the use of pull over clamps.
THE BEST SUV AWNINGS -- WHY BUY ONE ANYWAY
If you love going off-road camping, buying an SUV will make all the difference. And the addition of a 4wd awning is undoubtably the best move you can make.
Here are three reasons why you need to buy your own car awning before your next outdoor trip:
1. Creates a stable covered area extending from your vehicle
Every four-wheeled traveler will appreciate any extra space.
The best SUV awnings will create a cozy, intimate space near your vehicle so you can have a little bit of privacy in the outdoors. It's also a handy accessory to have when camping with the family, as it turns your SUV into a mini apartment where you can all relax and have fun.
2. Provides extra protection in case of inclement weather
Let's face it — nothing ruins a camping trip like sudden rainfall.
The good news is: most SUV awnings comes fully equipped with specialized features to combat the elements. The best ones feature waterproof fabric coupled with rust-resistant steel frames to keep you dry during any unexpected storm, as well as UV protected material to keep the heat and sunlight at bay.
Imagine getting instant shelter in just a matter of minutes.
Typically, awnings are mounted onto the top or rear of your SUV — so that all that's left for you to do is to pull them out and peg the legs into place. It's a one person job that any first time camper can do with ease.
THE BEST SUV AWNINGS -- BUYING GUIDE
Choosing the best awnings for your SUV is an important decision for any off-road adventure.
To give you a head start, here are some common factors to look out for:
Some awnings are specific to RVs and are heavier and bulkier, which is a bad fit for SUVs.
It's important to measure the length of your vehicle against the awnings, and determine where you want it mounted. Some come with additional attachments like poles that will require proper configuration, but it's nothing a manual can't fix.
You want an awning that will last long, and good quality material will help you achieve this.
When shopping for the best SUV awnings, you might notice that most awnings are made of ripstop polycotton with a gsm ranging between 200 and 400. A rule of thumb is to choose a gsm number that is somewhere in between, as you want something that is thick but still lightweight enough to carry on the stow on top of your SUV.
Are you planning to go long-distance camping or just an off-road day excursion?
If your trip lasts only overnight, then a simple pull out awning will be enough. But if you plan on staying longer, it's a good idea to get a larger awning with more coverage and with side walls, since you'll need protection not just for yourself but also for your SUV. If you want to use it for other purposes, you can opt for a custom-made design instead of buying ready-made awnings.
We know how unpredictable Australian weather can get — so it's important to always be prepared.
To help you with your choice, a rule of thumb is to go for either polyester or cotton or both. High-density knitted polyethylene material can provide up to 99% UV protection. It's also important to choose material that has a waterproof membrane which ensures that water will not penetrate the awning but instead roll off it.