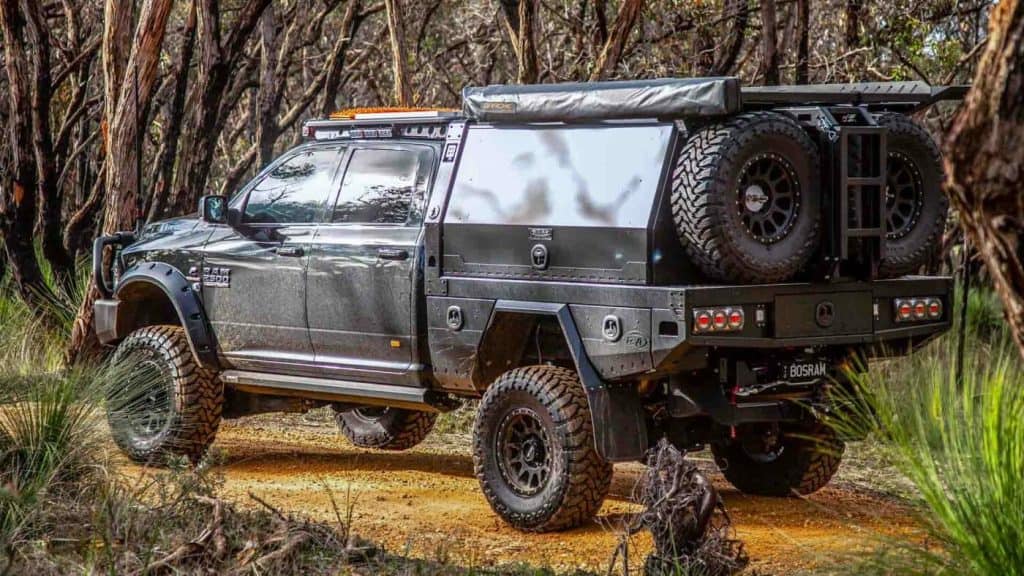 Looking for a new addition to your UTE?
If you spend most your time on the road, then chances are you're looking for increased load capacity for your utility vehicle. And the best thing you could invest in is a canopy tray.
UTE canopy trays are one of the most sought after additions that pickup owners look for — and it's easy to see why. These trays give you all the storage space you need without compromising on flexibility, safety and organization. Not to mention it also adds an element of style to your UTE, with lots of customized designs to choose from. It doesn't get much better than that!
The problem is: with so many options on the market today, choosing a canopy tray that fits your particular needs can be a daunting task.
Not sure where to start? Don't fret — we've got your covered. Here is a rundown of our picks for the top 5 best canopy trays to buy this year.
1. Dunn & Watson Standard Aluminum UTE Canopy
Dunn & Watson is a household brand when it comes to canopies — and their Standard Aluminum UTE canopy stands out as one of their products. This canopy is known for being durable, its best feature being its 3mm aluminum flat sheet. It also has one of the best security features, including key lockable doors as well as a custom made drawer system for easy access.
Key Features:
2.5mm aluminum checkerplate for extra durability

Gas strut assisted doors for easy opening

Stainless steel piano hinges with nylon covers that protects against dust and moisture

Stainless steel folding T handles

Rubber weather seals around all doors to prevent any twisting

Braced frame that includes the doors

2-year full warranty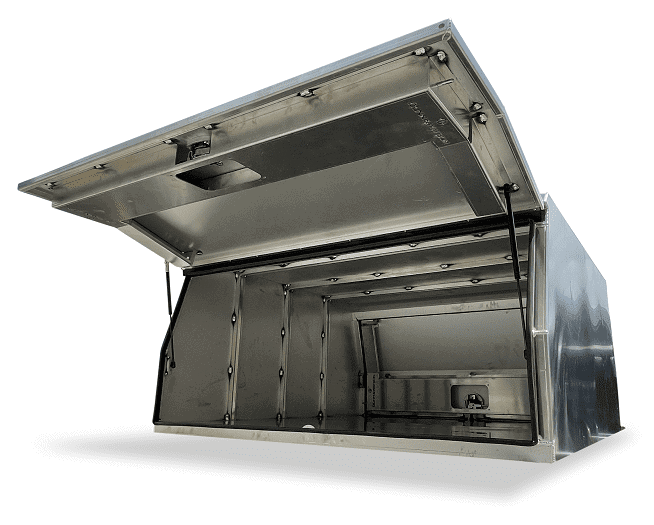 Verdict: Whether you're a tradie, camper or just a 4WD enthusiast, the Dunn & Watson Standard Aluminum UTE canopy has all the essential features for your outdoor needs. It also comes with heaps of extra accessories, so you can customize your canopy to suit your needs — from under-tray drawers, drop down ladders and even slide out kitchens.
2. Boss Aluminium M-Spec M1 Canopy
Bigger is always better — and this is particularly true when it comes to the M-Spec M1 Canopy. Its standout feature is its size which is able to fit large items. It also makes it easy to customize and add accessories. Like other canopies from the M-Spec line, this one also features a modular designed that makes it incredibly easy in case you decide to change your setup in the future. It also comes with an M-Spec spare wheel and jerry can holder.
Key features:
Standard M-Spec modular design

Adjustable tower system for more customizable design

Boss Alumium strong yet flexible construction design

Eberhard 3 Point compression locking system

Ripple Black power coating finish

Interior modules finished in M-Spec interior silver standard

M-Spec spare wheel mount

Jerry can holder

Optional 2pac color coded doors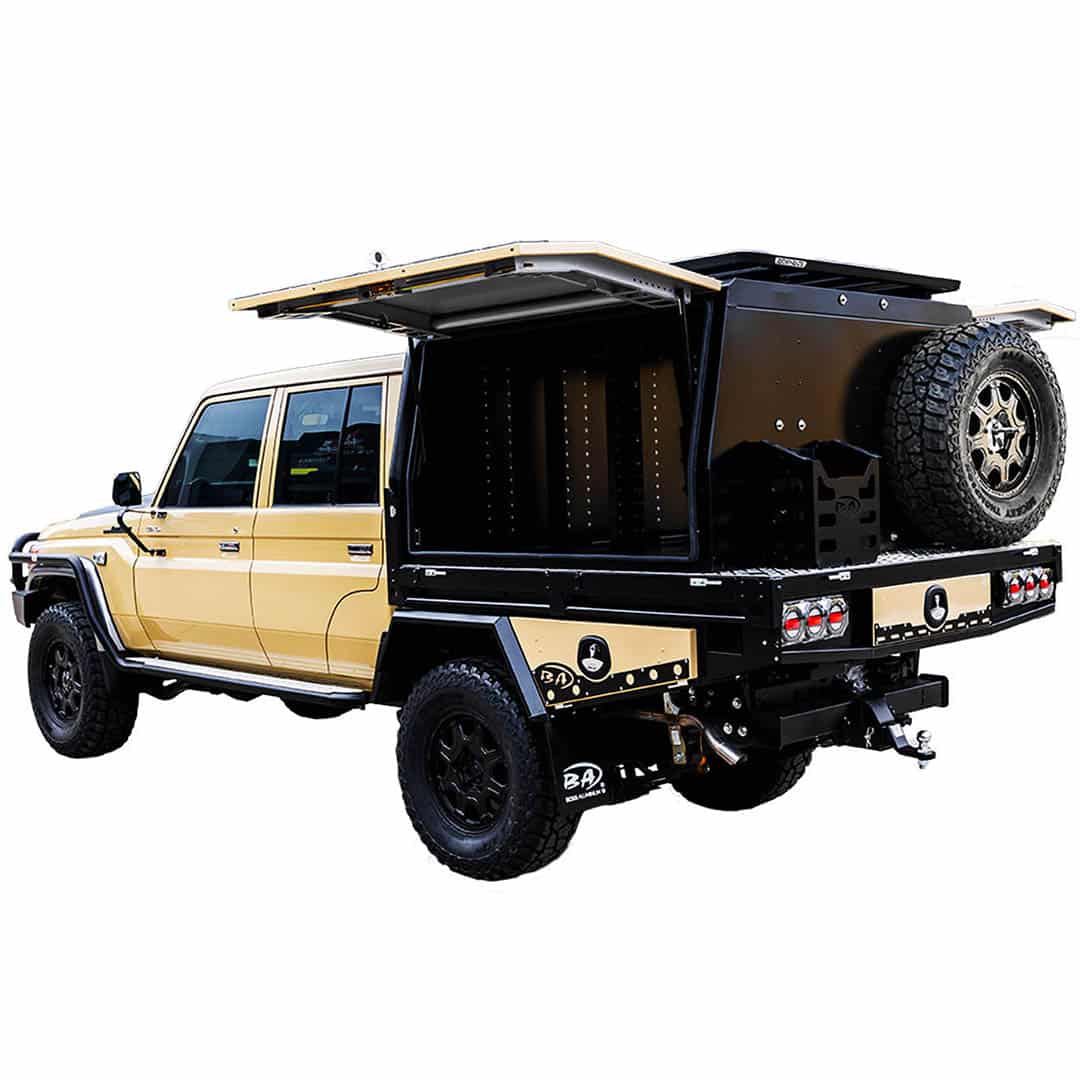 Verdict: The Boss Aluminium M-Spec M1 Canopy is a great choice for anyone who tends to carry a lot of equipment or tools when on the road. It's also entirely customizable for those who want to give it a more personal look. This is due to its Adjustable Tower System that allows customers to modify the setup of the interior layout of the canopy at any time.
The MRT Single Cab Canopy's main feature is its 2.5 Aluminium checkerplate. Made of strong aluminum, its construction is built to be highly resistant to corrosion and will not rust in any weather conditions. Compared to steel canopies, this one is designed to be used outdoors and its natural oxide layer contribute to its durability. It also comes in an affordable price range, as its high strength and low weight design yields a reduction of project and installation costs.
Key features:
2400mm x 1000mm

Heavy duty 2.5mm aluminium checkerplate

Full length piano type hinge

Weather proof seals to prevent moisture build up

Fully welded seams

Strong key lockable T-locks

In-built floor

Stainless steel hinges

Optional keyless lock system

Solar vent

Internal support

Black powder coat finish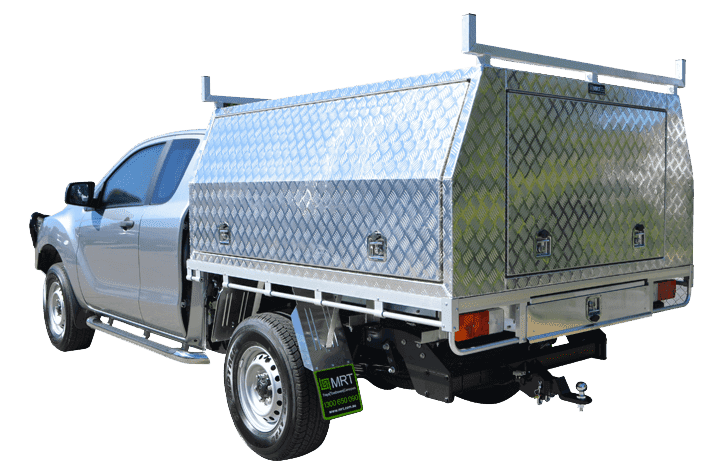 Verdict: The MRT Single Cab Canopy made to resist all kinds of outdoor elements. Aside from its strong aluminum build, its also reinforced with weather proof seals and fully welded seams designed to keep moisture and cold air out — providing a secure location to store your tools.
4. TLX 4x4 Heavy Duty Alloy 1000mm Lift-Off Canopy
As its name suggests, this canopy is built as a heavy duty option for customers looking to carry heavier set tools or equipment across the outback. What's worth mentioning is that it has a lift-off design. This allows you to enjoy the flexibility of two vehicles in one design. During weekdays, you can use it as your workhorse to carries tools to and from work. And on the weekends, the service body of the canopy can be easily lifted off your vehicle in case you want to carry larger load like bikes or surfboards.
Key Features:
Customized fitting

Heavy duty alloy build

Industrial grade hinges for added security

Weather seals to protect against the elements

Rain gutters and locking handles

Tube reinforced rigid gullwing doors

Integrated welded unistrut channel rails on the roof for mounting accessories

Automotive paint or optional black coat finish

Orange and white LED canopy lights

One piece flat floor with no lips or edges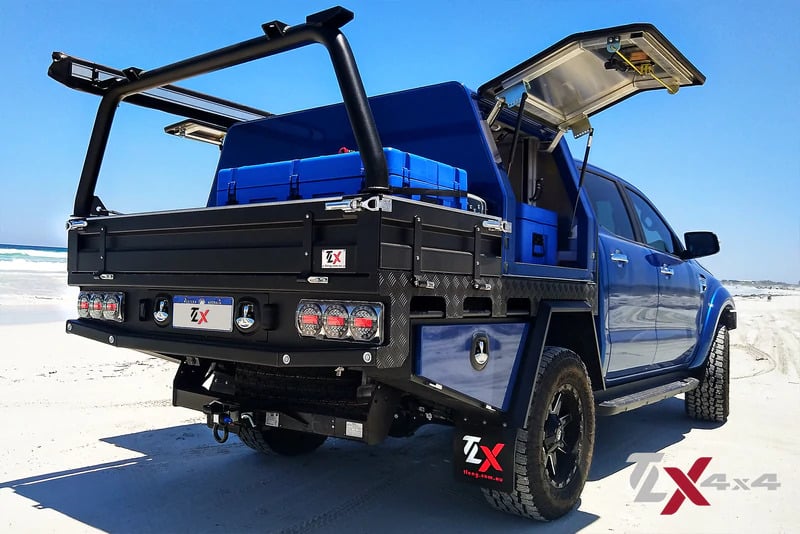 Verdict: This compact and stylish canopy is a great option for customers who need secure and accessible storage while still having the option to easily remove it in case they need a full tray in their UTE. The TLX 4×4 brand is also known for its versatility and compatibility — it can be paired with all types of Category A and B vehicles, from Ford Ranger to bigger American trucks.
5. AUTB Powdercoat Dual Cab Canopy
Unlike the usual canopies that come in either silver or black finish, the AUTB Powdercoat Dual Cab Canopy stands out as having a pearl white powder finish. Aside from its aesthetic value, the white powder coating adds to the steel's durability, helping the service body and frame of the canopy withstand damages and last longer. It also helps protect against moisture and humidity than can cause metal frames to rust.
Key Features:
1800 x 1800 x 860mm

Whie powder coat finish

Heavy duty 2.5mm aluminium checkerplate

Weather resistant rubber seals

Fully welded seams for added protection against moisture

Strong key lockable T-locks

Full length piano type hinge

In-built floor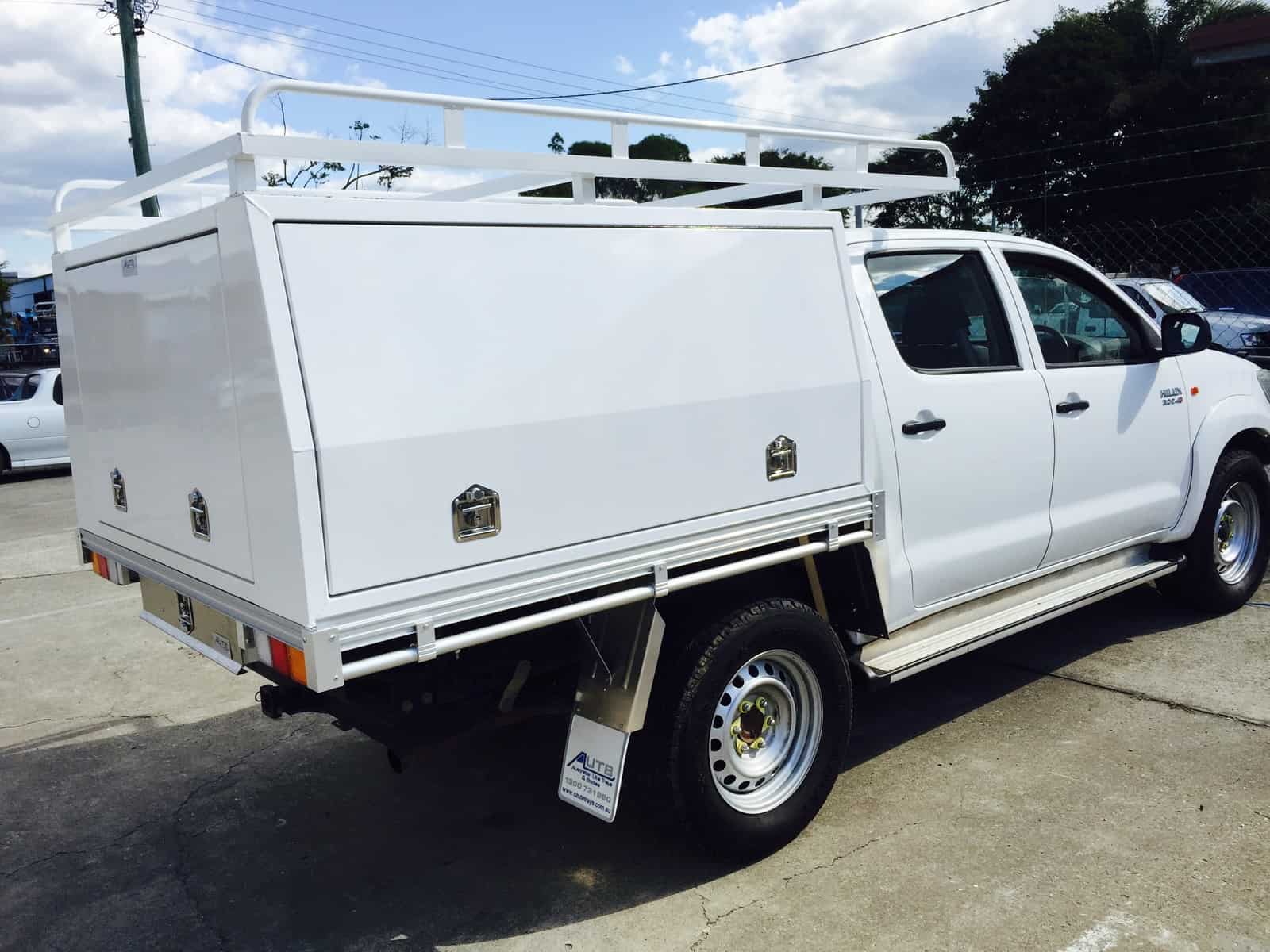 Verdict: Because of its stylish finish and weather resistant build, the AUTB Powdercoat Dual Cab Canopy is a great option for first time customers. It features a durable and flexible framework that is a great starting point for more personalized customizations.
THE BEST CANOPY TRAYS: WHY BUY ONE?
Canopy trays are the perfect combination of design and functionality.
Whether you own a dual or single cab UTE, a canopy tray will instantly increase your storage capacity. It also protects from all kinds of external influence, particularly when you're transporting large tools or sporting equipment. They even come with tempered glass options, locks, and other security features to ensure that your equipment is properly protected. 
Aside from its functional benefits, canopy trays also improve the appearance of your vehicle. With customized designs, it gives your UTE a modern and professional look -- it shows that you're fully equipped and organized.