Here's the real deal — you don't have to be an extreme sports enthusiast to love mountain biking.
What you really need is the right mountain bike.
In Australia, which is filled with outback areas striped with single-track, owning a mountain bike has become more of a right of passage rather than a recreational activity. The best mountain bikes are designed for off-road conditions — meaning they have bigger component parts in order to provide better adhesive friction when riding through steep slopes or trudging on uneven terrain.
Not sure which mountain bike to choose?
Don't fret; save the sweat for the trails as we detail out top 8 picks of the best mountain bikes in 2023:
From city roads to wooded trails — you can take the MARIN Eldridge 27.5 Inch Mountain Bike practically anywhere. At the top of its many notable features is its Shimano Altus 2×8 drivetrain that provides fast and controlled gear shifting that allows you to go slower or faster with ease. It also comes with different speeds so you can easily select the right gear for any terrain. The main aspect that makes this mountain bike comfortable is its SR Suntour Fork, as it holds the front wheel on the ground to provide better handling.
Key Features:
Series 1 aluminium frame

Internal/external cable routing

Rear brake mounts

Shimano Altus drivetrain

Tektro hydraulic disc brakes

Double wall aluminium wheels

27.5 dirt tires

Quick release seat clamp

SR Suntour Fork
Verdict: If you're looking for a versatile mountain bike, then the MARIN Eldridge 27.5 Inch Mountain Bike is your best bet. Its Series 1 aluminium frame with a replaceable derailleur is lightweight enough to help you climb steep terrain with ease and descend with confidence. This bike also features hydraulic disc brakes that have sufficient power to slow you down safely, even if you're running at top speed.
When it comes to steep downhill riding, you can expect the Polygon Siskiu D7 to hold its own. Thanks to its dual suspension system, this bike balances weight really well and even caters to riders over 6 feet tall. This bike features a Shimano Altus BL-MT200 hydraulic disc brakes that has enough power to make any sudden stops and with a lever reach designed for smaller hands — perfect for entry level riders.
Key Features:
Rockshox air spring fork

Shimano Deore wide-range drivetrain

32T Crankset

Dropper post

Dual suspension system

Rockshox recon silver

Shimano hydraulic disc brakes
Verdict: The Polygon Siskiu D7 has premium aluminium frame combines a front and rear suspension that absorbs shock incredibly well from the trail — giving your more protection from bumps and placing less stress on your wrist and elbows. Its Shimano Deore drivetrain is not only great at shifting gears, it's also ergonomically designed for an optimised shifting position.
Marin is a company known for mountain, road and even urban bikes, one of it is the Marin Alpine Trail Carbon 1 that you can ride to any trail. You can climb pretty much anything and more than capable due to its descending ability and notable features such as the unidirectional Carbon fiber front triangle frame and a Series 4 aluminium rear end.
Key Features:
Shimano Deore M6100 12speed drivetrain
Rockshox front and rear suspension
Shimano MT420 4-Piston Brakes
Maxxis Assegai 29×2.5″ Tubeless Tyres
TranzX Dropper Post
Verdict: With its monocoque angle, design, and construction, the Marin Alpine Trail Carbon 1 is perfect for technical and rough trails which Australia is perfectly known for. This fantastic bike is your companion for long trail travels. 
With affordable mid-range features, the Trek Marlin 7 makes a good entry-level bike for beginners as well as intermediate riders looking for an affordable replacement bike. Constructed with an Alpha Silver Aluminium frame, this bike provides you with a solid structure that is fairly sturdy. It comes complete with all the expected rack mounts so you can carry all the gear and accessories you need while on the trail. Weighing just over 31 pounds, this bike is light enough to keep your riding smooth and easy no matter the trail.
Key Features:
Premium aluminium frame

Shimano Altus 2×9-speed shifters

Shimano Acera rear derailleur

Gear indicator

Internal locking system

Shimano MT200 hydraulic dis brakes

Aluminium bontrager saddle and handlebar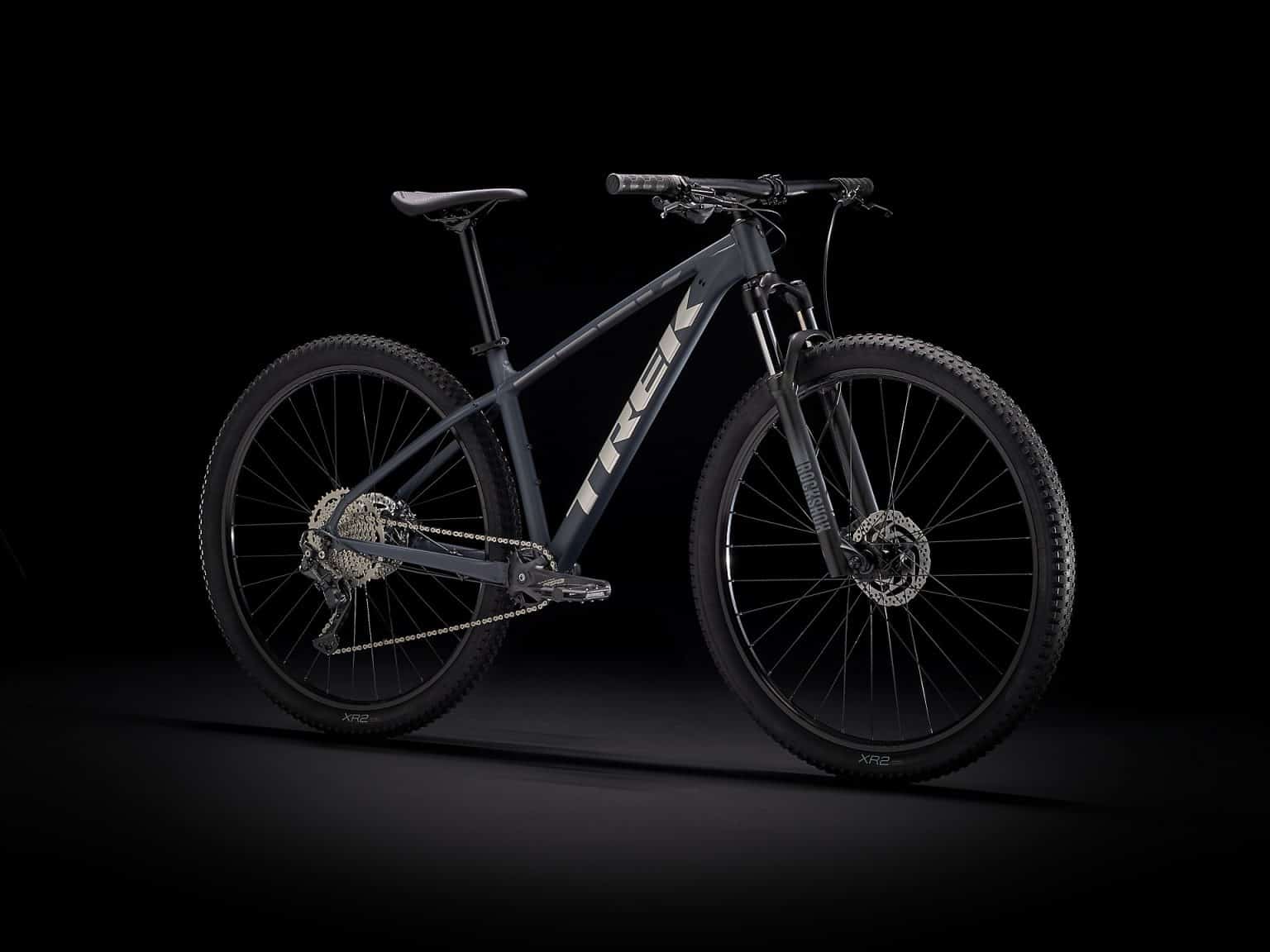 Verdict: The greatest advantage of cross country hardtail bikes like the Trek Marlin 7 is that it has less individual mechanical parts compared to full-suspension mountain bikes. This means that you spend less time — and not to mention money — on maintenance repairs. Its Shimano MT200 hydraulic disc brakes are capable enough to provide the level of control you need, especially on high-speed descents.
For an affordable option, check out the Polygon Cascade 4. It is a 27.5 inch hardtail and all-round mountain bike that is equipped with Shimano Altus/Tourney 3×8 speed drivetrain and allows you to ride different speeds on different terrain comfortably.
Key Features:
Shimano Altus / Tourney 3×8 speed drivetrain
SR Suntour XCE fork
Alhonga Hydraulic Disc brake
Alutech XC Sport aluminium frame
27.5 inch rolling wheels
With Rapidfire Plus technology
Verdict: Experience better handling, great breaking power, and control in rough terrains with the Polygon Cascade 4 mountain bike. It is a great entry-level bike and a perfect gift for startup adventurers with limited budget.
Ready for your best mountain bike ride experience? The Siskiu T8 from Polygon is part of Polygon's Flagship lineup from top-tier quality and components to progressive geometry. You can't really compare the ride experience unless you ride a phenomenal product with its pro-level quality build materials. 
Key Features:
Tranz-X Dropper seat post
Shimano SLX m7100 1×12 speed drivetrain
Fox 34 Rhythm fork 
Float DPS suspension 
Tektro HD-m745 Hydraulic disc brakes
6061 aluminium frame
Verdict: The T for T8 stands for Trail but thanks for its adaptable features, it can also handle climbing due to its design and optimized drivetrain, making it as one of the best for climbing and smooth shifting. If you're looking for a bang for the buck mountain bike, then choose the Siskiu T8 mountain bike.
 If you're looking for a budget-friendly option, then the GIANT Talon 2 is the best choice for you. But don't let its lower price tag fool you — this mountain bike is jampacked with entry-level features that can take you from one trail to another with ease. At the top of this list is its RockShox XC30 suspension fork which is a coil spring fork. This means it does an excellent job at buffering bumps compared to air spring forks, making it ideal for rocky and rough trails without weighing you down.
Key Features:
ALUXX aluminium frame set

2×9 speed Shimano drivetrain

11-35 cassette

Tubeless ready rims

TRP hydraulic disc brakes

RockShox XC30 coil spring fork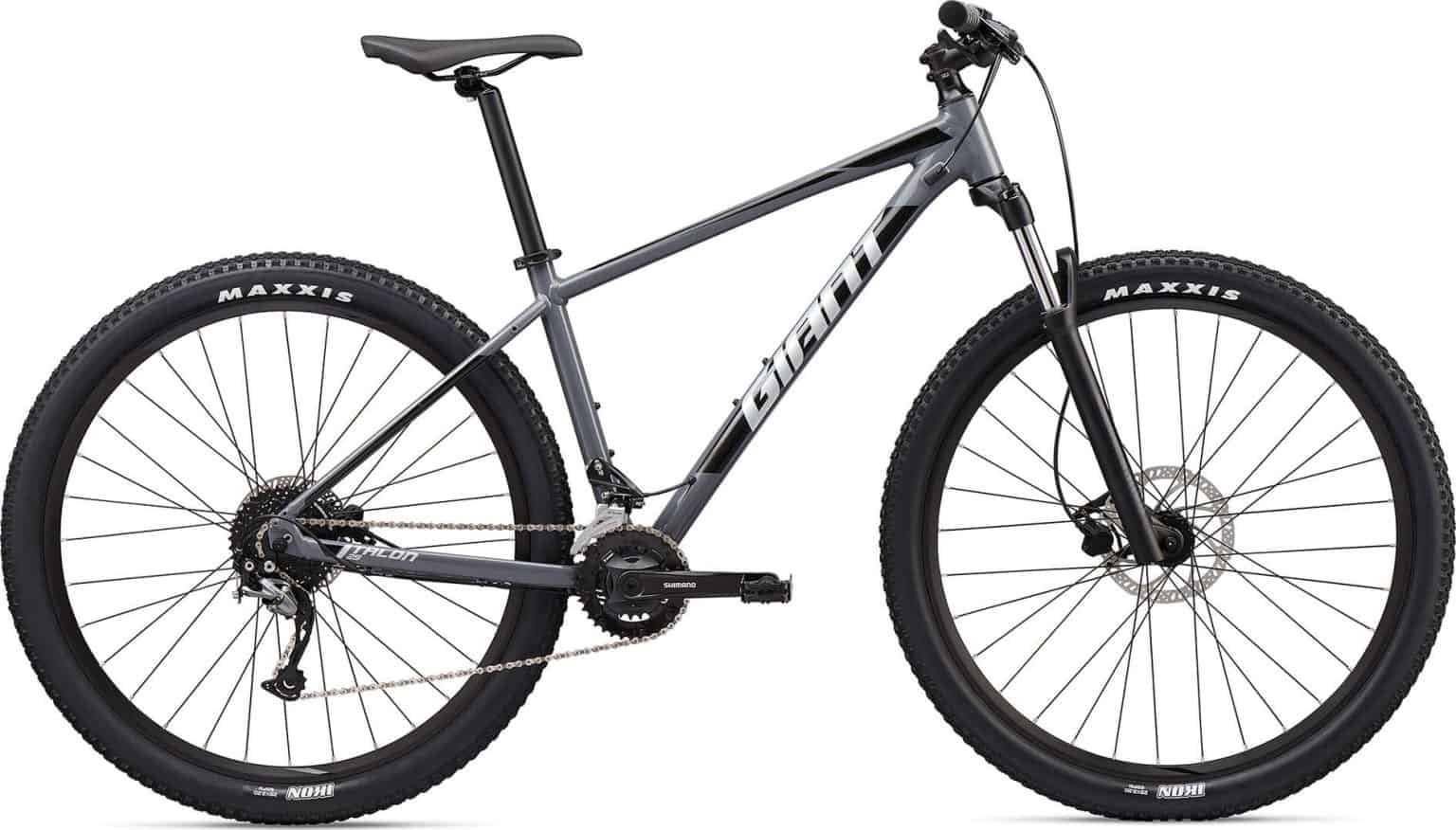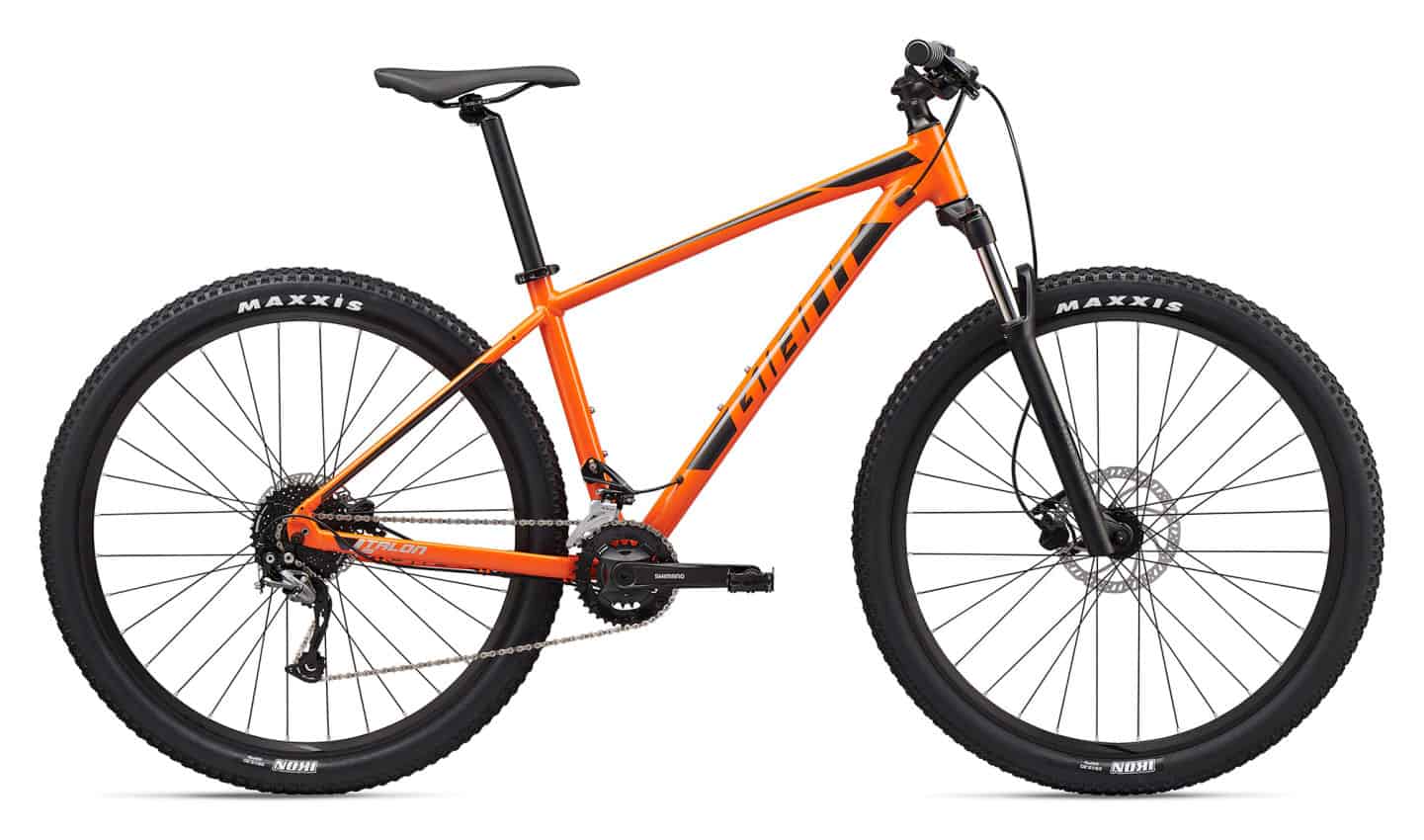 Verdict: Combining an affordable price tag and competitive features, the GIANT Talon 2 is one of the best options for any budget biker. Its 2×9 Shimano drivetrain gives you a decent amount of speed, while its chainrings provide you with a wider range of gears with lots of options in between.
If you have the need for speed, the Pivot Mach 4 will take you the extra mile. This competitive mountain bike features a carbon fibre frame with a featherweight construction that is bound to keep you riding fast even in the most rugged trails. Its a great fit for riders of all sizes, as it has a dedicated carbon layup to equalise the strength and stiffness throughout different ranges.
 Key Features:
Full carbon fibre frame

100mm renowned suspension

UDH rear derailleur

Full Fox live valve integration

Buit-in swing arm protection

Full length internal cable routing

Progressive XC geometry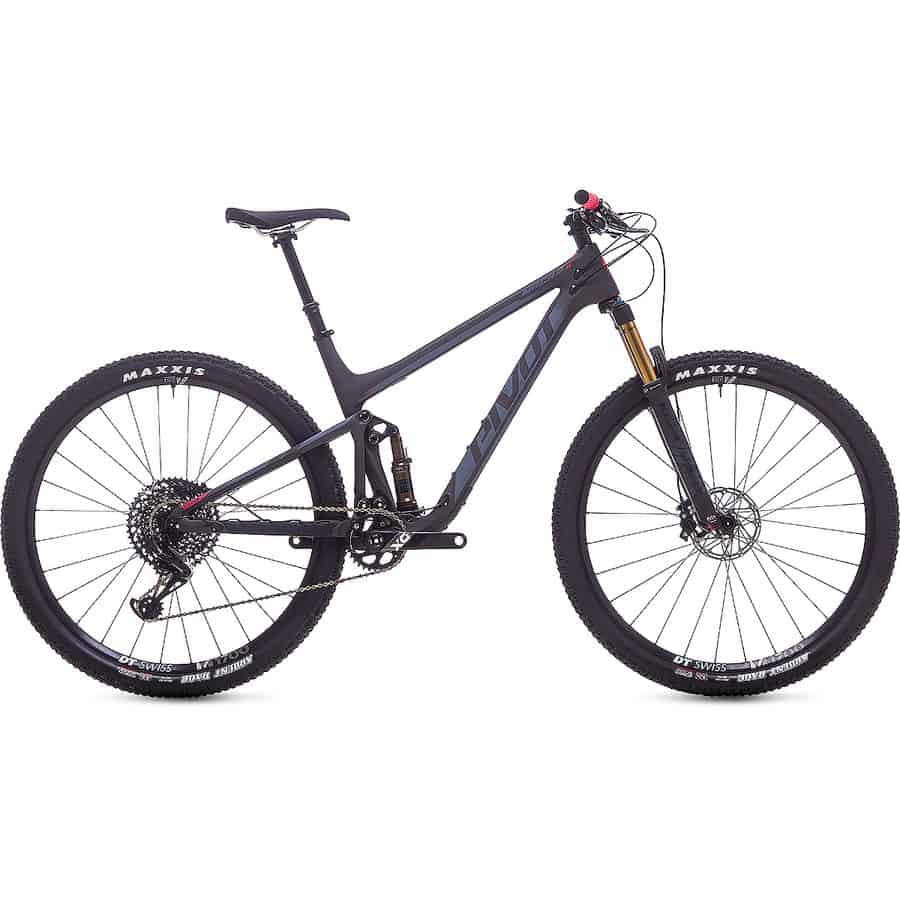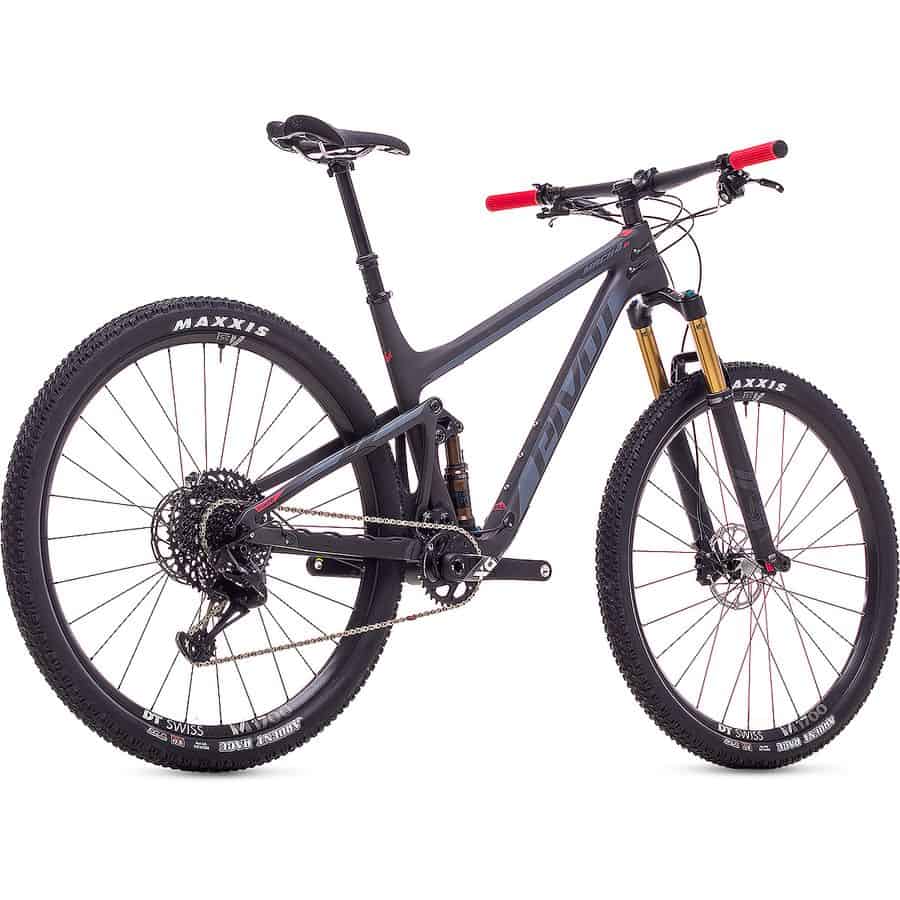 Verdict: Whether uphill or downhill, the Pivot Mach 4 is versatile enough to glide smoothly through. With 12 speed shifters, you can easily control how fast you are riding. Aside from great rear suspension, this mountain bike also comes with a lot of extra features like a built-in frame protection, Live Valve integration, and even a space of large water bottles on both sides.
THE BEST MOUNTAIN BIKES -- WHY BUY ONE ANYWAY?
From mossy Tasmanian forests to the single-track at Mount Kosciuszko, mountain bikes are one of the best ways to enjoy the best that Australia has to offer.
 If you're new to the sport, here are a few reasons why you should invest in your own mountain bike:
1. Mountain bikes have more pedal power
The best mountain bikes feature efficient designs that push your pedaling into a more forward motion. This is particularly important when you're going downhill, so you can get as much forward motion without putting too much stress on your legs.
2. Mountain bikes have more stability
Because mountain bikes have larger components, they allow for more stability in order to handle rougher terrain. They also come with suspension units that do an excellent job at absorbing shock, leading to less bumpy rides.
 3. Mountain bikes have more traction
Because both wheels absorb bump force, your tires stay more firmly planted on trail and provide better traction especially on slippery surfaces.
 4. Mountain bikes are easy to control
More traction also means you have better control over the mountain bike. Since the tires don't lose contact with the trail easily, you can dart left and right or stop quicker.
THE BEST MOUNTAIN BIKES -- BUYING GUIDE
Choosing the best mountain bike for your needs is vital if you want to get the most out of your outdoor adventure.
We're here to take some of the stress out of buying a new mountain bike. Here are are a few factors to consider when making your choice:
Type of Mountain Bikes
Rigid Mountain Bikes — These bikes have no suspension on the front fork or rear. They are great for riding on pavements are recommended for beginners.
Hardtail Mountain Bikes — These bikes have suspension shocks on the front fork, but not the rear. They are lightweight and affordable, making them great for cross country riding.
Full-suspension Bikes — These bikes have suspension on both the front and rear, making it more comfortable. They are generally heavier and more expensive, and are typically used for more technical trails.
Wheel Size
 The standard wheel size is 26 inches, but lots of biking enthusiasts prefer larger sizes, ranging up to 29 inches. But for beginners, a good entry level wheel size should be somewhere in the middle — 27.5 inches. These have the advantage of carrying momentum better and providing more traction.
Bike Frame
There are many options when it comes to bike frames, the most popular being: aluminium, steel, and carbon fibre.
As a general rule, aluminium is the ideal choice because it offers a good balance of strength, weight, and cost. It also has a reasonable amount of shock-absorbing power especially for hardtail bikes. Carbon fibre, on the other hand, gives you more control over the bike but lacks durability.