Travelling in Australia can often mean long hours behind the wheel, and being able to have cold drinks on demand will make any trip more enjoyable.
Having a car fridge has a lot of benefits, but gaining access to your fridge can be difficult especially if you've installed drawers or other modifications to your vehicle's storage space. The solution? Investing in the best fridge drawer slide.
But finding a fridge drawer slide that fits your portable fridge and meets all your other storage needs isn't the easiest of tasks. There's different kinds with varied features to choose from.
Sounds confusing? Worry no more! We'll take you through the basics with our list of the 
10 best fridge drawer slides in the market today.
Safer and smarter — this is what the MSA DS40 Fridge Drop Slide promises to provide. It features an innovative, patented design that allows you to safely lower your fridge for easy access to its contents. This means that the mechanism slides out and drops down, allowing you to dig around your fridge without having to struggle around in the back of your car. Despite its relatively compact size, its heavy duty enough to life and lower loads of up to 200kg.
Key Features:
Heavy duty 200kg slide runner rating

Patented drop down design

Unique lock in, lock out safety feature

Standard tie down straps and fixings

Fridge barriers for extra fridge protection

Pre-drilled tray holes

Stainless steel and blue anodised handle and face plate
Verdict: This slide is designed to slide smoothly out from its stowed position. It drops and lowers to a maximum height of 30cm and remains in a safe and easy position. This feature allows the tray to remain in a horizontal position the entire time. And because of its compact size, you can be sure that you'll still have a lot of storage space left in your vehicle.
If you're looking for more storage space, then the TITAN 130mm Drawers with Fridge Slide should be at the top of your list. This heavy-duty storage drawers already come with a built-in fridge slide on the top of the left hand drawer — so you get both a drawer and a fridge slide in one.
Key features:
Built-in fridge slide on left hand drawer

Extra strong pressed galvanized steel

1300mm deep from front to back

70 heavy duty sealed roller bearings

Lockable drawer latches

Second gen extra strong handle finishes
Verdict: Specifically designed for dual-cab utes, this drawer-slide combo measures 1300mm deep from front to back. Because of its two-in-one design, you get a lot of extra storage space while saving money at the same time. It also has a safety lock feature that stays securely in place while you're travelling.
In line with other slides from the MSA brand, the 4×4 Drop Down Fridge Slide shares its signature detail of compact size coupled with heavy duty capacity. What sets it apart from other slides on this list is that it comes with a built-in table that adds an extra level of convenience to the design.
Key Features:
Slide-out built-in 316 stainless steel table

Innovative drop design that swings smoothly out further past the vehicle tailgate

Unique lock in, lock out safety feature

Heavy duty 200kg slide runner rating

Standard tie down straps and fixings

Stainless steel & blue anodised handle and face plate
Verdict: The MSA 4×4 Drop Down Fridge Slide has become increasingly popular for four-wheel drive fit outs because of its drop mechanism that allows you to access its contents at a more manageable height. Combining functionality and convenience, this slide has the same footprint as the standard MSA drop slide but with some added innovative features like its built in table.
Front Runner has dominated the market again with its durable and unique fridge slide. Its massive capacity load can store and equip adventure gears, tools, boxes, and many more. Having one for your vehicle is the best decision to make your life easier.

Key Features:
1.8mm stainless steel material
100kg weight capacity
For 80 to 90L of fridge
100% extendable tray
With L-bracket latch and bolt kit
Verdict: The Front Runner fridge slide is a must-have for every adventure seeker. It is durable, reliable, and has a lot of storage capacity. You can never go wrong with this fridge slide, it sure will be much easier to reach out to your heavy gears and equipment. 
The MSA Straight Slide is designed for your comfort and ease as it promises features that can make your ventures enjoyable and worthwhile. You will surely enjoy using this slide on your next trip.
Key Features:

200 kg weight capacity

Lock in-and-out feature
Anodised aluminium fittings
With over-extended bearings
Verdict: The MSA Straight Slide is one of the best fridge slides in the market. It has a lot to offer its users, from its durability to its comfort features. With an even massive load capacity, this fridge slide is perfect for those who are planning to bring a lot of things during their journey.
The Adventure Kings' Titan fridge slide is a great option for budget-friendly travelers. This product will make your life on the road easier by allowing you to keep all of your food and drinks within arms reach.
Key Features:
110kg weight rating
Twin runners with cage bearings
3 Locking position
Laser-cut 4 points
Verdict: For anyone looking for a convenient way to keep their perishables fresh, store their large sized items, or just want  to have an easy grab to things, the Titan fridge is an excellent and reasonable choice out in the market.
Due to its versatility, the Clearview Expanda slide can be used as a tray slide or a fridge slide, making it a great choice for those who want to have both options. Seriously, almost anything is possible with its over 50 different options available.
Key Features:
81 different dimensions
Adjustable fittings
180 kg load capacity
Extra large size
Travel lock mechanism
Verdict: Clearview has definitely been making vehicle accessories with their customers in mind. With their Expanda tray, there's nothing to argue about on how it can suit and adjust to your needs and specifications. All you have to do is be creative! 
The Clearview Easy Slide is designed and engineered for your comfort and convenience due to its drop mechanism that makes accessing to your gears and equipment easier. Its safety features have been proven by its compliance with ADR standards.
Key Features

180 kg weight capacity
3 height options
Monster 1500N gas struts
With travel lock
Verdict: We consider this advanced fridge slide as one of the best options for your vehicle and outdoor ventures. With its tough and tested capacities, ensured safety standards, and guaranteed OHS compliant, there's no going back to basics.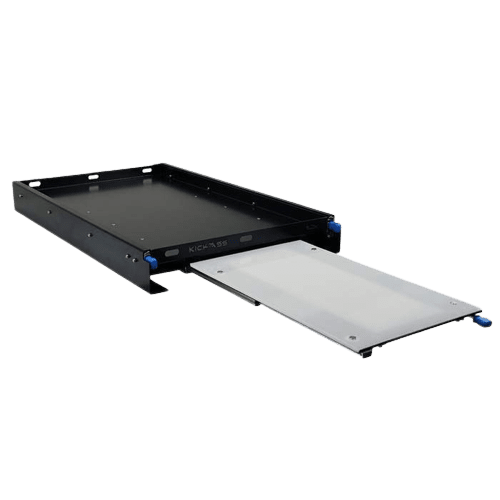 If maximizing space is your main priority, then there's no better option than the KICKASS Premium Heavy Duty Fridge Slide. This slide features a built in slide out table as well as durable tie down straps for a more secure fit. As its name suggests, this slide is massive — it's built to withstand a fully loaded fridge up to 125kg in weight.
Key features:
Heavy duty 125 kg ball runner rating

Double sided lock in, lock out system

Pre-assembled for quick and easy installation

Steel with black powder coating and stainless rails

Quick release tie down straps

Specially engineered hooks to fit side handles

Nylock nuts

Laser cut assembly holes

Built in slide-out table

One year full warranty
Verdict: Aside from its heavy duty build, another standout feature of this massive fridge slide is that it's easy to install — it comes to you pre-assembled and can be installed in your vehicle horizontally. With a range of in-built mounting points for options to suit any setup. It also comes with a built-in multipurpose table that makes it easy for you to pack or unpack your fridge, prepare your food, or even double as a temporary work bench.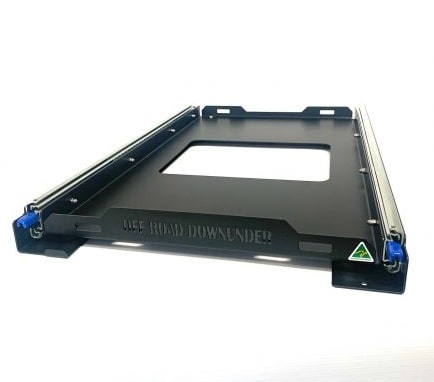 Easy to use and easy to install, the OFF ROAD DOWNUNDER Premium Fridge Slide is every camper's best companion when travelling. It features a standard sliding design that is lightweight and compact. Built specifically for medium size portable fridges, this slide can be locked and secured whether halfway out or fully extended.
Key Features:
Massive 125kg rating drawer slides

Strong double locking levers

Zinc under coated and top coated in durable powder black coating

Front and rear tie-down provisions

Dome nuts on internal tray to eliminate sharp edges

One year warranty
Verdict: With its minimalist and modern design, this fridge slide is suitable for all kinds of medium-sized portable fridges. Despite its compact size, it is a heavy duty model with massive 125kg rating drawer slides that is tough enough to handle the harsh Australian outback.
THE BEST FRIDGE DRAWER SLIDES -- WHY BUY ONE?
When you're travelling or camping, convenience should be your top priority.
A fridge drawer slide is more than just a minimal addition to your vehicle. It is an essential tool to keep your food unspoiled and your drinks always cold. Placing your fridge on a drawer slide also keeps it secure and safe from direct sunlight and other external elements.
And it's relatively easy to install. Your portable car fridge is attached to sliding tracks in the fridge slide that allow you to pull out your fridge easily, which then travels along the tracking before being fixed into place at the end of the track. The drop or tilt mechanism is then used to lower the fridge to a convenient height so its contents are readily accessible for you.
The best part? You can dig around your fridge without having to struggle around so much. You can remain standing and the fridge will be at the perfect height for you.
THE BEST FRIDGE DRAWER SLIDES -- BUYING GUIDE
If you're looking for the best fridge drawer slides on the market, here a few important factors to consider:
1. Kind of fridge drawer slide
There are different kinds of fridge drawer slides in the market, the two most popular types being the tilt slide and drop slide. Tilt slides are the basic design that allows you to slide your fridge out for easier access, with the slide mounted onto the vehicle and the base slides out. A drop slide, on the other hand, acts like a drawer with the fridge sitting on top of it and can be lowered to a level that is more convenient.
Whatever kind you choose, an important tip is to make sure that it can be fully locked to prevent the fridge from swinging back and forth.
3. Size of your fridge slide
The amount of space available for incorporating a fridge slide will depend on the kind of vehicle you have. Make sure you also take note of the previous alterations, modifications and fittings already existing so you can properly estimate the size of your slide.
Your fridge slide will provide easy access to your fridge, so it's important to consider the opening style of your portable fridge — whether it opens from the top or from the side. Another important factor is hinge configuration which will affect how wide you can open the fridge and how much vertical space you will need.