Are you planning a hiking trip and don't know which hiking boots to buy? Don't worry, we've got you covered! In this blog post, we will recommend the best hiking boots for your next adventure. We have tried and tested different hiking boots from different brands, so you can be sure that each product recommendation is reliable. So, whether you are an experienced hiker or just starting out, read on for the best hiking boot recommendations!
There are lots of hiking boots in the market made with different materials. These are designed to give added protection to your feet as you spend your day on a hike. Thus, you should consider the breathability, support, and traction when selecting a pair of hiking boots.
We have been hiking for several years and have tried different boots manufactured by different brands. So, you can rest assured that each product recommendation below has been tried and tested to give you the best service.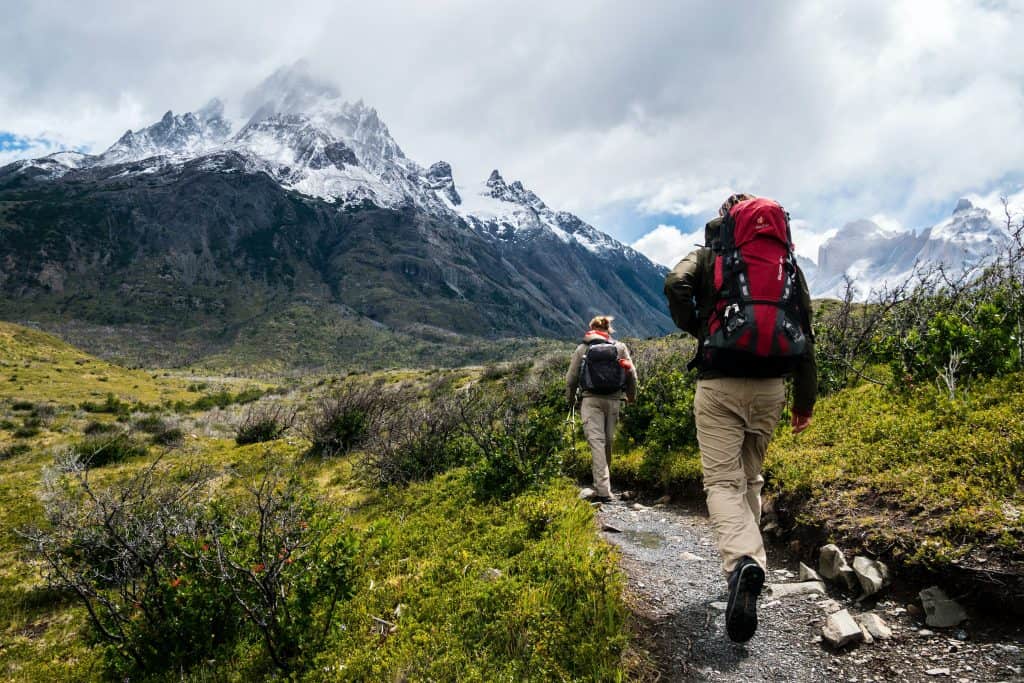 The following is a list of our most-favourite best-hiking boots in 2022. Read on to know further.
1. Salomon X Ultra 4 Mid GTX
Are you searching for a lightweight and sturdy pair of hiking boots? The search is over because Salomon X Ultra 4 Mid GTX is finally here.
This pair of hiking boots are designed to provide comfort to its user. Unlike other boots in the market, this one is extremely lightweight, giving you a better feeling as you go through different terrains. Moreover, these are ideal for backpackers because of their great flexibility.
Unfortunately, these boots do not provide the best ankle support like other hiking boots. Thus, we do not recommend this for off-trail or rugged adventures. But overall, we are impressed with its ability to keep you comfortable even in long-distance hikes.
Key Features:
Breathable lining

Chevron lugs for improved traction

Mobile wings

Ethylene Vinyl Acetate sole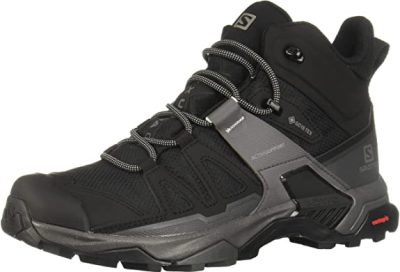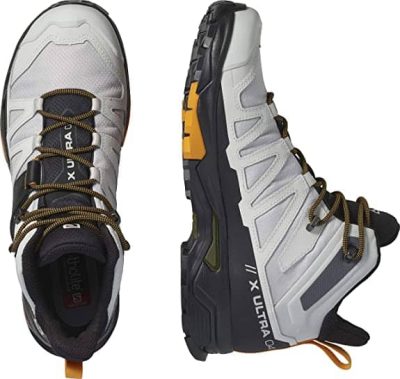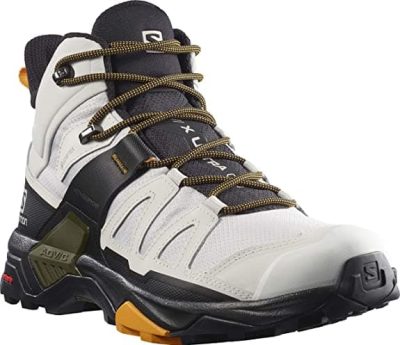 Verdict: Salomon X Ultra 4 Mid GTX is one of the best pairs of well-made, durable, and lightweight hiking boots. You can wear it in mud, dirt, and water. As they are made with sturdy materials, this footwear will serve you for several years.
If you are on a budget and looking for a well-designed pair of hiking boots, you have come to the right place! This Merrell Moab 2 Mid WP costs less than 150 US Dollars.
Despite being cheap, the manufacturer did not compromise its quality. These have been the most sought-after boots of many hikers for several years because of their price, durability, and comfort. Apart from that, it is also known for its breathability.
Considering that this is quite heavy compared to other boots, we do not recommend this for long-distance hikes. But they will last for several years with their excellent support and cushioning, making them ideal for weekend hikes and daily trips.
Key Features:
Synthetic sole

Arch shank made with molded nylon

Protective rubber toe cap

Merrell air cushion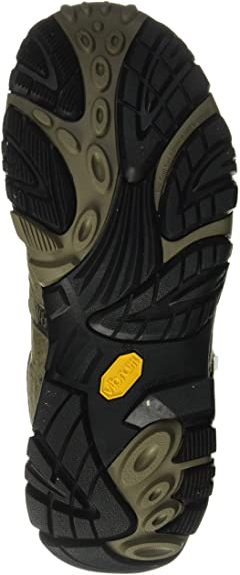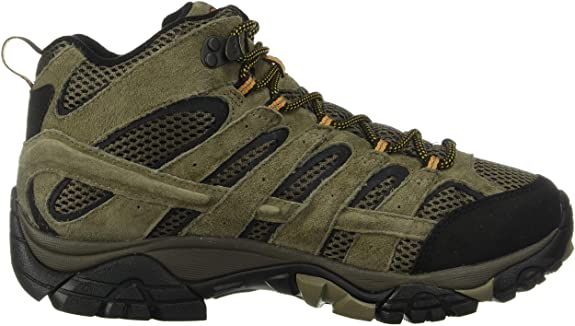 Verdict: This Merrell Moab 2 Mid WP is the best choice from weekend backpacking trips to day hikes. Unlike the first product above, this one is waterproof and made with durable leather. It also comes with Vibram traction and cushioned footbed to keep you comfortable throughout the hike.
3. Vasque Men's Breeze at Mid Hiking Boot
One of the best waterproof hiking boots is Vasque Men's Breeze at Mid Hiking Boot. They are known for being breathable, long-lasting, and comfy. These rugged hiking boots feature nubuck leather and mesh upper sole, making them the best choice during warm weather treks. Although its cuff may alter your movement, this hiking footwear offers the best ankle support.
Key Features:
Vasque's Vibram contact grip

Mesh ankle lining

Rubberized sole

Breathable lining

Anti-collision toe cap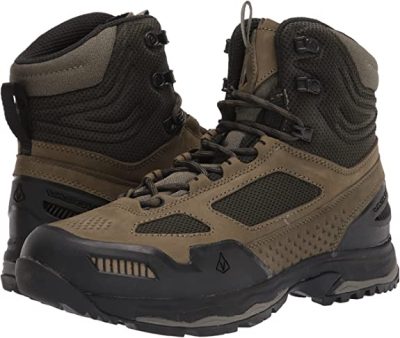 Verdict: Hiking on different kinds of trails puts so much pressure on your feet. Thus, you will need a pair of hiking boots to keep your feet stable and comfy while giving the best support. Although this footwear is quite bulky, it is still an excellent choice for long-distance treks.
The Best Hiking Boots - Why Buy One Anyway?
When it comes to hiking, wearing the wrong pair of shoes may cause you so much pain or even put your life at risk. Whether you are fond of trails or hikes, it is best to wear hiking boots as it is equipped with the necessary features to keep you safe on any terrains. Whether you go for a quick or long-distance hike, perfectly-designed hiking shoes are what you need to keep you comfortable and safe.
What are the Best Hiking Boots?
Overall, we can say that Salomon X Ultra 4 Mid GTX is the best-overall hiking boot because of its excellent features, durable materials, and sturdiness. Moreover, it also offers excellent stability to your feet, especially when doing a long-distance hike.
The Best Hiking Boots Alternative
If you think a pair of hiking boots are not meant for you, an excellent alternative to it is a comfortable pair of sneakers. Some hikers would complain about heavy or uncomfortable hiking footwear during hot weather. But these sneakers will give you the same comfort as high-end hiking boots because this footwear is also known for its breathability and flexibility.
Hiking Boots Buying Guide
Buying the best hiking boots could be overwhelming. To help you out, here are some of the things you should consider when shopping for hiking footwear:










Q: Should hiking boots be tight or loose?
A: The best hiking boots must have enough space to wiggle your toes while hugging your feet snugly.
Q: Can I wear hiking boots for regular walking?
A: Of course! As long as it is lightweight and makes you comfortable, you can use it for regular walking and other daily activities.
Salomon X Ultra 4 Mid

Merrell Moab 2 Mid WP

Vasque Men's Breeze AT Mid Hiking Boot

Our top pick for being the lightest hiking boots that offers great support and comfort.

These hiking boots are budget-friendly and made with high-quality materials that will last for several years.

It is the best choice if you are searching for a pair of hiking boots with waterproof properties.
There you have it! We hope that you find this guide helpful and informative at the same time. Wear the proper hiking shoes to enjoy the adventure with no pain and discomfort.