Here's the real deal — camping and campfires go hand in hand.
Whether you want to grill food outdoors or just need a little extra warmth, there's no denying the simple pleasure of sitting around a campfire.
Unlike their bulkier and larger counterparts, camping fire pits are portable, lightweight, and easy to pack. They come in the form of an open, lidless container which is available in both wood and propane models. Fire pits are often elevated and raised above the ground — making them a safer alternative to the traditional campfire as they are less likely to ignite dry leaves and twigs on the ground.
There's no shortage of portable fire kits to choose from, but finding one that suits your needs could be challenging.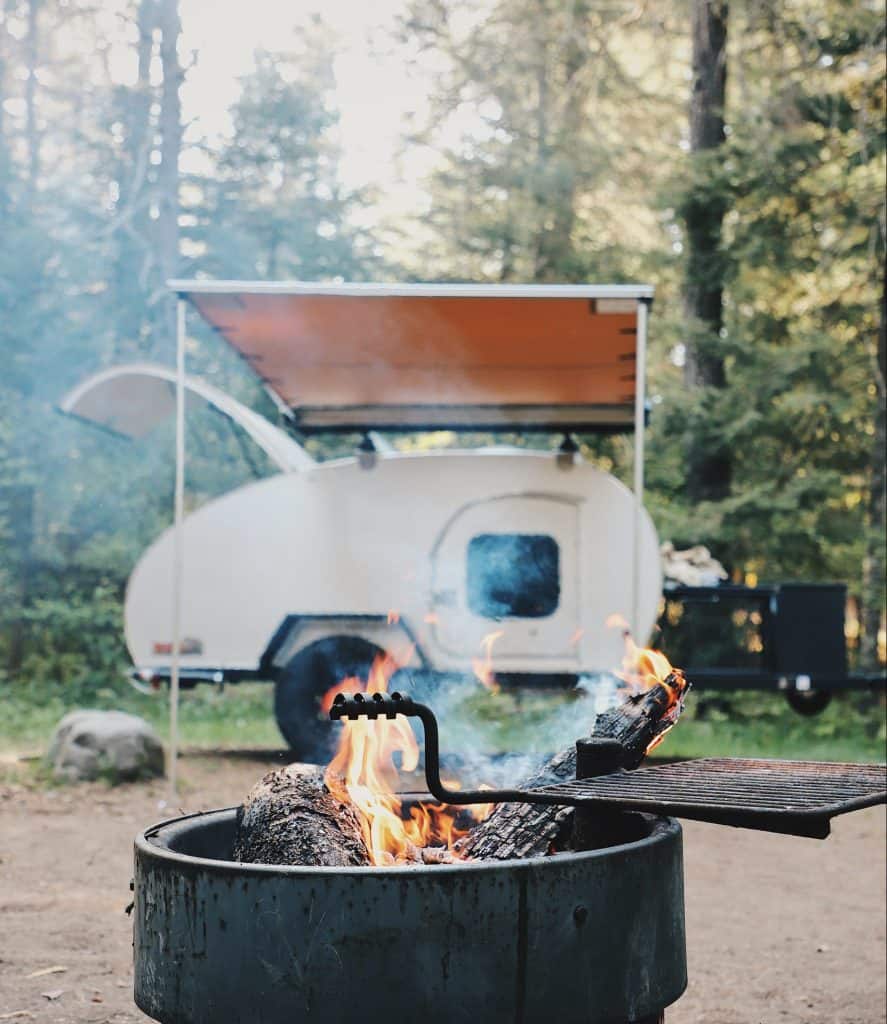 Ready to light up your campsite?
Here are our top picks for the 8 best camping fire pits in 2023:
Every camper's ideal fire pit is an ultra-high and premium quality stainless steel built and portable pit. The Kings Premium Stainless steel fire pit has baseplates at the bottom that provides a flat surface that make it safe from accidental grass scorching.It is also equipped with a foldable grill for the firepit which is usually sold separately, however, you'll be able to get both and save $35 if you get yours today. 
Key Features:
Ultimately portable

Food-grade 304 stainless steel
Conserves firewood
Heavy-duty carry handles
Slick folding system
*Folding Stainless Steel Firepit Grill included*
Verdict: What we liked much about this fire pit is that it has four height levels for an even cooking temperature, which can be set up in just a few seconds! If you're looking for a decent-sized, space-saving, long-lasting, and portable fire pit, the Kings Premium folding pit is one of the best camping firepits and is a perfect value for your money.
Good food comes from the best camping firepits and Dune 4wd Flat pack fire pit is one of the best out there. It is made of a heavy-duty steel that is powder coated to black that can resist a 600 degree heat. It is also the perfect size for families and friends that comes with side panels and a fire bowl.
Key Features:
Size 51.5 x 50 x 39 cm

Comes with cooking plate and grill
Side slots for handle
600D polyester storage bag
Verdict: The dune 4wd flat pack fire pit is best for people who are into UTE and 4wd camping due to its heavyweight, and it is not recommended for backpacking. Nonetheless, if you want to enjoy a campfire with families, friends, and a good feast, then you might want to check it out. 
Appreciate family gatherings in cold weather and enjoy the warmth of fire in your camping trip or even in your backyard with Coast steel fire pit. This fire pit comes with ember tray, a hotplate, and an optional grill. Even with its massive weight, storage is easy due to its foldable features.
Key Features:
Made of 3 mm BlueScope steel material
Laser-cut handles
With 1.6 mm Galvanised tray
Australian made
Verdict: COAST STEEL PORTABLE 400MM FIRE PIT & EMBER TRAY KIT is designed to have fun camping in nature or simply at your backyard. The slip and slide feature of this fire pit makes it to be easily set up and folded in seconds. Overall, we like that it is Australian made, that guarantees durability and quality.
With a massive cooking surface and easy set up — it's easy to see why the ADVENTURE KINGS Portable Steel Fire Pit is slowly becoming every campers go-to item. What makes this fire pit stand out is its unique design: it features four separate plates with laser-cut slots that make it easy to assemble without any need for tools. And the best part? It packs up completely flat and comes with built in handles for easy storage and transport.
Key Features:
3mm thick steel construction

Four individual parts

Laser cut slots

Built-in handles
Verdict: The ADVENTURE KINGS Portable Steel Fire Pit stays true to its brand name — it brings a whole new level of adventure to your camping experience. It's one of the cheapest fire pits on the market, but despite it's affordable price tag, it doesn't make any trade offs when it comes to durability. It's constructed with heavy duty 3mm thick steel that is sure to last.
Whether you're a first time cook or a serious car-camping chef, you'll definitely appreciate the versatile design and reliable performance of the DARCHE Stainless Steel BBQ Fire Pit. This fire pit stands out as having a height adjustable cooking section with a removable grill in the center. Its frame is constructed from 201 stainless steel, while the grill is made from 304 stainless steel which is rated as food grade and corrosion resistant.
Key Features:
304 food grade stainless steel construction

Adjustable height

Removable grill top

Foldable flat-pack desing

Comes with carrying case
Verdict: With a decent height and a larger cooking surface, the DARCHE Stainless Steel BBQ Fire Pit will help you feed a decent number of people — perfect for family cookouts and scout jamborees. Weighing at only 11.5 kg, this is one of the lightest fire pits you can get which is still sturdy enough to produce a larger flame. It folds and packs flat, and comes with a handy carrying case.
Roughing it up in the great outdoors doesn't mean you have to live on canned food and biscuits. And with the BCF Fireside Portable Popup Fire Pit, you're guaranteed to enjoy smokey meals every time. Weighing just 3.6 kg, this fire pit features a compact design that you can haul around the campsite with ease. The structure is a combination of an aluminum frame and mesh made of stainless steel — making it more durable, and more resistant to rust. The heavy duty mesh also ensures the fire gets just the right amount of airflow for more heat but with lesser smoke.
Key Features:
Heavy duty stainless steel mesh

Aluminum frame and legs

Foldable design

3.6 kg weight

Comes with carrying case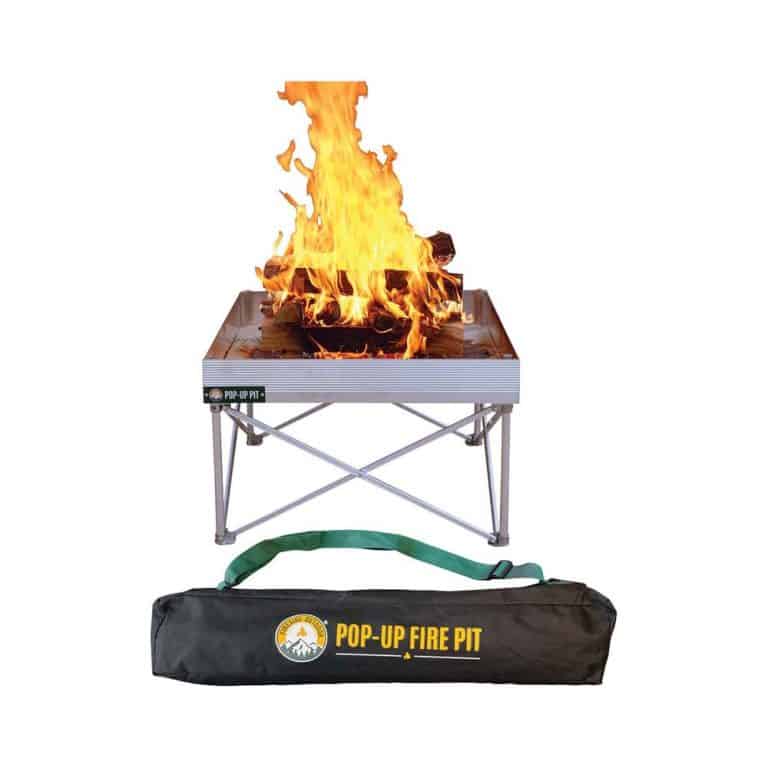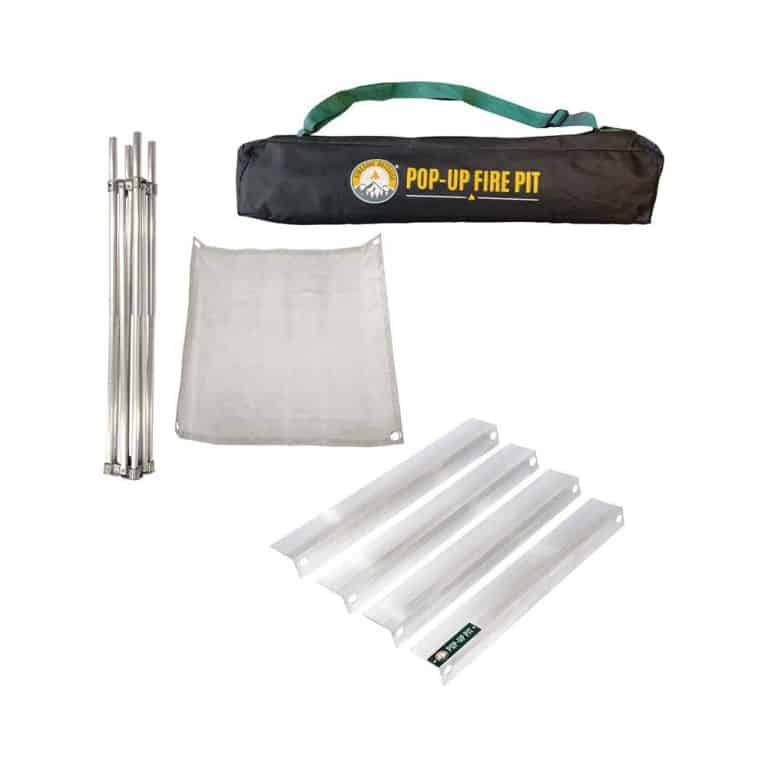 Verdict: The BCF Fireside Portable Popup Fire Pit is one of the most travel-friendly and compact models on the market today. It takes less than a minute to set up, and is designed with a packable frame that you can fold and store away into a carrying case — packing up to the size of small chair.
With its shining stainless steel construction, the WINNERWELL Flat Fire Pit has that classic rustic look for a more authentic camping experience. Just like the Adventure Kings Fire Pit, this one also features a flat-folding design — both the pit surface and the base folds completely flat, so you can carry it from one campsite to another with ease. They come in four sizes to choose from: small, medium, large, and XL.
Key Features:
304 stainless steel precision construction

2 pieces: fire pit surface and base

Flat-folding design

Corrosion resistant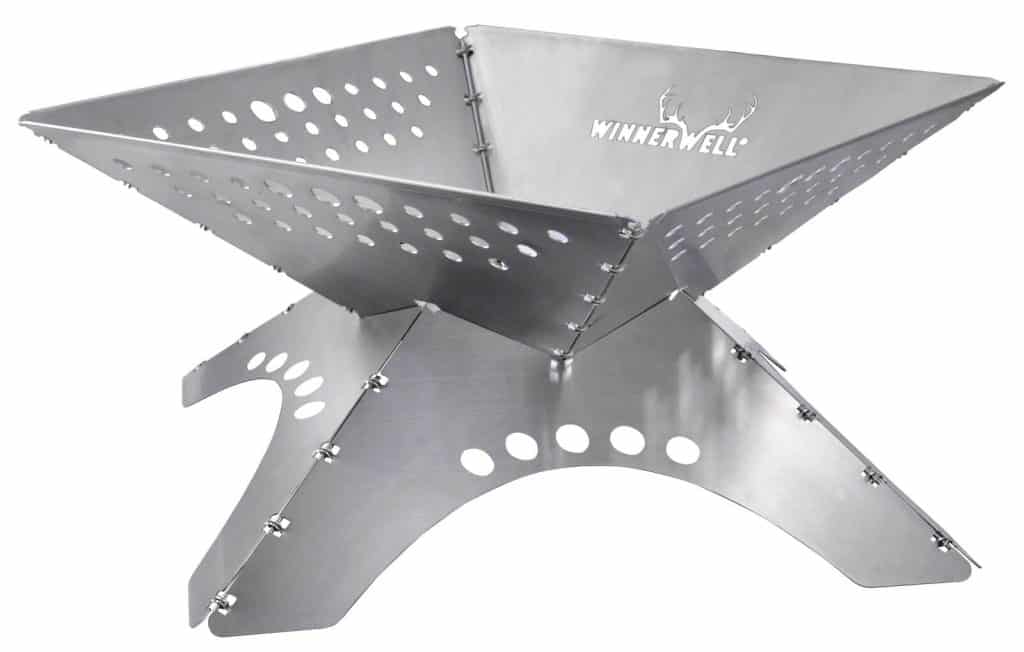 Verdict: No need to worry about tools or screws, as the WINNERWELL Flat Fire Pit folds up and down in just a one touch motion. It features a 304 stainless steel precision construction that is highly corrosion resistant — ideal for harsh outdoor environments. Its flat-folding design makes for compact storage and easy portability. 
The BCF Fire Pit with Grill is the perfect solution for every minimalist and ultralight hiker. Weighing only 3.9 kg, this fire pit packs down super small. It features a simple rustic design: a round firepit perched on elevated legs. This fire pit also offers a lot of versatility, as it doubles as both a fire pit and a cooking grill.
Key Features
Double design: fire pit and cooking grill

Folding legs and carrying bag

Mesh lid for safety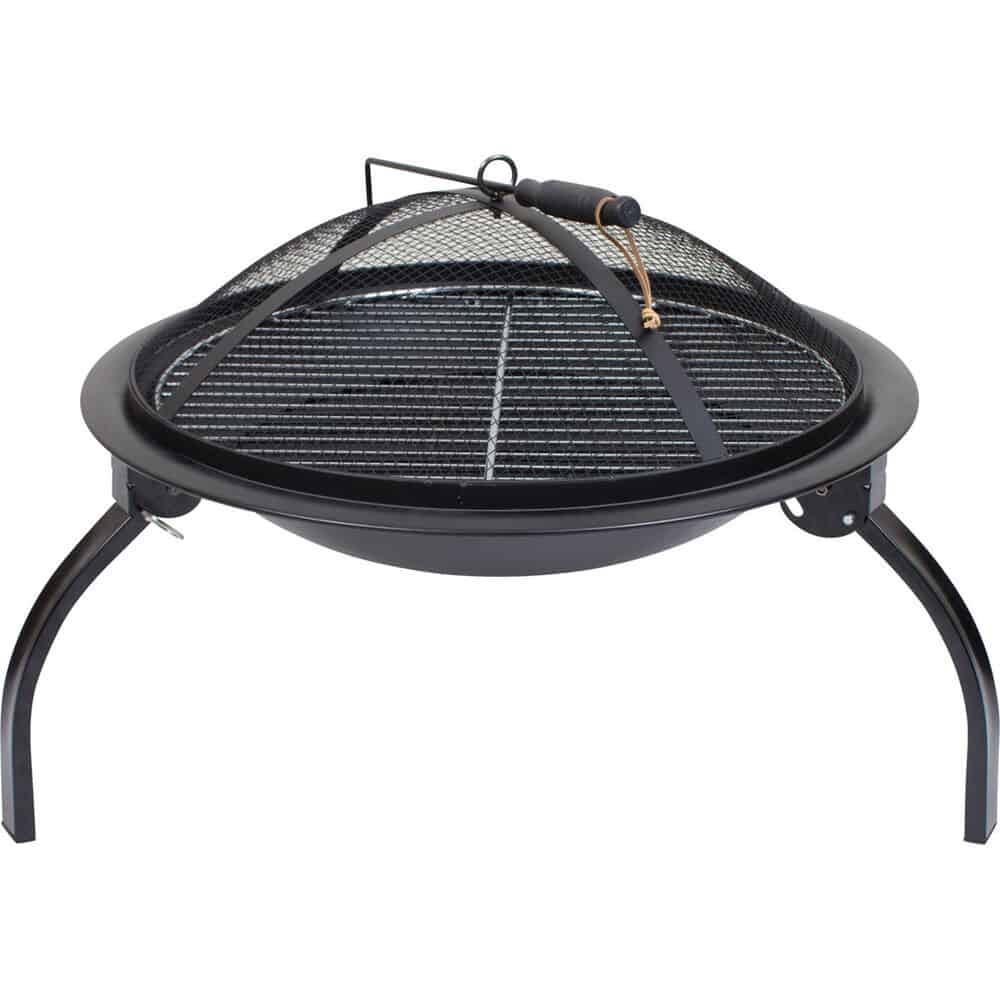 Verdict: The BCF Fire Pit with Grill is extremely portable with folding legs and provides a few built-in safety features, like a mesh lid that prevents hot embers from popping out. It's also budget friendly and easy to use, even for first time campers. Despite its cheaper price tag, it comes with all the vital accessories, including: a lid lifter, grill, and carry bag.
THE BEST CAMPING FIRE PITS -- WHY BUY ONE ANYWAY
A fire pit is the centerpiece of every campsite.
If you're still in doubt, here are a few reasons why a fire pit is a must-have when camping:
A camping fire pit is portable and easy to use
Since there's no longer any need to dig a spot on the ground as with traditional campfires, a fire pit can be placed anywhere and is extremely travel friendly.
After setting camp at an ideal location, all that's left for you to do is put the pieces together and start the fire. At the end of the night, you turn off the gas and the fire is out; no need to quench or worry about floating embers that could spark unintentional outdoor fires. Some models are even collapsible or fold up into carrying cases, so you can easily store them away when not in use.
A camping fire pit can be used all year round
 No matter the weather, there are reasons in every season to light up your fire pit.
During colder months, camping firepits provide warmth once the day's sun has gone down. When hotter months roll in, fire pits can be used for lighting up your campsite as well as keeping bugs and insects away.
A camping fire pit creates a cozy atmosphere outdoors
There's something about a campfire that feels authentic and adventurous.
The smell of smoke, the crackle of the fire, and the red glow of the embers — all contribute to giving that essential back-to-basics vibe.
A camping fire pit is great for cooking
This is particularly true when it comes to meat, which takes on a beautiful dark crust when cooked over an open fire. This is called the Maillard reaction — a sort of caramelization process that turns the outside of your food a darker color which can't be replicated in an oven or stove. It creates a distinctive smokey aroma that adds to the overall taste of the meat.
THE BEST CAMPING FIRE PITS -- BUYING GUIDE
Type of Fire Pit
There are a variety of different fire pits for camping that you can choose from, each with its advantages and disadvantages.
Wood burning fire pit — This is the closest you can get to a traditional campfire, as it uses wood to ignite a flame. They are generally more affordable and give a distinct smokey taste to your food, but they do generate a lot of smoke.

Portable propane pit — This pit run on propane tanks, meaning they're easier to transport and set up. They create lesser smoke, but they are more expensive compared to other types of fire pits.
Size and Weight
The purpose of a camping fire pit is so you have a portable and travel-friendly gear that you can take anywhere.
Stainless steel fire pits are generally more lightweight and are also corrosion resistant. Cast iron fire pits, on the other hand, tend to be a lot heavier but are also extremely durable.
Safety and Ground Protection
One of the main reasons for using a fire pit in the outdoors is to minimize the risk of fire spreading.
It's important to choose a camping fire pit that is raised off the ground, with good clearance in the form of legs or a base. Additionally, high sided fire pits do a much better job at containing the fire and preventing embers from toppling out.