A camping trip is the best way to spend your vacation or weekend relaxing with your family or friends. You can enjoy an array of fun that may come with the week-long adventure and activities. If you're planning for a camping adventure, it'll be vital to plan and get the right accessories to support your travels and enhance the experience. 
A portable fire pit is one of the essential accessories you can consider. It's a vital camping requirement to provide light and warmth as the night or cool mornings approach while enjoying your time in different campgrounds. 
You don't have to break the bank to get the right one for your needs, but choose the one with the appropriate features and design.
This article outlines a top selection of easy-to-use, portable fire pits for camping purposes.
Portable Propane Fire Pit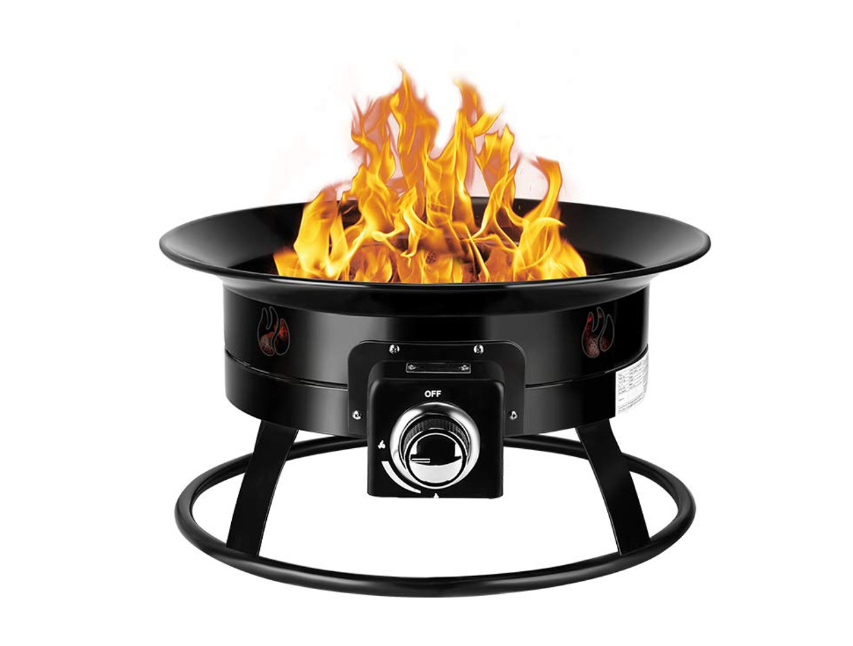 1.Portable Propane Fire Pit
It's a high-quality fire pit offering a smokeless, clean, and adjustable campfire. Manufacturers create this appliance with an appropriate design that burns off chills on rainy days, winter, and cool mornings. The portable propane fire pit has features and parts that make it easy to assemble and put in your campsite or camping vehicle.
Furthermore, the compact size, portable fire pit bowl, and lightweight allow you to save more space when packing them. The materials and design also make it safe for your wood decks, making it an excellent option for tailgating, camping, or road trips. Lastly, the perfect outdoor centerpiece makes it environmentally friendly and provides appropriate warmth for you and your company.
It's one of the high-quality and heavy-duty stainless portable fire pits you can choose for camping or road trips. Experts reveal that the lightweight and sophisticated features make it a great addition to camping needs. These accessories come in a wide range of types to allow you to choose the one suiting your needs and budget.
Besides the lightweight, this appliance comes in two pieces, the stand and the base. These different parts allow easy folding of the accessory, making it completely flat to enhance easier transportation and storage. Additionally, you can get some designs with various cooking accessories, like a triangular grate, to enhance a fantastic camp cooking experience.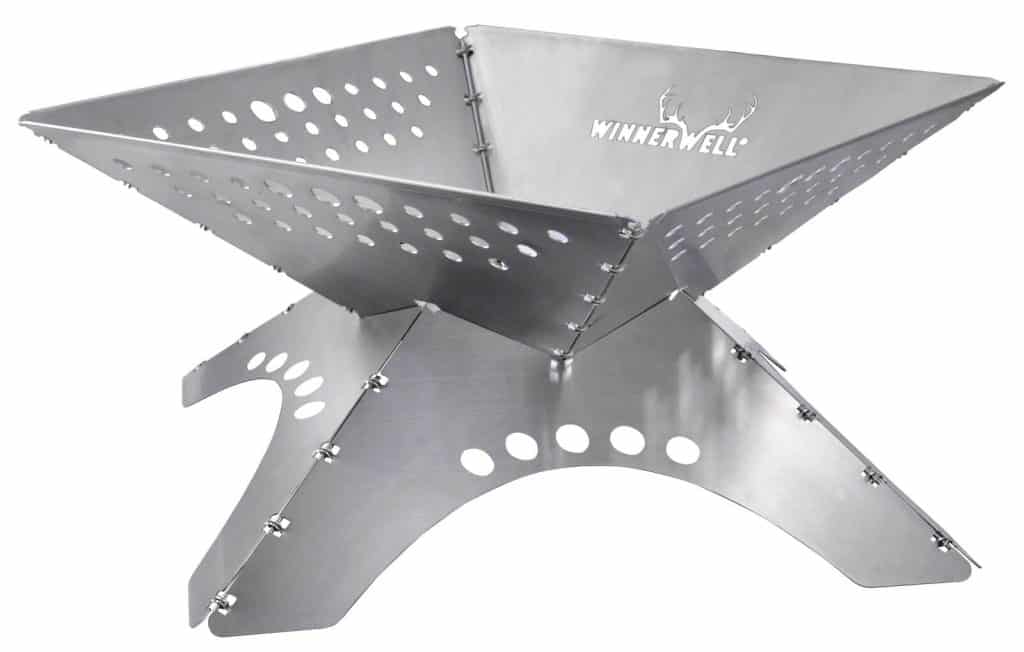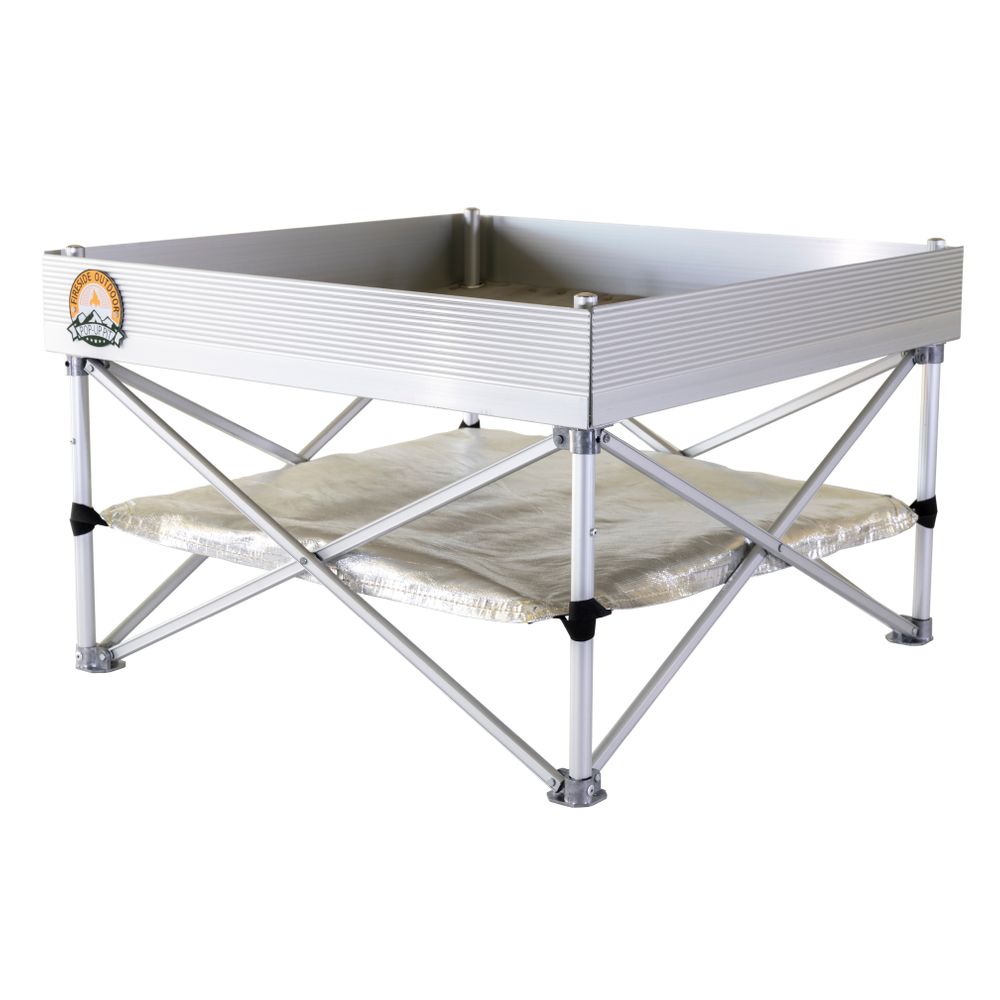 3.Fireside Popup Fire Pit
It's a perfect portable camping fire pit for all your camping needs. This appliance comes with a large fire pit surface, is super lightweight, and has a proper design, making it easy to transport or store during the visit. The portable fire pit's lightweight aluminum frame makes it easy to fold and carry them around while enjoying your adventure.
The accessory's 60*60 cm surface makes it the best alternative to provide proper lighting and warmth during the adventure. Manufacturers create this fire pit with stainless steel to allow an excellent airflow around the fire, producing hotter and brighter fire. Experts reveal that it's the best alternative to produce heat and light while having your camping experience.
4.Adventure Kings Fire Pit
The adventure kings steel offers an affordable and appropriate portable fire pit for your camping experience. It's a great addition to camp accessories, with useful features and designs to suit your needs. The compactness and steel flat pieces make it easy to fold and store them with other camping equipment or appliances. 
Manufacturers create this portable fire pit with a flat base above the ground to provide proper airflow. Furthermore, the accessory also has an additional rotisserie to enhance your camp cooking experience. These features and designs make it a cost-effective and high-quality portable fire pit, suit your budget, and improve your camping experience.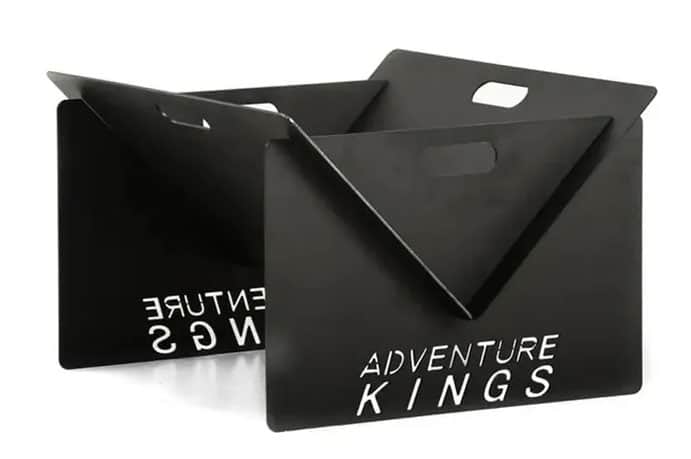 Flame King Outdoor Portable Propane Gas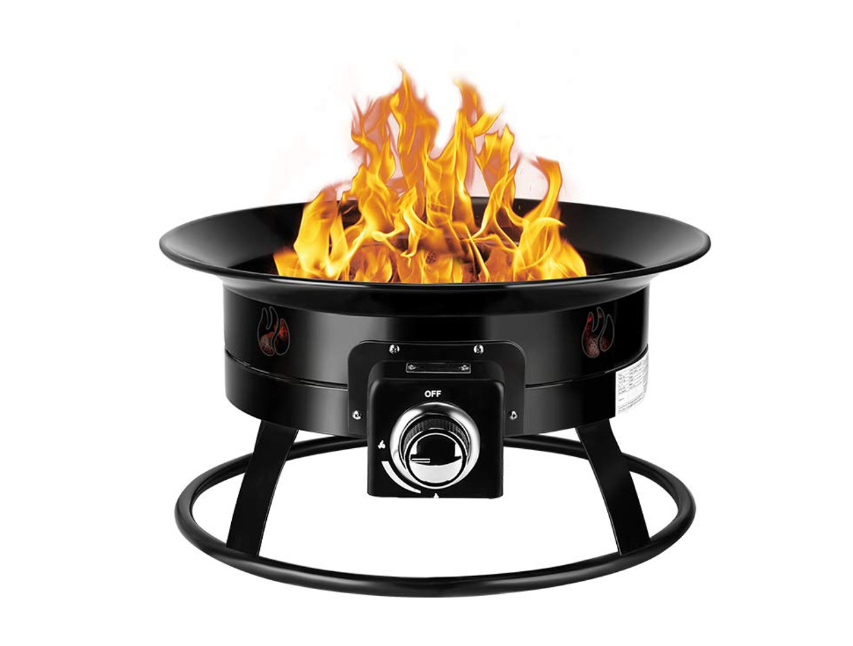 5.Flame King Outdoor Portable Propane Gas
It's a sturdy fire pit with appropriate portable and easy-to-use features. The flame king outdoor portable propane gas produces a smokeless and clean flame enhancing your beautiful evening ambiance and a cozy warmth. 
The huge size and CSA-approved features make it a safe alternative for your campfire, as it helps converse the environment. Besides the sophisticated lighting and environmental-friendly features, it comes with a pre-attached 10 ft hose regulator. This attachment allows easy connection to the standard propane tank cylinder. 
The manufacturers also create high-grade weather and convenient UV-resistant cover to protect the appliance when you aren't using it. Lastly, the one-year warranty guarantees a high-quality pit for your lighting needs.
6.Supa Peg Grand Fire Pit
The Supa peg grand frontier folding fire pit has various sophisticated features and designs that make it a great addition to your camping experience. It's one of the best alternatives worth considering when choosing the right portable camping fire pit. Manufacturers create this fire pit from thick and a heavy-duty steel having eight pieces enhancing a compact size.
The accessory offers an easy-to-use alternative, as it comes with parts that are easy to assemble and achieve a circular direction. Additionally, the Supa peg portable pit has a drop in the ground plate for catching any ash to prevent damaging the environment. The two BBQ rails sitting across this fire pit make it a great alternative to place in your camp oven.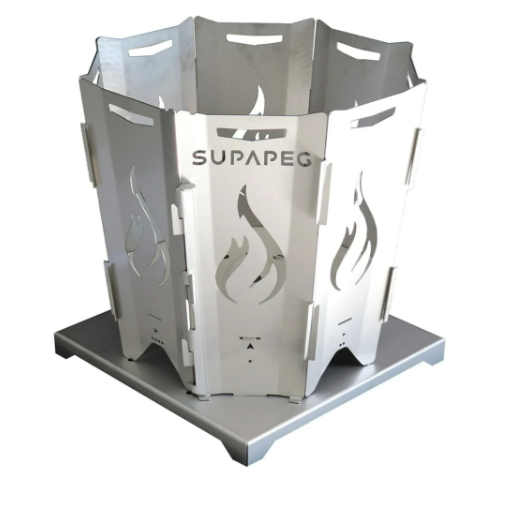 Darche Stainless Steel BBQ
7.Darche Stainless Steel BBQ
It's a popular brand for campers to create high-quality camping gear, such as fire pits. The Darse stainless portable fire pit has all the essential components to enhance your camping experience. The design and parts make it an appropriate option for providing light, warmth, and even cooking during your adventure.
Manufacturers create these pits from high food-grade stainless steel, making them challenging and easy to clean. Furthermore, the simple design and different parts make this portable fire pit easy to assemble and unfold to fit your space. 
Lastly, the appliance has an adjustable grill height that allows you to set your desired height to suit your preferences or needs. You can't get it wrong by choosing the Darshe stainless pit when looking for a compact, well-priced, lightweight, portable fire pit.
BOTTOM LINE:
Portable fire pits are a great addition to your camping checklist. Choosing the best fire pits for your camping adventure or road trip will enhance proper lighting and warmth provision during the cool evenings and mornings during the adventure. 
It'll be vital to consider the portability, quality of manufacturing materials, durability, environmentally friendly options, and cost-effective alternatives to choose the appropriate one. The above provides top choices for ideal portable fire pits to enhance your camping experience.