Let's face it — one of the hardest parts about camping is finding a place to change or to use as a makeshift bathroom.
We know the struggle of having to get dressed in your swag or ducking behind your 4WD to find a little bit of privacy.
The solution? Investing in the best double camping ensuite.
Double ensuite tents are small privacy rooms that are intended to be used either as a camp shower, dressing room, or toilet. They are easy to set up and have sturdy frames which will help protect you from the elements as well as give you the privacy you want. They come in two separate compartments — so you can use one side as a shelter for your toilet and the other side as a dressing room.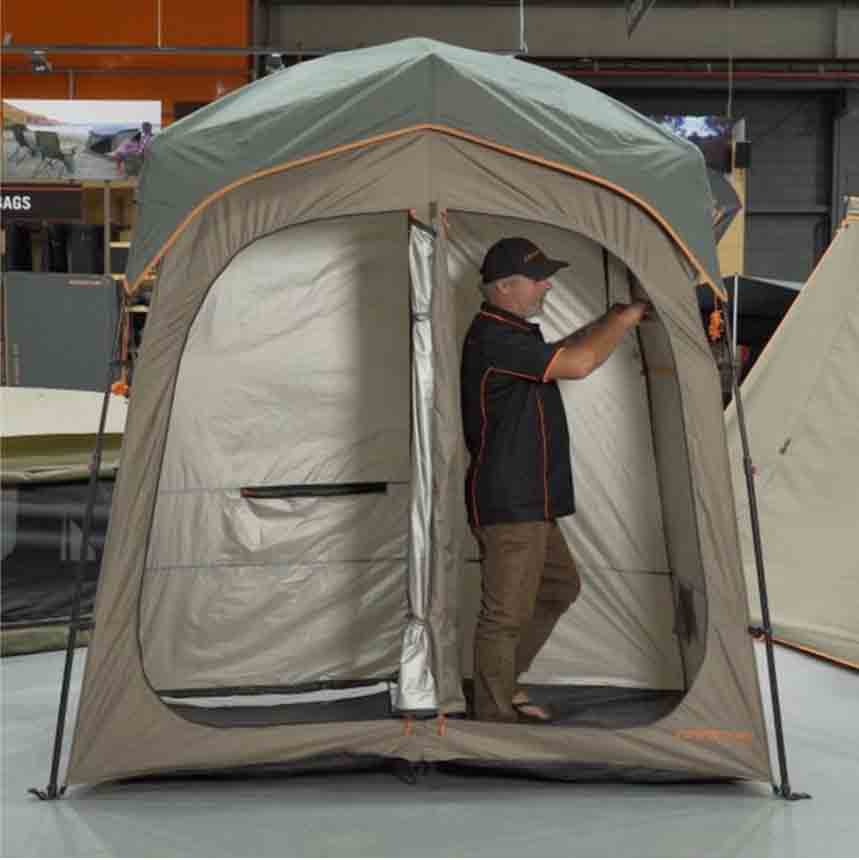 Ready to add a bit of luxury and comfort to your campsite? We'll help you get there with our list of the
Top 5 best double camping ensuite tents available in the market today:
Offering the perfect combination of convenience and privacy in a pop-up package, the DARCHE Twin Cube Shower Tent allows you to enjoy the comfort of a home shower in the outdoors. What we like most about this double camping ensuite is that both cubicles are separated by an internal door — providing direct access from one cubicle to another. Its construction features thick 190T PU polyester fabric that's bolstered with silver coating so that even your shadow can't be seen from the outside as you change or take a shower.
Key Features:
190T PU polyester fabric

Silver coating

Two cubicles with direct access

Access points for hose

Mesh roof and removable canopy

Roll back solid floor

Inbuilt mesh side for drainage

Carry bag for storage
Verdict: Everything about DARCHE Twin Cube Shower Tent is easy to set up and pack away — with quick release buttons, an instant pop-up frame, and two cubicles with quick access doors. It has a lot to offer when it comes to ventilation, especially if you plan on using warm water that produces steam. It comes with a mesh roof and a removable canopy for ventilation to allow proper airflow and prevent your ensuite from turning into a sauna especially during hot summer months.
One of the most important considerations when it comes to a double camping ensuite is space — and the OZTRAIL Ensuite Duo Dome definitely delivers. With a maximum head height of 225cm, this ensuite gives you enough room to get changed and dry off conveniently. Another important feature worth mentioning is its UVTex fabric that keeps harsh sunlight at bay. With a sturdy frame manufactured with steel Portico upright poles and fibreglass roof poles, it promises to stand tough against the elements for three season camping protection.
Key Features:
Powder coated steel portico poles

Fibreglass roof pols

Silver coated inner walls

UVtex sun tough fabric

Removable PE floor

External hose point

Waterproof organisers and mesh pockets

Carrying bag included
Verdict: The OZTRAIL Ensuite Duo Dome allows you to take a shower at any time during the day or night, with two domes and an adjoining doorway that you can use for a wet and dry room. It features a removable PE floor that provides superior water drainage. This double camping ensuite provides convenient access to your existing hot water unit through its shower and external hose attachment points.
The ADVENTURE KINGS Double Shower Tent is the ultimate travel-friendly option for the minimalist camper. It sets up in just a matter of seconds — all you have to do is remove it from the carrying case, peg the corners down and you're ready to go. When not in use, this double camping ensuite folds down completely flat for easy storage without taking up too much space in your car — weighing only 4.7kg when packed.
Key Features:
210 maximum head height

Oversized twin room design

190T PU polyester with silver coating

Polyethylene removable flooring

No-see-um mesh windows

With carrying bag
Verdict: The ADVENTURE KINGS Double Shower Tent is a pop-up double ensuite that you can take anywhere that some much-needed privacy can be useful. It features twin rooms that are oversized to provide you with adequate space to change. It also comes with its own heavy duty removable flooring that not only keeps the dirt out but also keeps you dry by providing proper water drainage.
The Coleman brand has become a household name when it comes to high quality camping gear — and its Instant Pop Up Double Ensuite Tent is no exception. It comes with a spacious interior with an inner silver lining that offers promises even to keep your silhouette hidden from the outside. What we love most about this double ensuite is its heavy duty flooring that's constructed with PU fabric and features mesh on the outer rim for proper drainage and prevents water buildup on the tent floor even as you shower.
Key Features:
75D silver coated polyester fabric

PE floor with mesh on outer rim

Mesh panels

Tow access doors on opposite sides

Internal storage pockets

Heavy duty steel frame

Instant-up design

Hose access port
Verdict: The COLEMAN Instant Pop Up Double Ensuite Tent is a convenient solution to campers looking for an easy way to shower in the outdoors. It features an instant-up hub frame design offers proper ventilation through its mesh panels that promote proper airflow. And the best part? It comes with lots of extra storage features, including a toilet paper holder, towel holder, and a gear hammock to keep your essentials.
With a spacious interior and easy setup, the SMARTTEK Double Ensuite Shower Tent is a versatile option that's suitable for showering, changing and going to the toilet in private. It has separate dry and wet rooms — one for changing and the other for showering — so you can keep your clothes dry while you take a shower. The changing room comes with multiple storage features, including built-in storage pockets and a removable towel rack.
Key Features:
210cm maximum head height

Silver coated polyester fabric

Durable steel frame

Toiletry compartment with removable towel rack

Mesh windows

Includes carrying bag
Verdict: The SMARTTEK Double Ensuite Shower Tent is ideal for large camping groups because it provides separate areas for showering and changing. It features silver coated polyester that boasts of shielding even your shadow from nosy neighbours in the campsite. This double camping ensuite is easy to set up and has an adequately sturdy frame that can protect you from the elements while at the same time giving you the privacy you want.
THE BEST DOUBLE CAMPING ENSUITE TENTS -- WHY BUY ONE ANYWAY?
Privacy in the outdoors
Shower tents provide you with privacy and a hint of luxury to make camping a more comfortable experience — allowing you to shower and dress up properly in open environments. Some of them even come with added privacy features like zippered door panels, privacy screens and even shower curtains.
Ideal for large camping groups
By investing in a double camping ensuite, you no longer have to worry about waiting for your turn to take a shower at camp since you'll have your own private comfort room.
If you're camping with your family or with a large group, you can have one room permanently set up for the toilet and the other room set up for the shower — lessening the hassle of removing the loo every time someone wants to change or take a shower.
Lots of head space
A double camping ensuite comes in a vertical standing design, offering you more head room compared to a traditional tent. This means you can stand upright while changing your clothes and has plenty of room inside for your personal items.
Keeps you clean in the outdoors
A double camping ensuite is the perfect solution for those who want to take an outdoor shower.
The showers are incredibly easy to set up, as long as you have access to water — which is most likely available on public campgrounds.
Easy to set up
Most double camping ensuites feature a pop-up design that's easy to assemble and disassemble — a great option for bringing with you on long camping trips.
THE BEST DOUBLE CAMPING ENSUITE TENTS -- BUYING GUIDE
If you're thinking of investing in a double camping ensuite, here are some important factors to consider: