Camping is a great way to get close to nature and escape the hustle and bustle of city life. However, just because you're roughing it in the great outdoors doesn't mean you have to be uncomfortable. In fact, with the right camping mattress, you can enjoy a good night's sleep under the stars!
There are many different camping mattresses on the market, and it can be difficult to decide which one is right for you. That's why we've put together this list of the 5 best camping mattresses for a comfortable outdoor experience. So whether you're planning an epic cross-country road trip or just want a little more comfort while camping in your backyard, we've got you covered!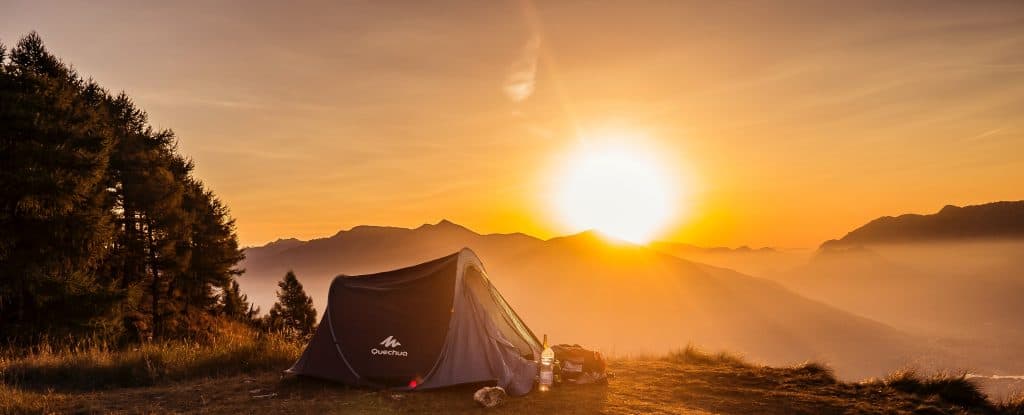 Sure, camping is fun — but just because you want to be close to nature doesn't mean you need to be close to the ground.
 And if it's comfort you're worried about, then finding the best camping mattress is your best bet.
Aside from providing that much-needed comfort while outdoors, a camping mattress also provides insulation to keep you warm especially during colder months. And there's the obvious benefit of keeping yourself a few feet above the ground and away from ants and sharp rocks.
Not sure which camping mattress suits your needs? Don't fret -- here's our list of the 5 best camping mattresses this year.
Are you looking for a comfortable mattress that will help improve your sleep quality on your adventure camping trips? Darche Foam Mattresses is a dense and high-quality swag mattress. It has an open cell foam construction and design that allows breathability and provides comfort and support.
Key Features:
2150mm mattress length

70mm thick and 1100mm wide
100gsm zippered covers
Open-cell construction
Verdict: A complete package and an absolute essential for your camping trips is the Darche Foam Mattress. This is a great option for adventurers who are looking for a practical and convenient mattress for their upcoming adventure trips.
Darche all-terrain self-inflating camp mattress is designed to provide a comfortable place to rest while outdoors. The 100mm thick self inflating camp mattress provides you a barrier from cold and hard ground. It also has highly durable construction for extended life span, water resistant top shell for easy cleaning, curved corner to fit on various swags and tents.
Key Features:
75D peach-finished top

300D oxford bottom
100mm thick cushioning at full inflation
Open cell inner
Controllable 4 self-inflation valves
3D and curved edge design
Verdict: The Darche all-terrain self-inflating camp mattress is a great replacement for those who are looking for a durable and comfortable camping mattress. The self-inflating design ensures effortless inflation and deflation, meaning that setting up your campsite has never been easier. So whether you're camping out in the wilderness or just staying at a campsite, you can be sure that your night's sleep will be comfortable and secure.

If you need quality, spacious, and comfortable sleep during your outback adventures, the OZtent stratus xl mattress is a great option to consider as it features the Oztent's AeroFrame Foam Core™ technology that adjusts to your body weight and form for maximum comfort. The materials used in this self-inflating mattress are also durable and guaranteed to last.
Key Features:
Hivtec™ and Tuff-Tek™ fabric materials

Pack Assist Valve™ for quick inflation
AeroFrame Foam Core™ technology
X-Hale™ pump sack
Very comfortable
Verdict: For bigger and better sleep experience, try the Oztent Stratus Mattress which is built and designed for campers to take away the stress and be comfortable. With its innovative design, you can now sleep soundly and peacefully on your camping trips without worrying about feeling sore on the hips the next morning.
When you're looking for a new camping bed, what are your priorities? For sure, it's comfort, size, and price.The Oztrail Anywhere queen bed is a spacious and easy to set up and pack up mattress that is also is super comfortable and convenient to use. With its built-in air mattres and folding queen stretcher frame design, this mattress might be the answer to your sleeping problems during your adventures. 
Key Features:
Printed Flannel Tek fabric

High tensile steel stretcher frame
With a wheeled 600D polyester carry bag
Built-in PVC air mattress
Queen-sized and length
Ergonomic design
Verdict: The Oztrail Anywhere bed queen is perfect for anyone looking for a big and comfortable bed that can take with them on their camping trips or in their backyard chilling. No matter what kind of camping lifestyle you may have, this queen-size camping mattress has everything you need for a cozy night or afternoon sleep.
The Darche Kozi is a self-inflating mattress range that will keep you comfortable and cozy in your good night's sleep with its super soft peached polyester material. It is a very lightweight mattress and compact in size that will fit easily in your car boot. It also features a dual 360 degrees flip valve for super fast inflation and deflation when you need to. 
Key Features:
3D design and bonded construction

Dual 360° valves
75D peached top
150D oxford bottom
Anti-bacterial treated foam
Open Cell Foam construction
Single king-sized
100mm thickness
Verdict: So, if you're looking for a comfortable and convenient sleeping solution for your future explorations, get the Darche Kozi self-inflating mattress for a comfy and light sleeping experience. With its durable, high quality materials and controllable level adjustments, this mattress is a great way to upgrade your camping experience with the perfect mattress that will keep you warm, relaxed, and comfortable all night long.
If you're not a fan of inflatable mattresses, you might want to consider the Sea to summit Ether light XT sleeping mat. This mattress is extremely light, only weighing 490g and is available in two different shapes and sizes. It features extra thick Air Sprung Cells that conform to your body's contours without affecting adjacent cells and eliminating wobble in to the mat. It is made with a quiet 30/40D nylon face fabric for disturbance-free sleeping. 
Key Features:
100% TPU laminated Nylon mat

XT Air Sprung Cells technology
Exkin Platinum® and THERMOLITE® insulation technology
Ultra-Fresh® anti-bacterial treatment
High-low valve mechanism
Pillow Lock system
Covered with lifetime warranty
Verdict: If you are an adventurer who likes traveling, packing light, and touring solo, the Sea to Summit Ether Light XT sleeping mat might be the best mattress option for you to enjoy the great outdoors. With its easy, high-end, and slip-free features, it sure is your best companion for providing comfort, support, and convenience during your camping trips.
The Coleman brand is a household name in the camping world, known for manufacturing reliable and affordable outdoor gear — and the Coleman Extra Durable Airbed is no exception. Known for its durability, this mattress features a leak-free polyester combination material that's built to last for years.
Key Features:
Advanced coil construction for more stability

Soft-touch brushed polyester surface

Compatible with manual or electric pumps

Coleman Airtight Double lock valve system

Single height blow up with 24 air coils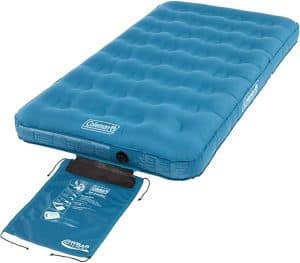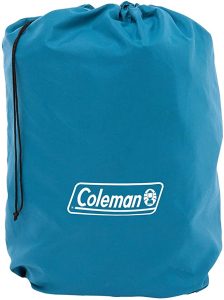 Verdict: Built with stronger construction and boasts of being puncture resistant, the Coleman Extra Durable Airbed is a quality camp bed at a mid-range price point. It packs extremely light and is great for car camping and family weekends in smaller tents.
If convenience is what you're looking for, then the Zempire Monstamat Single Self-Inflating Mattress is the choice for you. This full-length mattress features a 3D construction with a 150D polyester base which makes it one of the most durable and high-quality mattresses on the market today.
Key Features:
3D construction with 150 polyester base

360 degree double way valve

Cross cored for reduced weight

Two adjustable compression storage straps

Durable bonded 75D base

High volume valve

2-year full warranty
Verdict: Weighing only 7kg, this lightweight mattress is a great option for car camping. Despite its compact size, it remains thick at 10cm especially designed to withstand both the heat and extreme cold.
The IFORREST Sleeping pad is great for first-time campers because of the self-inflating design that makes it incredibly easy to install. This mattress has a lot of comfort features, one of which is its built-in armrests offering extra support from both sides — keeping you cuddled in between.
 Key Features:
2.1 inches thick

R-value 6.8

80D polyester foam

77 inches length, 29 inches in width

Self-inflating design

Built-in armrests and adjustable pillow

4 season air mattress

2-year warranty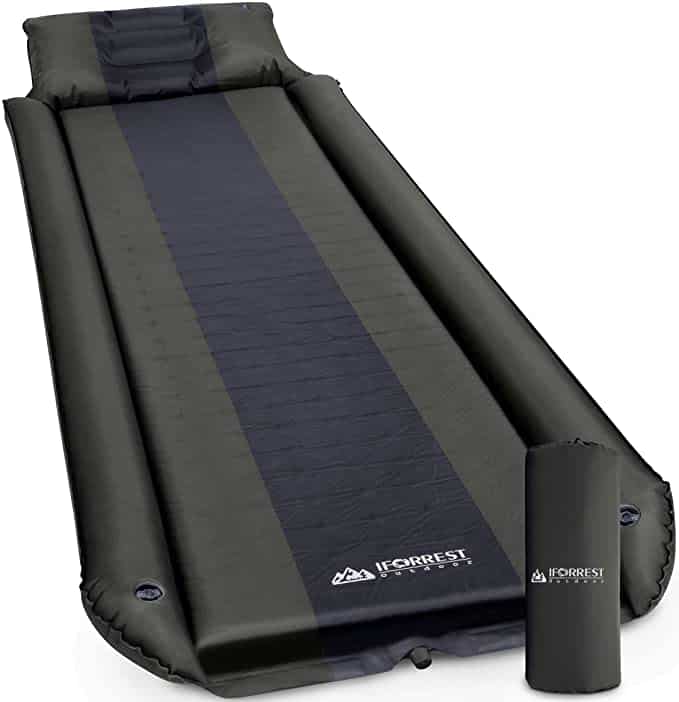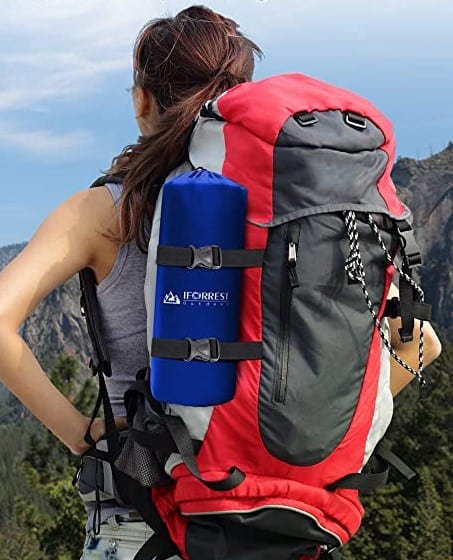 Verdict: This mattress provides a lot of room, with an impressive length of up to 77 inches. It's also fully insulated to withstand cold winter nights. And the best part? It also comes with an ergonomic pillow that's just as comfortable as the mattress itself.
The Exped Megamat 10 Camping Mattress makes use of the most innovative camping technology. It features the brand's signature FlatValve system that delivers rapid inflation and deflation. The valves are non-protruding and made of soft PU with no sharp edges.
 Key Features:
3.9 inches tricot surface foam

Air-Core channel foam with full insulation

High frequency welded seams

Self-inflating design with a mini pump

Non-protruding FlatValve technology made of soft PU

3D construction
Verdict: Enforced with high-frequency welding at the seams, the Exped Megamat Camping Mattress boasts of being 100% airtight. This mattress is also incredibly easy to pack, with a height-adjustable roll top bag with a carrying strap.
Proudly Australian-made, the SEA TO SUMMIT Comfort Deluxe Camping Mattress is a lightweight sleeping pad suitable for all kinds of outdoor adventures — from backpacking to offroad biking tours. This mattress gives you all the comfort of home, as it's designed to mimic a spring mattress with its Air Spring Cell construction technology
 Key Features:
Delta-Core technology

30D stretch knit fabric

75D polyester with extrusion laminated TPU

Diagonal supporting foam walls

Large 10 centimetre sidewalls

Integrated Airstream pump sack

Thermolite insulation pad

Exkin Air Sprung cells
Verdict: This all-around mattress provides a soft and comfortable sleeping surface at 2.5 inches thick. It features a fully insulated pad to prevent convective heat loss from the cold ground. It comes in two variable sizes: regular and medium.
BEST CAMPING MATTRESSES -- WHY BUY ONE ANYWAY?
Using a camping mattress is the secret to getting a well-rested sleep while camping.
Most camping mattresses are designed to simulate a regular bed to give you the comfort of your home in the outdoors. These mattresses also usually come with features that provide sufficient support to prevent back pain.
Aside from keeping you comfortable, the best camping mattress is incredibly lightweight — making it easy to travel with. Its compact size also means you have more storage space for your necessities.
BEST CAMPING MATTRESSES -- BUYING GUIDE
Camping mattresses come with different features, but here are some of the most important ones to consider: