Roughing it in the outdoors and camping trip means leaving most of the comforts of home behind. But after a few days of sweaty hikes and wearing the same clothes, nothing will feel more relaxing than a long shower at the end of the day.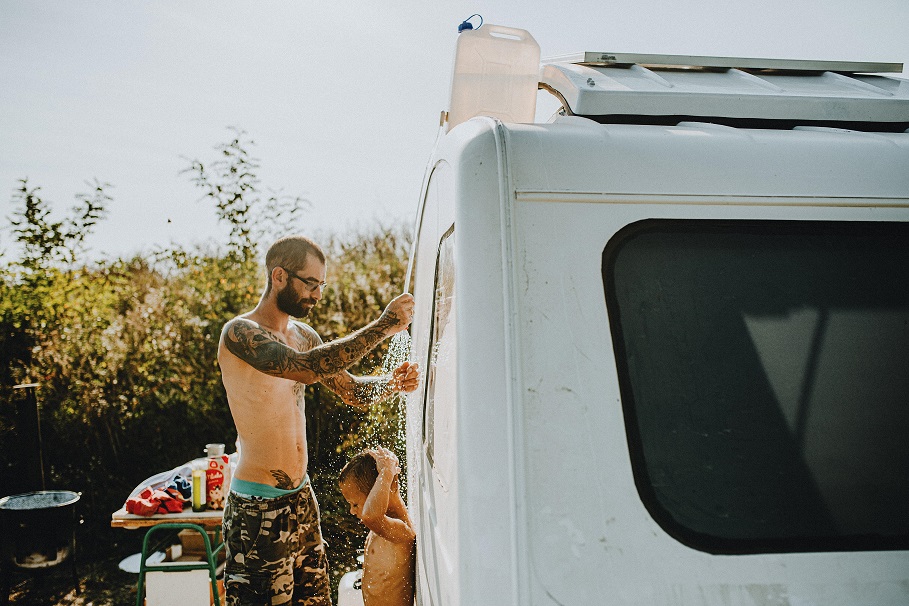 In these kinds of situations, portable camping showers are here to save the day.
Portable camping showers are exactly what they sound like — lightweight, compact shower bundles that can be taken anywhere and allow you to wash off the grime after spending the day in the outdoors. More than just an effective way to stay clean while away from home, these showers are multi-purpose — allowing you to wash your pets, cooking utensils, and other camping gear.
Not sure which camping shower to buy? Don't fret — we've rounded up our picks for the
The 5 best camping showers for you to choose from
Bringing the comfort of home to your campsite, the Companion Aquaheat Lithium Gas Shower is a higher-end camping appliance intended for the seasoned camper. Unlike other camping showers on the market that require an external power source or direct sunlight for heating water, this one operates on an integrated lithium-ion battery and gas — effectively providing you with a maximum run time of 120 minutes on only a single charge. With a water flow of 2.5 liters per minute, this camping shower will keep you feeling clean and fresh after a long day in the outdoors. They also have Companion canvas bucket shower and companion rechargeable camp shower which is also great for outdoor trips.
Key Features:
Auto ignite/re-light electronic ignition

Built in regulator for propane gas cartridge

Integrated reachargeable lithium battery

Digital display control panel

Quick connect fittings brushless pump

UPLG certified
Verdict: The Companion Aquaheat Lithium Gas Shower is a mini hot water powerhouse with an onboard rechargeable battery — perfect for an extended holiday in the outdoors. It's also incredibly easy to use even for beginners: all you have to do is add water and you instantly have hot water at the touch of a button. It also comes with a lot of convenient features, including an LCD display, built-in gas regulator, and temperature control.
If you're on the market for a camping portable showers that's perfect even for road shower but still provides you with a large water capacity and water supply, then the ADVENTURE KINGS Camping Solar Shower is your best bet. With its 20-litre capacity, this camping shower bag is capable of providing up to 7-minutes of full showers with water heater. What we love most about this one is that it's incredibly easy to use — because it relies on sunlight as its main power source, all you have to do is fill the bag up and leave it in the sun for a few hours to get hot water on-the-go.
 Key Features:
20-liter capacity

Solar power source

Large diameter inlet

Outlet valve for water flow adjustment

Transparent back

Water heater
Verdict: Lightweight and compact, the ADVENTURE KINGS Camping Solar Shower is the ultimate choice for backpackers looking for a way to keep clean without weighing them down on the trail. After using it, this camping shower packs away completely flat and can fit even in the side pocket of your bag. Its features may not be as modern as other showers on this list, but it still provides you with an outlet valve to control the water flow to your liking.
The BUSHRANGER Hot Water Camping Shower Kit stands out as being a complete camp hot showers set up that provides you with not just a hot shower perfect refreshing for your camping adventure, but also an instant ensuite changing room. This camping shower has everything included to mount it inside your engine bay and comes in a multi-purpose design that works for washing dishes as well as camping gear. It has a water output of only 6 liters of water per minute — designed to reduce water consumption while still providing enough water pressure to wash away grime after a long day in the outdoors and camping trips.
Key Features:
Multi spray pattern

heat exchanger

1.5 meter hoses with fittings

2 D batteries

Gas hose and regulator

Power cable with switch

6 liters per minute capacity

Comes with change room and pull-out awning
Verdict: The BUSHRANGER Hot Water Camping Shower Kit is the perfect solution for campers looking to add a little luxury to their campsite. This kit includes both a hot shower system and a change room with pull-out awning — so you can enjoy privacy and comfort even when out in the wilderness. Set up is made incredibly easy since all components are easily connectable, with all temperature control and regulators properly labeled for your convenience.
The WANDERER Camp Shower is a compact shower bag that provides you with warm shower on-the-go. Its main power source is a 12V DC plug that's compatible with the cigarette lighter in your vehicle — so you can take it with you anytime and anywhere. The waterflow is completely adjustable from a pressurized full shower to a steady stream of water. It also comes with a 2 meter hose that provides you with a longer reach for more comfortable cold shower than the actual shower. You can also check the summit pocket shower as alternative for Wanderer Camping showers.
Key Features:
12V DC cigarette plug

Adjustable water flow

Suction cup and holder

2m hose

Includes carrying bag
Verdict:  With a compact design and adjustable water flow, the WANDERER Camp Shower is an affordable option for campers who love to travel light. Forget about struggling where to put your camping shower, since this one comes complete with a suction cup and holder so you can hang it just about anywhere in the campsite. And the best part? It comes with its own carrying bag for easy transport.
Convenience is the name of the game when it comes to the COMPANION Solar Shower. As its name suggests, it provides you with warm showers using only the heat of the sun — no need to worry about charging batteries or fussing with propane pumps. This camping shower comes with a temperature control gauge to adjust water flow. It also has a fully welded construction that features a combination of 600D ripstop polyester fabric and PVC material — built strong to withstand the harsh Australian weather conditions.
Key Features:
20 liter capacity

600D ripstop polyester and clear PVC

Fully heat welded construction

Large 38mm filling valve

Mesh front pocket

Velcro straps

Water temperature gauge
Verdict: Since its powered only by sunlight, the COMPANION Solar Shower can be taken anywhere — even in remote campsites with limited access to water. With a total capacity of 20-liters, it gives you up to 8 minutes of shower time. This camping shower has velcro straps that allow you to adjust its head height. And the best part? It even has mesh pockets to hold your soap or shampoo. Price: 29.95
THE BEST CAMPING SHOWER -- WHY BUY ONE ANYWAY?
1. Comfortable and Travel-Friendly

The best camping showers allow people to feel clean no matter where they are. They are lightweight and compact so they won't take too much space in your car — allowing you and your family to enjoy a warm or cold shower even in the most remote camping grounds.

2. Ease of Use

Camping showers are so easy to use because there's no need to mess with complicated tools, pumps, or batteries. All you have to do is just fill them up, let them get warm, and hang them — it's as easy as that. They may not give you all the comforts of home, but you'll be able to enjoy a relaxing shower at the end of the day without a lot of fuss.
3. Friendly to the Environment

Modern camping showers are typically constructed using eco-friendly, recycled materials — making them safe for the environment in support of sustainable camping. They also encourage you to use less water because you can only fit so much in the bag.
THE BEST CAMPING SHOWER -- BUYING GUIDE
With so many camping showers available on the market today, finding the right one can be a difficult task.
To guide you in your search, we've listed some of the important factors you should consider when purchasing a camping shower:
1. Camp Shower Size
The ideal size of the best camp shower depends on your style of camping.
If you're planning to go off-road camping with your 4WD, you have a lot of extra space and can invest in a propane water heater as well as a portable hot water system. But if you're planning on going backpacking or hiking camping trip, you might opt for a more lightweight and smaller option like a best portable shower.
2. Water Capacity and Flow Rate
When deciding on the water capacity for your best camp shower, think about how many people will be using it. Typically, solar camp shower or solar showers provide you with just a few liters of water until you need to refill them, this features looks a better Coleman solar shower version.
Flow rate, on the other hand, will determine how quick or long your cold showers are. Some models will allow you to fully adjust the flow rate.
3. Water Heating Capabilities


Solar Showers
Solar shower is the cheapest option since it only requires sunlight in order to heat the water. But it does take longer to heat up and you need a solar bag, also it might not work as well in shaded areas where there is little to no sunlight.
Gas bottle
they usually run on propane tanks and heat water faster. But they can be a lot more expensive.
Battery Power
this also heated water up fast, but will require a steady source of power where you can constantly recharge the batteries.