Camping is a popular outdoor activity that allows people to reconnect with nature and spend quality time with friends and family. And, at the heart of every great camping trip is a reliable source of light.
A camping torch is the ultimate camping companion designed to provide bright and long-lasting light in any outdoor setting. Whether you're setting up camp in the woods or on a beach, having a camp torch is the perfect tool for lighting up the night.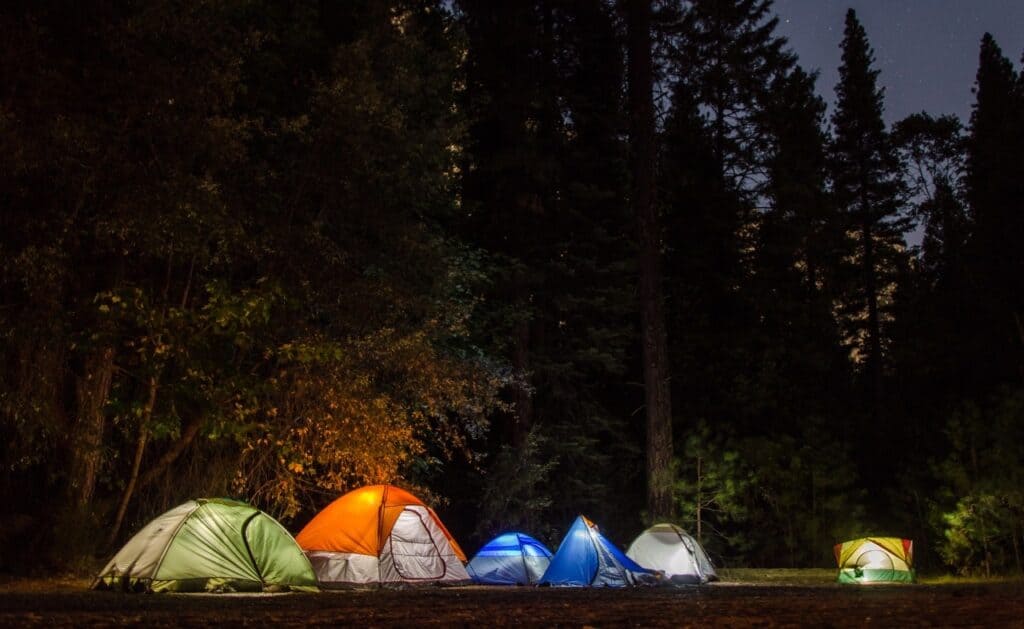 Not only does a camping torch provide ample lighting, but it also has several useful features that make it stand out from other camping lanterns. If you're planning a camping trip and want to ensure that you have the best possible experience, be sure to bring along a lighting torch.
With its combination of brightness, versatility, and eco-friendliness, it is the ideal choice for any camping adventure. In this post, here are some of the top camp torches we recommend that you might want to check out!
The Maglite ML300L is a professional-grade LED flashlight with robust aluminium construction, adjustable focus, and multiple light modes. It is ideal for outdoor and mission-critical use and features a long battery life even with high running time.
Key Specifications:
Lumens: 1002

Light Source: LED

Beam: 511m

Run Time High: 5h 45m

Run Time Low: 97h 

Rechargeable: No

Water Resistant: Yes
Verdict: Although batteries are not rechargeable, the long run time, mega beam, and water-resistant features make it a solid choice for a dependable flashlight. Overall, the Maglite ML300L is a well-made and trusted option for those in need of a durable and versatile flashlight.
The LED Lenser P7R Core Flashlight is a compact and powerful lighting solution with a sleek black design and it features smart functions and technologies for bright and efficient lighting. With its durable construction, it makes a reliable choice for any adventure.

Key Specifications:
Lumens: 1000

Light Source: LED

Beam: 210m

Material: Aluminium alloy

Rechargeable: Yes
Verdict: The ideal flashlight for any kind of occasion, LED Lenser P7R Core, has a high-performing and versatile lighting solution with a range of innovative features. For those in need of a reliable and advanced flashlight, you might want to choose this one.
The strongest of them all–Dorcy 4000 Lumen Rechargeable Torch. It is a high-powered LED flashlight designed for outdoor and industrial use, making it durable enough to withstand tough to extreme weather conditions.
Key Specifications:
Lumens: 4000

Beam: 170m

Run Time Highest: 2h

Run Time Lowest: 100h

Rechargeable: Yes

Water Resistant: Yes
The NEBO Franklin™ Dual RC Flashlight is your easy-touch, handheld flashlight that you can bring almost everywhere you go. With its powerful and comprehensive abilities, you are sure that you can shed some light when you need it most.
Key Specifications:
Lumens: 500

Beam: 75m

Overall Run Time: 40h

Material: Anodised aircraft-grade aluminium

Rechargeable: Yes

Water Resistant: Yes
Verdict: For a versatile and hands-free LED flashlight, the NEBO Franklin™ Dual RC Flashlight is a great option for your outdoor adventures and a convenient choice for a variety of tasks that you need to do in low-light situations.
Its powerful features make it to the list: The NEBO Transcend rechargeable headlamp is a high-powered LED headlamp and flashlight that features a maximum turbo mode lighting option that allows a bright shed of light whenever you're out. 
Key Specifications:
Lumens: 1000

Beam: 105m

Run Time Highest: 4s

Run Time Lowest: 27.5h

Rechargeable: Yes

Water Resistant: Yes
Verdict: Want to use a camping torch that can be used as both a headlamp and a flashlight? Try the NEBO Transcend rechargeable headlamp. It is a versatile lighting solution with seamless transitions between light modes, all thanks to its technologies.
Best Camp Torch – Why buy one anyway?
1. Elevate your outdoor adventures to new heights with a camping torch that offers reliable and efficient lighting, ensuring you have clear visibility in the darkest of environments.
2. Experience unparalleled convenience as you effortlessly carry your compact camping torch on all your camping trips and hikes, providing you with a portable and reliable source of light wherever you go.
3. Invest in a camping torch built to withstand the rigours of the great outdoors, ensuring durability and longevity that will accompany you on countless outdoor adventures for years to come.
4. Say goodbye to the worry of running out of battery power during your camping expeditions, as your dependable camping torch offers extended battery life, allowing you to enjoy prolonged illumination without interruption.
5. Stay protected from unpredictable weather conditions with a camping torch designed with a waterproof exterior, providing peace of mind and reliable functionality even in rainy or damp environments.
6. Tailor your lighting experience to your specific needs with a camping torch that offers different brightness levels and versatile features, allowing you to adjust the intensity and functionality of your light source to suit any situation you encounter in the great outdoors.
Best Camp Torch – Buying Guide
You can find a camping torch that fits your specific needs and provides you with reliable lighting for all your outdoor adventures by considering the following key points below.
Brightness


Consider the brightness level you need for your specific activities. Higher brightness levels are better for night hiking, while lower levels are better for camping and reading.
Battery life

Look for a torch with long battery life to ensure you have enough light for extended use. Consider whether the torch uses replaceable or rechargeable batteries.
Durability

Ensure that the torch is durable and can withstand rough outdoor conditions. Look for torches with waterproof and shockproof features.
Portability

Consider the size and weight of the torch to ensure it is easy to carry with you on your outdoor adventures.
Features

Look for torches with special features such as adjustable focus, multiple light modes, smart controls, hands-free options, and many more.
Price

Set a budget and compare prices to find the best value for your needs. Keep in mind that higher-priced torches may have better features and durability.
Brand reputation

Consider the reputation of the brand to ensure you are buying a high-quality product. Read reviews and do research to find a trusted brand.