The secret to enjoying any outdoor adventure is wearing the right footwear.
From local trails to rugged mountain terrain, the best trail running shoes will help you make it through nature's roughest obstacle course.
These shoes will not only protect your feet from debris, but also support your movement and grip the ground underfoot for more stability. Combining stiffness and cushioning, the best trail running shoes ensure that your feet stay secured and your ankle stays properly aligned.
On the hunt for new trail running shoes? Don't fret — we've tested a number of different brands against varied conditions, and below are our picks for the best trail running shoes on the market today:
With a focus on protective features, the BROOKS Catamount Running Shoes will help you hit the trails at top speed. Leading the list of its many features is the Brooks patented Ballistic Rock Shield — an extra stiff layer placed between the midsole and outsole designed to provide more flex and bounce in order to disperse the impact of stepping on rugged terrain. And then there's its ultralight and responsive cushioning that is not only remarkably comfortable but also adapts to your stride so you can run faster.
Key Features:
3.5mm lugs with raised tread pattern

DNA Flash nitrogen-infused midsole

Sticky rubber outsole

Ballistic Rock Shield

TPU mud guard

Suede internal construction
Verdict: The BROOKS Catamount Running Shoes will help you keep your focus on the trail without worrying about roots or rocks that could ruin your run. Equipped with a raised tread pattern, these trail running shoes will help you grip the ground better, no matter the surface. It also comes in a modern white and light blue color combination that combines both style and function.
Stability is the name of the game when it comes to the SAUCONY Peregrine 11 Running Shoes. Featuring 4mm aggressive lugs, these trail running shoes make use of tacky rubber in the outsole that is not only strong but also soft enough to provide excellent flexibility — striking the perfect balance between grip and durability to keep you on your feet even on the roughest terrain.
Key Features:
4mm aggressive lugs

Tacky conforming rubber

PWRRUN cushioning

Breathable mesh upper

23mm under forefoot

Locked in heel
Verdict: The SAUCONY Peregrine 11 Running Shoes makes running uphill extremely easy with aggressive lugs and responsive cushioning. These shoes are also incredibly breathable, with an ultralight top layer and an airmesh booty that allows proper airflow when running.
Worried about rocks and roots? No longer a problem with the HOKA Challenger ATR 6 Running Shoes. This trustworthy pair is equipped with a soft, protective cushion that is designed to provide support and shock absorption for those long trails. As a trade off for its lightweight build, it comes with a toe-off that is aggressively responsive for when you want to go faster uphill or downhill.
Key Features:
4mm lugs for all-terain running

Gusseted tongue

Toe rand for support and protection

Recycled poly laces

Tongue mesh

EVA foam midsole

Zonal rubber placement
Verdict: From the roads to the trail, the HOKA Challenger ATR 6 Running Shoes are versatile enough to go from one to the other. Featuring an non-spongy EVA midsole with firm cushioning, you can run with confidence knowing that your shoes can take on the impact on rugged surfaces. A protective toe cap also offers excellent protection from mud and debris.
The INOV-8 Trailfly Ultra G 300 Max deserves a spot on our list because of its unique feature — it's the first running shoe that uses Graphene-enhanced foam, which the brand has patented as G-Fly. This revolutionary foam is stronger and delivers greater energy return, estimated to be 25% more responsive than other shoes on the market. The result? Ultra-protective cushioning that shields your feet even on the burliest of trails.
Key Features:
30mm heel stacks

6mm offset drop

G-Fly graphene-infused midsole foam

TPU bead based insole

Adapter-flex groove underfoot

Thin gusseted tongue

Sparse collar padded upper
Verdict: More than just an incredibly durable and strong build, the INOV-8 Trailfly Ultra G 300 Max has several revolutionary features that make it stand out from the rest. At the top of the list is its underfoot Adapter-flex groove that is designed to provide excellent grip and traction when running big miles. Even over long distances, these shoes will keep your feet locked in with a sparse collar padding in the upper and secure lacing that snugs up your midfoot for the right fit.
With features praised by professional athletes, THE NORTH FACE Flight Vectiv Running shoe is a dream for every long-distance trail runner. It's extremely lightweight, weighing only 10 ounces. This pair also stands out as one of the first carbon-plated shoes — specially designed to provide more bounce and easier roll through with added energy return.
Key Features:
3.5mm rugged lugs

Rocker midsole for forward propulsion

Rubber optimized outsole

3D carbon fiber plate underfoot

Reinforced toe cap

TPE footbed

Abrasion-resistant midfoot panel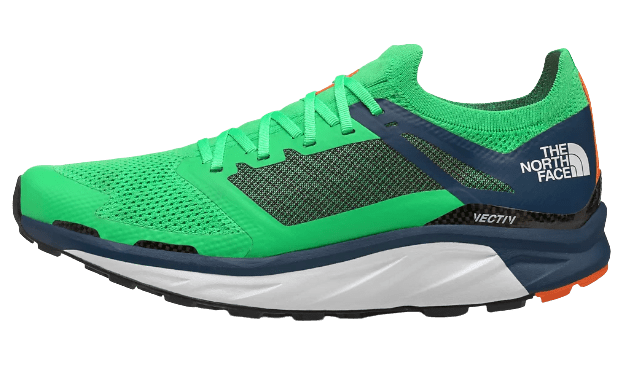 Verdict:
There's a lot to say about THE NORTH FACE Flight Vectiv Running shoes when it comes to grip. Equipped with 3.5mm lugs, these shoes provide good traction on all types of terrain. It also features rocker midsole geometry that is specifically designed to create forward propulsion and more free movement. And with its patented rubber outsole, you're guaranteed great surface control — something that all trail runners should optimize.
BEST TRAIL RUNNING SHOES -- WHY SHOULD YOU BUY ONE ANYWAY?
As trail runners, our feet take on the most beating on the road — so proper protection should always be a top priority.
Here are a few reasons why a great pair of shoes should be every trail runners must-have:
The unstable surfaces of the trail increase the risk of injury.
To keep your feet properly protected, the best trail running shoes feature "toe bumpers" — durable rubber caps that act as a shield against rocks and roots along the path. Compared to ordinary road shoes, trail running shoes also have mesh uppers that are more tightly weaved to protect your feet from trail debris.
The goal of most trail runners is to straighten their footstrike, and trail running shoes have a stiffer overall construction that is built to prevent excessive foot rotation.
The stability provided by trail running shoes starts primarily from supportive materials on the upper that strap your foot down and keep it from sliding around too much. This feature is enhanced by a wider toe box for more freedom of movement.
Trail running shoes feature lugged soles with strategically-placed teeth that are meant to grip off-road surfaces.
This not only improves traction but also ensures that you have more control when running over dirt, mud, gravel, rock slabs and other rugged terrain.
THE BEST TRAIL RUNNING SHOES -- BUYING GUIDE
Before you hit the trail, here are a few important factors to consider when choosing the right pair of shoes:
Even with the most expensive brands, you won't be able to perform your best if your shoes don't fit right.
When purchasing, remember to do a short test run first to ensure there is enough extra room in the toe box and it provides snug support along the rest of the foot. Another pro tip is to make sure the ankle collar and saddle don't rub up against your skin.
When trail running, your feet hit the surface hard.
That's why it's important to choose trail running shoes that offer the right amount of cushioning in order to absorb the blunt of the impact everytime you hit the ground. Make sue they are equipped with a softer foam midsole for better shock absorption and bounce.
The lighter your shoes, the smoother your run.
Especially when running downhill or if you have additional hardwear on your shoes, keeping your overall weight down is beneficial.
Heel-to-toe Drop measures the difference between the height at the heel and the height at the forefoot, typically ranging from 0mm to more than 12mm.
It's best to choose trail running shoes with a lower heel drop which encourages a mid or forefoot strike, resulting in a more stable landing as well as better balance and muscle engagement.