Planning a trip out to the outback?
If you really want to camp out like a true Aussie, the best way to enjoy the natural landscape and sleep right under the stars is to use a swag tent.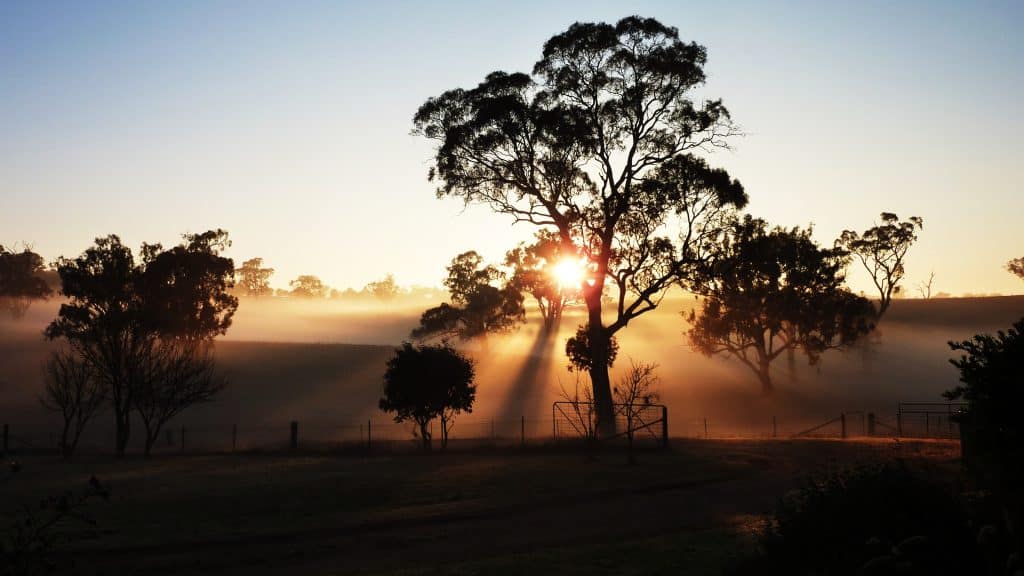 A uniquely Australian invention, the swag tent is a compact sleeping space that consists of a traditional canvas bed roll that houses a thin mattress inside. It resembles a more advanced sleeping bag that you can zip all the way up, covering your entire body including your head. Compared to traditional tents, swags are smaller, more affordable, and so much easier to install.
Ready to start your unique camping experience?
Here is a rundown of our top picks for the best swag tents in 2023:
The Darche brand is a household name in the camping world for producing innovative, high-quality products — and its Dusk To Dawn swag tent is no exception. With a 140cm width and dome-shaped design, this swag tent is larger and more spacious than other models on the market today — designed to provide enough room to move around and is guaranteed to keep the canvas off your face. It's extremely durable, with a construction that features 420gsm ripstop polycotton canvas and a PVC bucket floor that is meant to combat the harsh Australian weather.
Key Features:
420gsm ripstop polycotton canvas

125gsm superfine polyester mesh

70mm high density foam with removable cover

PVC floor with welded corners

Two zip down ventilation windows with storm flaps

Four internal storage pockets

Two full length doors

Comes with canvas bag, tensioning straps and stainless steel rings
Verdict: Because of its large size and spacious headroom, the DARCHE Dusk To Dawn swag tent is the ideal choice for beginner campers and those who are claustrophobic. Its standout feature is its superfine insect mesh panels that give a great view of the night sky while preventing bugs and insects from getting in — perfect for stargazing.
Built with features that are compatible with warmer climates, the OZTRAIL Mitchell Expedition is a practical swag tent that provides great ventilation and an uninterrupted view of the stars. The construction features the traditional canvas material but is bolstered with a 300gsm rating and a unique SatProof fabric that makes it more durable but still remains lightweight. For additional protection against the weather, its zippers are completely covered with storm flaps that prevent water leakage and help keep the rain out.
Key Features:
230gsm SatProof 600 ripstop canvas

PVC vinyl shield floor

Protective head and foot awnings

3 pole dome style construction

High-tensile durallium alloy poles

5cm high density open-cell foam mattress

No-see-um mesh panels

Eyelet ready for optional center ridge pole
Verdict: Weighing only 6.3kg, the OZTRAIL Mitchell Expedition is one of the lightest swag tents on the market today. Both ends are equipped with mesh windows for proper ventilation and awnings as an extra weather protection feature. This swag tent is guaranteed to keep you in place with its high tensile alloy poles that are built to withstand harsh weather.
Providing the perfect balance between a traditional tent and a swag, the OZTENT RS-1 King Single Swag is the ultimate one-person shelter for campers who appreciate a lot of extra space. With a height of 100cm, you can sit up comfortably with enough room for a full sized adult and extra storage for your camping gear. Its standout feature is its integral awning sun shade that comes in a unique two-sided design — the upper side is the same color as the swag with a high waterproof rating, while the underside features a reflective backing that can be used as a rainfly.
 Key Features:
300D ripstop polyester material

High quality aluminum frame

350gsm heavy sealed PVC tub floor

No-see-um mesh screens

40mm mattress

Certified fire rating to CPAI-84

Integrated toggles to hold LED lights under the awning
Verdict: With unique features and a built-in awning extension, the OZTENT RS-1 King Single Swag makes a great entry level option with an innovative folding frame, this swag tent easily sets up and packs down within 30 seconds. Its design creates more of a rectangular shape offering plenty of headroom and internal space.
The Darche Nebula is an all-weather, robust swag tent. The innovative design is spacious enough for 2 people to sleep and sit straight up without compromising comfort and durability. Everything can be set up within over 90 seconds due to it's instant bedding feature. This tent is extremely versatile and perfect in any condition– the best heavy-duty companion for expedition and touring. 
Key Features:
Anodised 16 mm alloy body and ridge poles

420gsm poly/cotton 16 mm grid ripstop canvas
800 mm PU waterproofing with internal seam sealing
125gsm super fine insect mesh
50 mm poly/cotton foam mattress
Verdict: The Darche Nebula is an all-rounder swag tent with an ample size so it is comfortable to sit in straight. It has a 4-way entry made with mesh material with storm flaps, making it the perfect tent for any weather. An important reminder is that the only way to ventilate the tent is the four-way entry mesh door which will be completely covered when it's raining.
Watch the night sky and get protected from the sun with Oztent DS-2 pitch-black double dome swag tent with its excellent design and feature. This tent is spacious enough to cater two people. A completely removable and waterproof top cover can be either be placed for 95% sunlight blocking with its pitch-black tech, or removed for a completely seamless view of the night sky.
Key Features:
Keeps out up to 95% of sunlight for daylight use

Replaceable No-See-Um Mesh sky-screens for nighttime
50 mm mattress included
Ripstop poly cotton canvas
Pitch Black Tech™
100% waterproof
Verdict: The Oztent Ds-2 swag tent has so much in it for its size and weight. It is possible to sleep during the daytime in a comfortable tent with its pitch-black technology feature, or simply enjoy the night sky with the roof cover off. This  tent is just stunning in terms of design and may just be what you're searching for.
The Dune 4WD Barwon Swag is a well-built, spacious, and waterproof swag tent that can house a single person. Built with a sturdy PVC flooring and fine insect mesh to keep bugs out, it is certain that you'll get an excellent night's rest.
Key Features:
Heavy duty 100D PVC flooring

Anti insect mesh
Fibreglass head and foot poles
390 gsm poly cotton canvas
Steel spreader bar
Verdict: The Dune 4WD tent is very comfortable, quick and easy to set up, and if you want a tent just for yourself then you might want to consider this swag tent. 
The Dune 4WD Outback XL Swag is an incredibly spacious swag tent for a solo adventurer. It is lightweight but has a high-density foam mattress for extra comfort. The rugged and durable ripstop canvas material with PVC tub floor that only weighs 12.9 kg.
Key Features:
Duralumin 7001 alloy poles

60mm foam mattress
No-See-Um anti-bugs mesh panels
High density foam mattress
Improved 3 hoop design for ring and pin system
Verdict: We liked best about this swag tent is its unique features and built in shoe mat. The Dune 4WD Outback XL Swag is a great choice while the only downside is it needs pegs to set up and pegs don't work on sand surfaces. If you prefer going solo, you might want to check this out.
The Wildtrak Trakker Camp Swag is a tent built solely for Australian outdoor leisure. This swag tent is made of top-quality materials that are cost-friendly and super lightweight, weighing only at 6 kg. It is well-ventilated and breathable, so you won't suffer from condensation build-up.
Key Features:
Protective head and foot window awnings

60 mm high density foam mattress

420gsm Ripstop cotton canvas

500gsm PVC floor

Ultra fine nylon mesh screens 
Verdict: The Wildtrak Trakker Camp Swag is much faster and easier to set up which has an awning canvas for all-weather ventilation. This swag tent can stand on its own with the pegs if you consider buying the optional centre pole as it provides sturdiness to the overall structure and makes everything about this swag tent just great! 
As its name suggests, the WANDERER EXTREME Heavy Duty Single Swag is built with tough features designed to withstand the harsh Australian climate. Its construction comes with a top spreader pole that keeps its frame steady and stable, as well as a thick 520gsm polycotton fabric that's both durable and waterproof. This swag tent stands out as having one of the thickest mattresses in the market today, featuring a 8cm 4WD self-inflatable foam that is guaranteed to give you a good night's sleep no matter the weather.
 Key Features:
520gsm polycotton canvas fabric

8cm 4WD self-inflatable mattress

No-see-um mesh

Lightweight alloy dome and top spreader pole

850gsm PVC bucket floor

Side windows

Shoe storage pocket

Zip up storage bag
Verdict: Aside from its durable construction, a lot can be said about the WANDERER EXTREME Heavy Duty Single Swag when it comes to ventilation. It features multiple entry points on all ends for proper airflow and easy exit. This swag tent also comes with side windows for breathability as well as no-see-um mesh that provides an extra layer of protection against bugs and insects.
If you're looking for a budget-friendly option that still has all the features you need for your next camping trip, look no further than the XTM 4×4 Single Swag. Don't be fooled by its price tag — this is a solidly decent swag tent with lots of durability features, including a 400gsm ripstop polycotton canvas fabric construction that is bolstered with double stitched reinforced seams. Its 450gsm PVC bucket floor ensures that you're kept dry throughout the night with no reason to worry about water leakage in case of sudden rainfall.
Key Features:
400gsm ripstop polycotton canvas

450gsm PVC bucket floor

50mm thick foam mattress with cover

Thick alloy poles

Internal utility pockets

Double stitched reinforced seams
Verdict:  Convenience is key when it comes to the XTM 4×4 Single Swag. It's easy to set up and packs incredibly small, making it extremely travel friendly. If you usually camp with lots of gear, this swag tent provides lots of extra storage space with its built-in internal pockets that provide a safe space to keep your essentials.
THE BEST SWAG TENTS -- WHY BUY ONE ANYWAY?
Unique Camping Experience
Sleeping in a swag tent under the night sky is one of the most exceptional ways to enjoy yourself in the Australian landscape. Without the full coverage of a traditional tent, you essentially become a part of the natural scenery and can better immerse yourself in the incredible view and culture of your chosen camping region.
Convenient and Compact
One of the biggest advantages of using a swag tent is that it's convenient and easy to set up. If it's your first time camping, a best camping tent can save you a lot of time and energy as it sets up literally within seconds.
Temperature Control
On colder nights, a swag tent offers better temperature control than a full-size tent as its heavy canvass retains body warmth while the PVC vinyl flooring also helps trap the heat inside. During hot summer months, swags come with mesh windows that provide proper ventilation while keeping the bugs at bay.
THE BEST SWAG TENTS -- BUYING GUIDE
If maintained properly, a quality swag tent will give you years of reliable use. So choosing one is an important decision to make.
To find out which best camping tent is right for you, we've put together some important factors to consider:
1. Fabric
The ideal choice is high quality cotton or polycotton canvas which is durable and designed to be naturally water-resistant. The flooring should be made with a combination of PVC and polyester, which dries faster and is more durable than cotton. It's also a good idea to look for fabric that is UV treated, so you're protected from the sun's harsh rays during hotter months.
2. Waterproof
The fabric of your swag tent should be bolstered with added water-proofing measures. A resistance rating of at least 1000mm is deemed sufficient to combat any sudden inclement weather.
3. Design
Like most tents, focus should be mainly on drainage and ventilation features. The outer portion should be designed in a way that the water is directed down and away from the opening. The construction should be double seamed to prevent any water leakage.best c