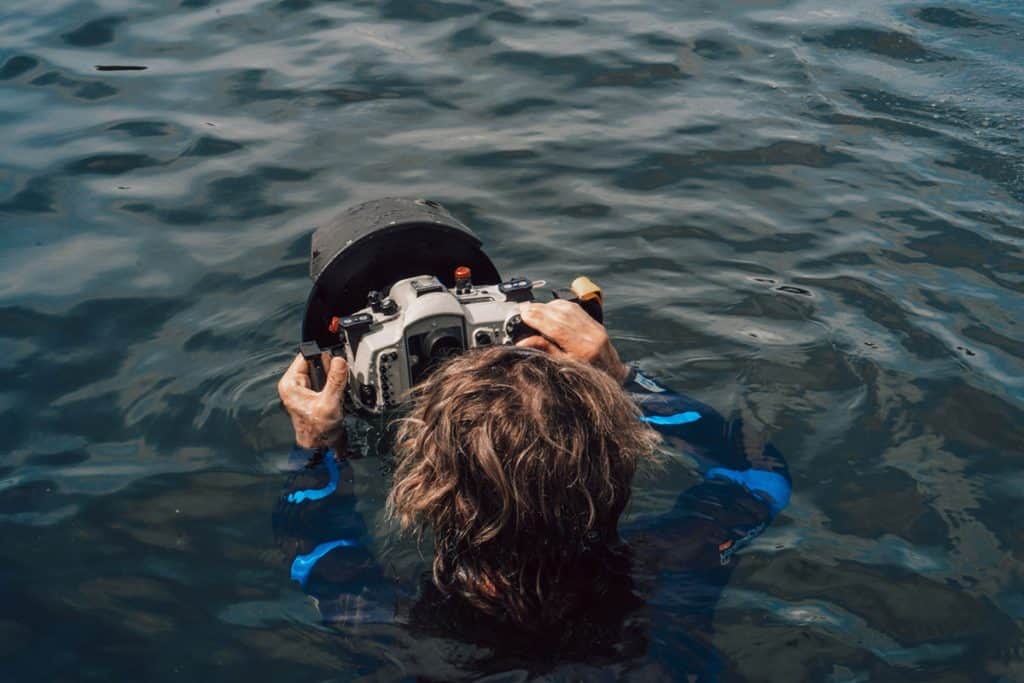 From mysterious shipwreck dives to tropical coral gardens — it's easy to see why Australia is consistently considered to be one of the best dive spots in the world.
It's a beautiful world down there, and the best underwater cameras will help you capture it in the best way.
As its name suggests, an underwater camera is basically a camera that is specially designed to capture images and videos under water — typically used for shoots while one is swimming, snorkeling, or with a remotely operated underwater vehicle. Some come with protective housings that have control knobs and buttons. Other more advanced models are even automated and can be easily lowered from the water surface to capture images and videos on their own.
Ready to dive in and purchase your first underwater camera? Here are our top 5 choices for the best underwater cameras in 2023:
From shooting water sports to reef snorkeling — the OLYMPUS Tough TG-6 can handle just about any situation. This underwater camera comes with a various close-up features that allows you to get closer to your subjects — including a digital microscope mode that lets you zoom in up to 4 times closer. It also comes with a unique tracking feature that tells the photographer where the picture was taken — perfect when traveling from one place to another
Key Features:
2MP BSI-CMOS sensor

25-100mm equivalent stabilized lens

45ft waterproof rating

1cm minimum focusing distance

20fps burst shooting

4K video

Built-in GPS altimeter, compass, thermometer and aceelerometer

Optional conversion lenses and flash accessories

5 underwater shooting modes
Verdict: The OLYMPUS Tough TG-6 is a compact, ultra-rugged camera with a variety of different features that will appeal to all kinds of users. This underwater camera is compatible with all kinds of high tech sensors like a GPS, altimeter/depth gauge, compass and thermometer that you can use in any kind of water environment.
If you're looking for an all-rounder action camera, then the GoPro Hero 9 should be at the top of your list. This isn't exclusively an underwater camera, but is designed to be waterproof and can go down to depths of up to 33ft right out of the box. Compared to previous models, its two biggest upgrades are its front display that makes for easy framing and its new 23.6MP sensor that allows you to shoot videos with clearer detail.
Key features:
5K resolution videos

20MP photo clarity

Hypersmooth 3.0 stabilization

Timewarp 3.0 with slo-mo mode

Waterproof up to 33ft

Front display and rear touch screen

Detachable lens
Verdict: Promising to deliver 20MP photos, the GoPro Hero 9 can capture clearer and more crisp images. Its handy new features like HindSight, scheduled captures and webcam mode make it one o the most versatile pocket action cameras on the market today. With its 23.6MP sensor, this underwater camera can take you to places even your video camera can't reach.
If you travel blogging, then the DJI Osmo Action has all the hardware to fit your needs. This underwater camera features dual screens: a vivid front lens that allows you to take unrivaled underwater selfies effortlessly, and a backscreen that has a crisp clear display that is hyper-resposive to touch. But its most standout feature is its RockSteady technology — an electronic image stabilization feature that allows you to take shake-free footage even in the roughest water currents.
Key features:
1/1.7″ CMOS Sensor, Wide 155° FOV
Front & Back Color Touchscreen Displays
Up to DCI 4K60, UHD 4K120, 1080p240
Fast Charge Technology, Voice Control
Verdict: Rivaling GoPro cameras in both features and design, the DJI Osmo Action is jampacked with modern technology for all kinds of outdoor adventures. This underwater camera allows you to capture images with 1080p crisp resolution and videos with up to 8x slow motion. It also allows you to achieve stunning time-laps videos with ease.
If you're looking for a budget friendly option that won't break the bank, then the PANASONIC Lumix DMC FT-30 is your best bet. This rugged compact camera allows you to shoot up to 8 meters underwater, with a lot of protective hardware so it can survive drops of up to 1.75 meters. Its zoom lens gives you up to 4x magnification, for sharp and clear images.
Key Features:
MEGA optical images stabilizer

Waterproof up to 8 meters

Shockproof up to 5 ft

Freezeproof up to -10 degrees celcius

MP4 HD video recording

30p sensor output

2.7 inch LCD screen
Verdict: The PANASONIC Lumix DMC FT-30 may have a lesser price tag, but it doesn't trade off when it comes to quality features of a rugged camera, including: waterproofing down to 8 meters, shockproofing from up to 1.75 meters and freezeproofing down to -10 degrees celcius. Whether on land or water, this underwater camera is lightweight and small enough to carry with you anywhere.
Another option for the budget-friendly adventurer is the FUJIFILM FinePix XP140. This underwater camera comes in a rugged design with a focus on durability through its four protection features: waterproof up to 82 ft, freeze proof up to -10 degrees C, shockproof to withstand drops from 5.9 ft and dustproof to keep sand away — making it the ideal choice for a variety of outdoor environments.
Key Features:
16.4MP still images

5x optical zoom

3 inch LCD display

ISO 12800 sensitivity

Waterproof up to 82ft

Shockproof up to 5.9ft

Freezeproof up to -10 degrees celcius

CMOS shift optical image stabilization

Eye detection feature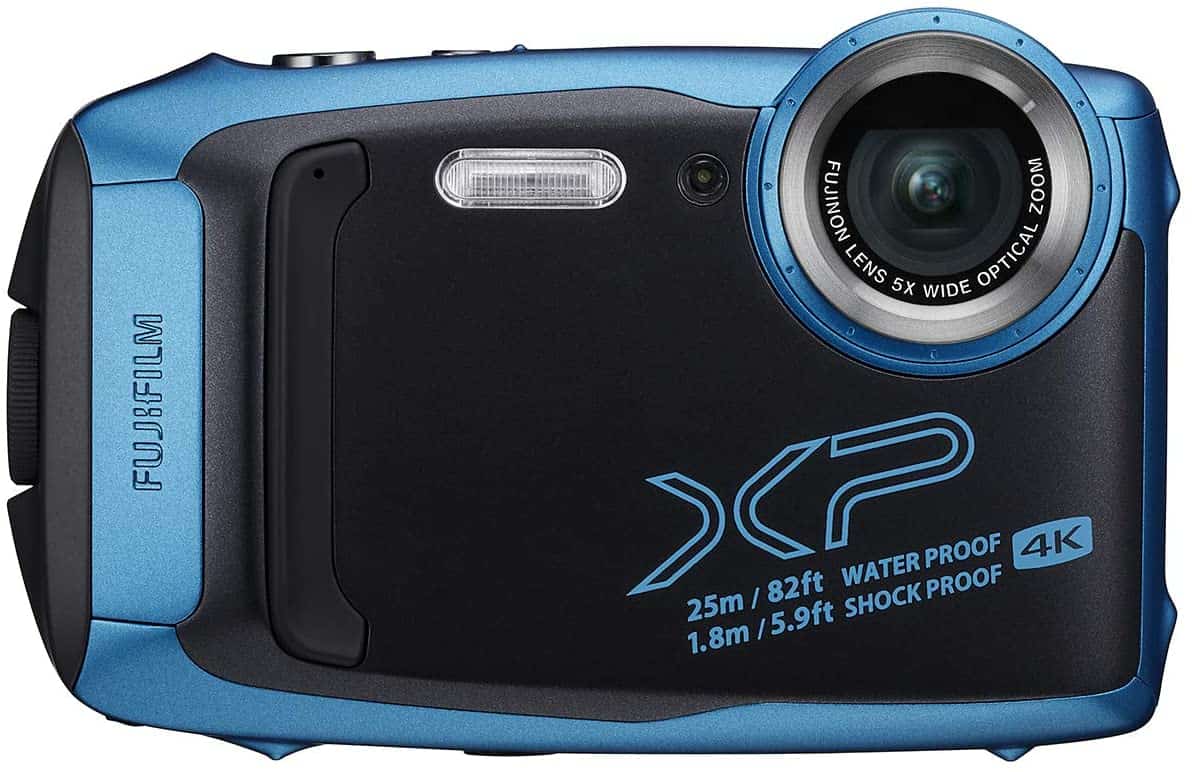 Verdict: With its compact size and durable build, the FUJIFILM FinePix XP140 is a toughened point-and-shoot underwater camera that delivers 16.4mp still images with clarity and stability. It's one of the best cameras on the market for capturing underwater portraits, since it features an advanced SR mode that automatically detects the photo subject and optimizes its settings.
THE BEST UNDERWATER CAMERAS -- WHY BUY ONE ANYWAY?
An underwater camera will take your photography experience to new depths.
From shooting under the sea, while white-water rafting, or even when during the worst weather -- the best underwater cameras can handle it all.
THE BEST UNDERWATER CAMERAS -- BUYING GUIDE
If you're in the market for your first underwater camera, here are a few important factors to consider: