Any seasoned adventurer will tell you that when choosing 4WD accessories, you should always look out for one thing: convenience.
And nothing says convenience like pull out awnings.
Unlike free-standing awnings, pull out awnings only take minutes to completely set up. And because they're directly mounted onto your 4WD, they have more stability and resistance to high winds and don't take up too much room inside your vehicle. So all that's really left for you to do is unzip the bag, unclip and roll out the awning, and set up the legs.
Ready to get instant shade? We've scouted the market to bring you our list of the 10 best 4×4 pull out awnings available today:​
Combining simplicity with high quality features, it's easy to see why the DARCHE Kozi Side Awning earns the top spot on our list. This pull out awning is compatible with any 4WD vehicle, with an installation that features an easy clip-on design. It's extremely lightweight, but is large enough that it extends 2 meters from your vehicle and creates up to 5m2 of coverage from all kinds of outdoor elements.
Key Features:
2 meters extension from vehicle

5m2 of overall coverage

Durable ripstop canvas

UPF 50+ protection

2000mm waterhead rating

Includes transit cover

Optional front and side walls

Twin channel safety polls
Verdict: At first glance,the DARCHE Kozi Side Awning may look like a simple side awning, but it has a lot of quality features to offer. It provides durable coverage with a canopy made of strong quality ripstop polycotton canvass — just the right weight to give you enough shade without being too heavy to stow away at the top of your car mount.
If you're looking for a compact 4WD accessory, the DUNE 4WD Quickstop Awning is your best bet. This is one of the easiest to set up because unlike other awnings that need to be bolted into mounting racks, this pull out awning attaches using heavy duty suction cups that lock quickly and securely — so that you're ready to go in literally seconds. These awnings are tape seam sealed to provide long lasting shade and protection.
Key Features:
Heavy duty 150D fabric

50+ UV protection

Quick lock suction cups

Tape seam sealed

Pre-attached guy ropes and pegs
Verdict: A must-have for every minimalist adventurer, the DUNE 4WD Quickstop Awning combines the best of simplicity and functionality. These 4WD pull out awnings come with pre-attached ropes and pegs that even first time campers will find easy to use. Compact, lightweight and portable, it's one of the easiest awnings to store away for a hassle-free outdoor trip.
Enjoying the outdoor scenery made even better with the Australian-made Supa peg Stand Easy ERV Awning. Manufactured using Australian-made Dyna Proof Canvas which is engineered and tested to withstand harsh weather conditions. It is easy to adjust and mount to any vehicle.

Key Features:
Awning Size 2.5m long and out
Easy fold of pole, canvas & pegs
275 GSM Dynaproof Canvas
100% sun block out and protection
Waterproof and UV-treated Tonneau bag
Verdict: Looking for the best option of awnings? Give this a try! Ideal for 4wd, 4×4, and RV touring, the Supa peg Stand Easy ERV Awning is your reliable and excellent companion due to its solid materials and tested functionalities. 
Bush Ranger Awning is designed to be tough and was manufactured to be compatible with most vehicles. The main beam is made with aluminium for extra strength and durability. The self-contained retractable awning can be easily set up with one person.
Key Features:
2m x 2.5m in size
1200D/680g PVC and UV stabilised fabric
600D rip-stop canvas with PU and UPF 50+ coating
180 degree flexible polyethylene joints
2 velcro straps for a secured grasp
Anodised aluminium parts
Oxidation-resistant
Verdict:  Bush Ranger's 2m Awning is ideal for adventurers who like simplicity and easy retraction. It comes in two sizes and adjusts up to 2.1m and is also compatible with camper trailers, caravans and horse floats. 
Darche is a formidable name in the adventure world as it brings you a flexible shade and shelter option for your vehicle. The Eclipse 180V Versatile awning gives you 4m² of shelter and security which is designed to give you mounting options on different ranges of vehicles. This awning can be mounted side or rear with a PU 1500mm water rating that will keep everyone dry during long and rainy conditions.

Key Features:
180° versatile awning
4m² of cover protection for all weather conditions
Made of 320gsm ripstop canvas
600gsm PVC transit cover material
With 3 year-warranty
Verdict: Looking for the best option of awnings? Give this a try! Ideal for 4wd, 4×4, and RV touring, the Supa peg Stand Easy ERV Awning is your reliable and excellent companion due to its solid materials and tested functionalities. 
All eyes will light up with another high-quality awning from Drivetech. This 4×4 awning is made to be steady even in rough conditions due to its high-grade materials.
Key Features:
1.4m x 2m in size
Ripstop polyester is 280GSM thick
UV Nylon storage bag
L-brackets for universal installation
Verdict: Drivetech 4×4 awning is an easy setup awning that can be fitted to most vehicle roof racks. Key points to look out for is their joints made from aluminium, making it durable and long-lasting.
You'll never get short of coverage again with this high-quality awning from Aventa. The awning measures up to 2 metres with anti-flap velcro, guy ropes, pegs and mounting brackets which makes it ideal for your 4WD adventures.
Key Features:
260gsm waterproof poly cotton canvas
Extendable up to 2.1m out
Aluminium twist lock pole system
200D cotton material
L-shaped brackets
Verdict: Can't wait to relax and enjoy the view during your 4wd camping and travels? No worries! Aventa's awning got your back with its less-than-a-minute setup feature. Don't sweat the small stuff and just easily pull your reliable shade. 
From daytime off-road adventures to long weekend camping, the XTM 4×4 270 degree Awning is you go-to accessory for instant shade. This pull out awning is especially made to combat the hot climate of Australia, being equipped with UPF50+ sun protection — perfect for those sunny days at the beach. It also has a lot to offer when it comes to durability, featuring a rugged 280gsm polycotton ripstop canvas with snug seam stitching.
 Key Features:
280gsm poly cotton canvas

2.5 meter coverage

UPF 50+ sun protection

1500mm water rating

1000D reinforced PVC travel bag

Comes complete with pegs and corner ropes
Verdict: The XTM 4×4 270 degree Awning is designed to keep out the elements so you can enjoy your outdoor adventure without any setbacks. Rain or shine — you can count on this 4WD pull out awning which features a high 1500mm waterproof rating. It's also very compact, as all the larger parts and accessories can be packed in a heavy duty PVC portable bag.
As its name suggests, the RHINO Sunseeker 2.5 Awning is must-have accessory for sunny days in Australia. Its standout feature is its high quality UV protected canvas, with an impressive UV50+ rating. This 4WD pull out awning also has a large shade cover that stretches up to 55.38 square feet. If that's not enough, you can even opt for an extension adaptor for even more coverage. Reinforced with telescopic poles made from black anodised aluminum, this awning is sturdy enough for long-day adventures.
Key Features:
210D ripstop polycotton

UV 50+ for sun protection

PU 2000mm waterproof rating

55.38 square feet cover

Velcro tensioning tabs

Support telescopic poles with black anodised aluminum

PVC 540gsm carry bag

Protective patches with brackets
Verdict: The RHINO Sunseeker 2.5 Awning is jampacked with convenient features to make your off-road adventure easier. Its easy-to-use design means that this awning can be mounted onto your roof rack and simply rolled out to provide instant shade. It also comes with a tough exterior, featuring 210D ripstop polycotton that is both water resistant and equipped with sun protection.
Looking for a pull out awning that won't empty out your wallet? Then the RIDGE RYDER Premium 4WD Rear Awning is the best option for you. Despite its cheaper price, this awning does not make any trade offs when it comes to quality features. It's made compact and durable with a 260gsm ripstop polycotton material that is waterproof and UV stabilized.
Key Features:
Durable 260gsm ripstop polycotton

Self-standing design

Height-adjustable telescopic legs

Universal L shaped bracket system

Waterproof and UV protected

Comes stabilized laminated PVC bag
Verdict: As its name suggests, the RIDGE RYDER Premium 4WD Rear Awning is mounted onto the rear of your vehicle instead of on the side like most awnings. Its completely self standing and easy to install, with durable telescopic legs that are completely adjustable to your desired height.
THE BEST 4X4 PULL OUT AWNINGS -- WHY BUY ONE ANYWAY?
Because they're extremely easy to set up, the best 4WD pull out awnings offer pop-up shade wherever you go. 4wd awnings are a great investment for your vehicle and your lifestyle.
If you're still not sure whether or not you need a pull out awning, here are a few more reasons to convince you otherwise:
Extremely easy to install
Imagine getting the shade you need and a comfortable place to relax -- all in just a matter of minutes!
The best 4x4 pull out awnings are pretty simple: they are directly mounted onto your vehicle with two ends fixed to aluminum bars. It's an easy one-person job, as you roll out the outer end bars and peg the legs into place.
Provide instant weather protection
Let's face it -- we all know how unpredictable the Australian weather is.
The best 4x4 pull out awnings will help you block the sun without obstructing your view. In case of sudden inclement weather, awnings are also constructed with waterproof material that will help shield you against the rain -- allowing you to enjoy the outdoors no matter the weather.
Give you extra space and privacy
Pull out awnings give you an extra space to call your own while in the outdoors.
While they may not offer as much privacy as canopy-style awnings, they are able to cover enough ground to give you a little extra cover for your tables and chairs, as well as providing storage space for your other 4WD accessories and camping equipment.
THE BEST 4X4 PULL OUT AWNINGS -- BUYING GUIDE
To ensure that you find the perfect pull out awnings for your 4WD vehicle, it's important to consider the following factors:
1. Size
The size of the awning will depend on how much shade you want.
4WD pull out awnings come in different sizes, typically ranging from 2m x 2m to 2.5m x 2m. But choosing the largest awning isn't always the right way to go, as you'll also need to ensure that it is proportionate to the size of your vehicle. Otherwise, it may stick out from the side of your 4WD and could get stuck on branches or trees even if stowed away.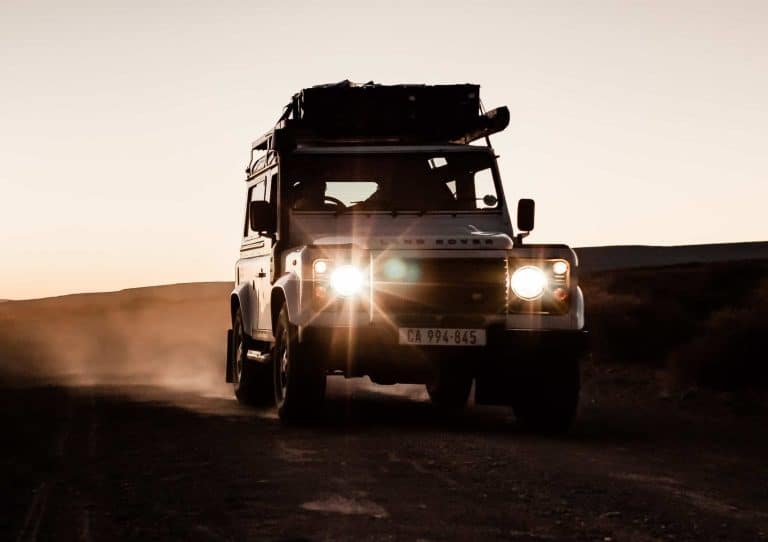 2. Type of pull out awning
 There are several types of pull out awnings to choose from:
Side awnings — the most common type. These are mounted at the top of the vehicle and depending where you want to place it, may pull out either on the driver's or passenger's side.

Batwing awnings — As its name suggests, they take the shape of batwings and are more geometrical in design.

270 degree awnings — Similar to batwing awnings, these awnings cover both the side and rear of your vehicle to offer all-around shade.
3. Quality Construction
Always pay attention to the stitching.
Awnings should be durable enough to withstand sudden gusts of wind, so make sure the seams are tightly and neatly stitched together without any signs of fraying or other irregularities.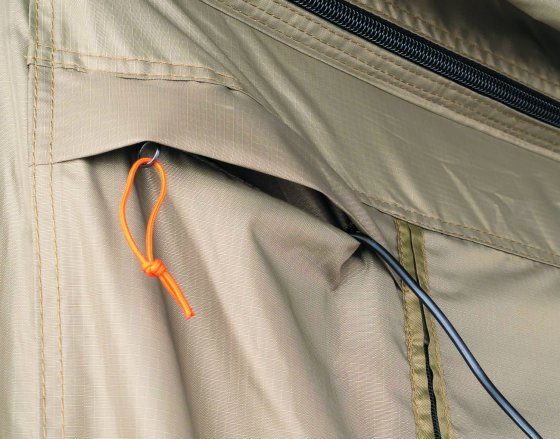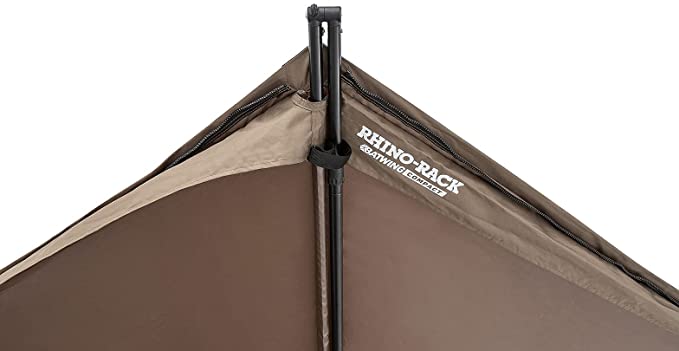 Durable Material and Frame
Quality fabric and a sturdy frame make up the best 4WD pull out awnings.
Ideally, the canopy should be made from either polyester or cotton or a combination of both, with an average fabric weight of around 300gsm. Anything heavier than that would be too bulky for a pull out awning, while anything lighter would lack the durability needed.
Avoid frames made of plastic and steel fittings — the former is flimsy while the latter is prone to rust. Instead, it's ideal to choose a stainless steel frame since they are generally more sturdy and provide enough support needed.
5. Weather Resistant
Rain or shine — the best 4×4 pull out awnings should be able to resist any sudden change in weather.
Some brands come specifically with waterproof fabric for rainy season, or UV resistant material to combat the harsh rays of the sun.