The choice of awnings for cars is pretty limitless. Which awning should you choose for your car? It is not always easy to make a buying decision. 
On this page, we are taking a look at the 270 and 180 awnings.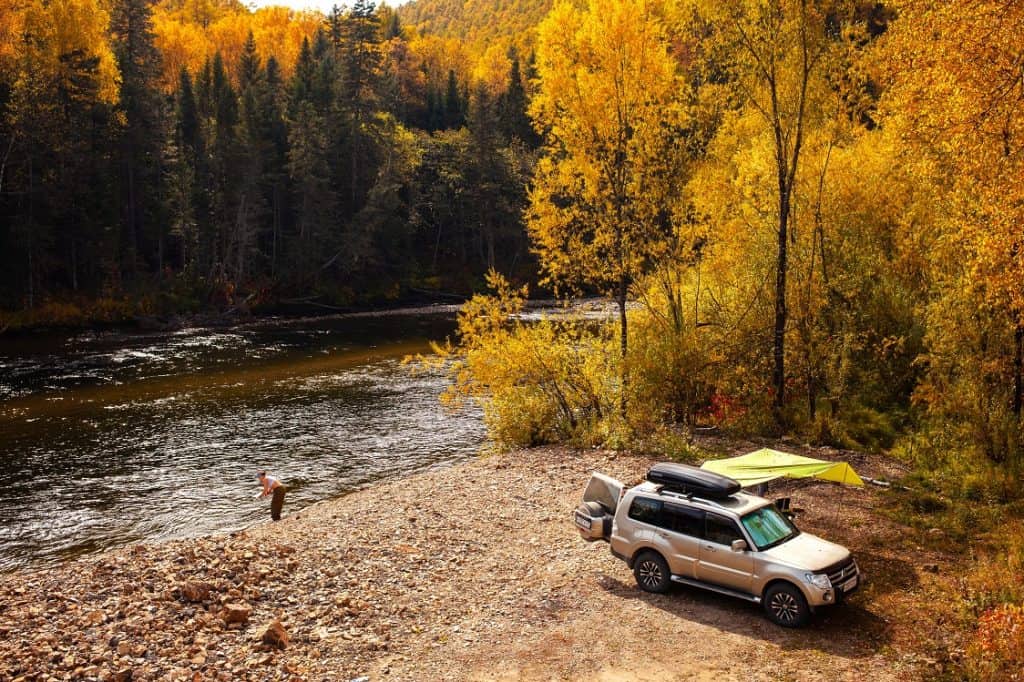 180 Degree Awnings For Cars
One of the most popular awning options for camping in countries including Australia and South Africa is the 180-degree awning. When awnings first sprung onto the camping market, it was the first awnings style that became popular with campers in the bush and outback. Today, it would be fair to say that the 180 awning still dominates. 
For newbie campers, it is the most cost-effective awning option. When you are not sure that living in your vehicle for a couple of weeks every year is for you, starting with buying a 180-degree awning is not a bad idea. You don't have to spend a fortune but you still get an outside space. Often, you can pick them up second-hand. However, new awnings offer better sun protection and shelter from the elements thanks to new manufacturing techniques. 
Attaching a 180-Degree Awning to Your Vehicle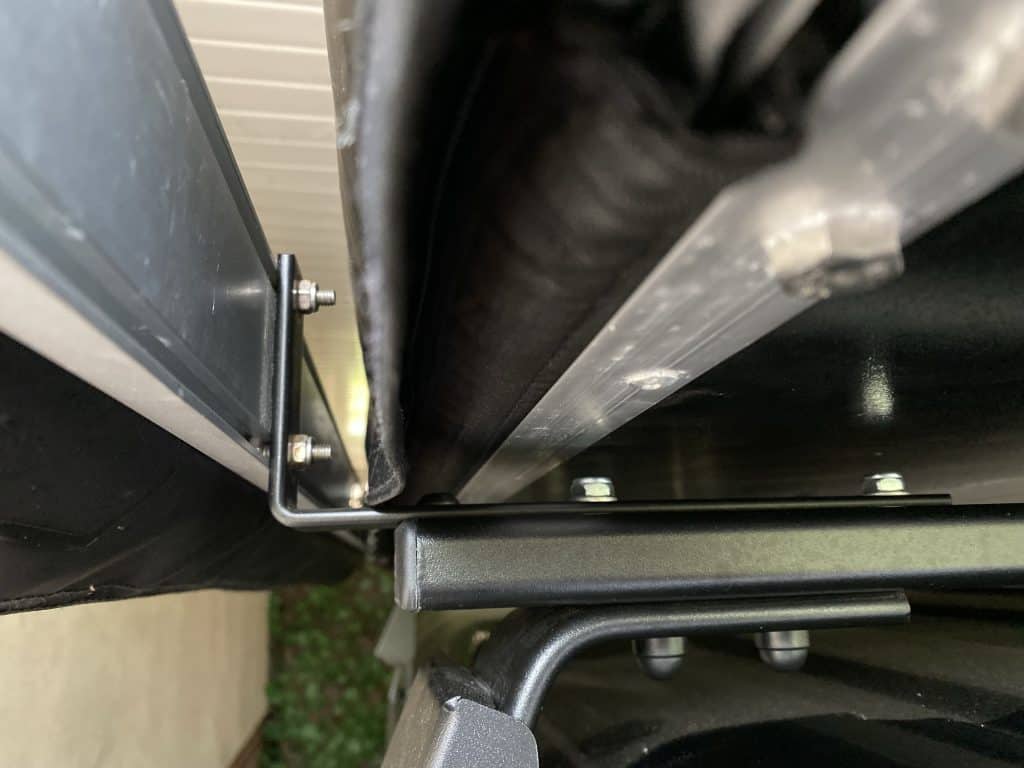 A 180-degree awning attaches to your vehicle at the rear or to the side of your vehicle. The fittings that come with the awning make it easy for you to fit the awning to your roof rack. That being said, you can also buy free-standing awnings. They pop up easily but for extra security, they can still be attached to your roof rack if you would like to do so.
Are 180-Degree Awnings Easy to Handle?
Compared to larger size awnings for cars, a 180-degree awning is much easier to handle. Number one, it is lighter and easier to set up. 
Many awnings come with legs folded away in the canvas. The legs unfold as you set your awning up. You may also find your awning has additional legs for extra security. This depends on the brand and the manufacturer of your awning. The more stabile your awning is, the safer it will be to set up. 
180-degree awnings are perfect for solo campers as they are lightweight and easier to handle. They still offer protection from the sun and the elements. 
Accessories For 180-Degree Awnings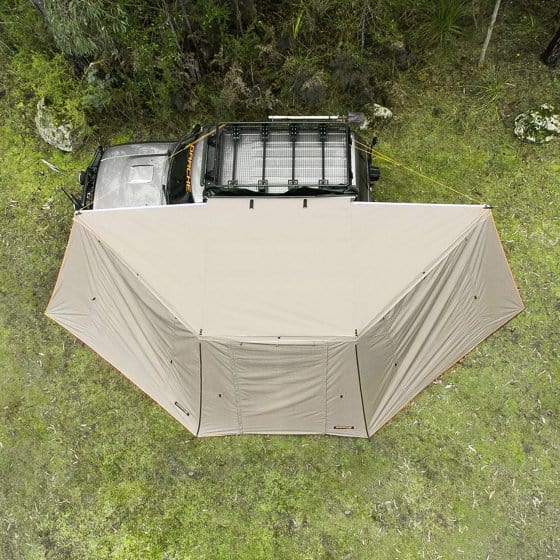 What accessories come with my awning? On most occasions, the only accessory that comes free of charge with your awnings is a canvas storage bag. 
You can invest in other accessories for your awning. The most popular choice is probably canvas walls. If you don't want to, you don't have to buy walls for your entire awning. Once again, this depends on the brand and manufacturer. Some manufacturers sell single walls and others sell a complete bundle.
Buying walls for your awning makes it more multi-functional. Once you have added walls, you can use your 180-degree awning for storage or sleeping in. Many manufacturers also sell flooring you can easily put down. In short, you can easily kit out your awning. 
180-degree car awnings are perfect for solo campers or smaller family units. While they will offer you protection from the elements and multi-functional options, they are not as versatile as 270-degree awnings for cars. 
One of the main benefits of 180-degree car awnings is that they are easier to handle. 
270 Degree Car Awnings for Cars
A 270-degree car awning covers your entire vehicle. If you have a larger vehicle, travelling with a larger party or planning on spending more time away from home, they offer you more scope when it comes to shade, space and protection. 
Increasingly, 270-degree awnings are becoming more popular. One of the reasons many campers like them is because they are more versatile. Although more expensive, once set up, it can be argued that 270-degree awnings offer better value for money. They are popular with experienced campers who like to make the most out of space while touring.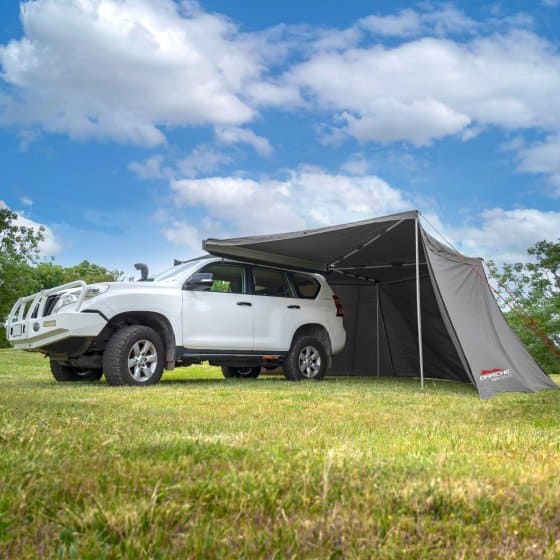 Attaching a 270-Degree Awning to Your Vehicle
Just like with a 180-degree awning, you can attach your 270-degree awning to your roof rack. But, you can also get free-standing ones. One of the great things about freestanding large awnings is that you can drive the entire vehicle underneath your awning. 
Fittings are supplied with your awning so that you can attach it to the roof rack. A good quality awning should come with fold-away legs and extra support legs that are easy to fit. The idea of a 270-degree awning is that it covers the entire vehicle. But you can also larger roll-out awnings. On occasion, they are referred to as 270-degree awnings. In the strictest sense, they are not. However, if you can drive your vehicle underneath your awning, it can be argued it is a 270-degree awning. 
What Are 270-Degree Awnings Made From?
Just like their 170-degree counterparts, they are made from rip-proof canvas cotton. Before you go ahead and buy one, make sure that it is waterproof and offers UV protection. There are different levels of UV protection. Make sure that you buy a car awning that offers high-quality UV protection. 
Although your 270-degree awning offers you more protection and even protects your vehicle, it is best to buy one which is easy to take down quickly. As the surface area is larger, your 270-degree awning can quickly become a giant wind sail during stormy weather.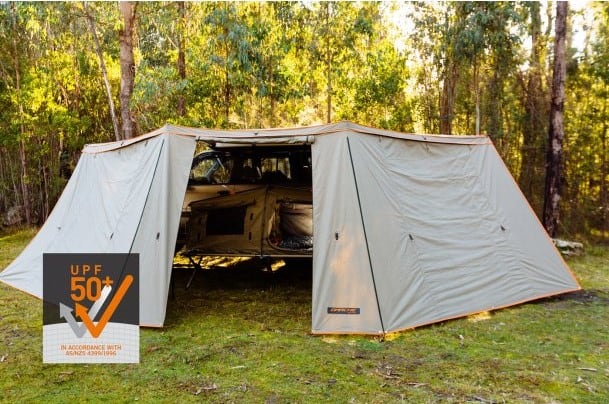 Are 270-Degree Awnings Easy to Handle?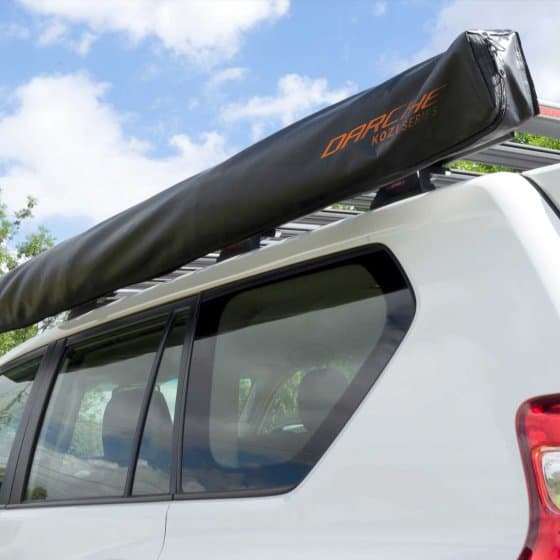 Compared to 180-degree awnings, it is fair to say that 270-degree awnings are more difficult to handle and set up. Number one, they are heavier when compared to smaller awnings. On top of that, you may find that you have more fittings and legs to set up. 
It takes longer to set up a 270-degree awning. You need to be prepared for it being harder to set up on your own. But, there are plenty of manufacturers that claim you can set up a 270-degree awning on your own. At the end of the day, it is a matter of buying the right awning for your needs and physical ability. The best way is to shop around and check out different manufacturers.
Accessories For Your 270-degree Awning
A 270-degree awning is a much more versatile space when compared to smaller awnings. If you are in a larger party, having extra space is always handy. 
You can use part of your awning for social activities such as sitting down and having a few drinks. Other areas of your awning are easy to use for cooking or having the laundry out knowing it is going to be protected from the dust or bleaching effect of the sun. 
Side walls are available. Adding side walls turns your large awning into a really useful space. You can now sleep in it and use it as a tent. When you need to feel the fresh air, all you have to do is to open up one of the walls. Most walls come with mesh-covered windows. Some windows are even covered by plastic that can easily be lifted to allow for airflow.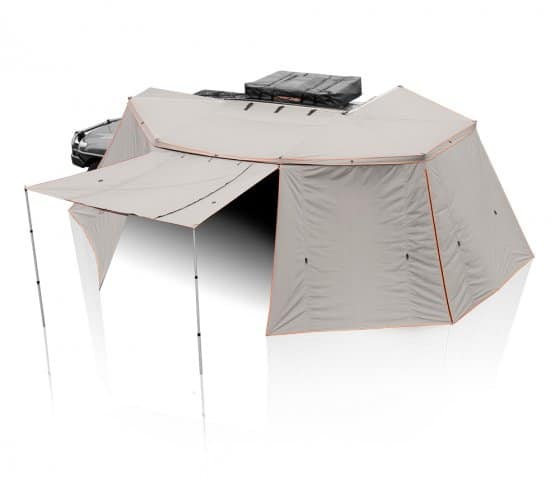 Also, consider shopping around for camping flooring to make your 270-degree awning a real home away from home. 
Do you get any free accessories? Most of the time, the only free accessory that comes with your awnings is your storage bag. That being said, it is always worth your while looking out for deals. On occasion, manufacturers will include free accessories. 
270-awnings offer you much more flexibility when it comes to space for people and your vehicle. Needless to say, they also offer you more shade and protection from other elements such as rain and wind. 
The downside is that they are perhaps heavier to move around. They can also be more challenging to set up and take longer when compared to 180-degree car awnings. But, if you are travelling with a larger awning, it often implies that there are more of you in the party. In that case, setting up a 270-degree awning is not any more challenging than setting up a smaller awning. 
In Conclusion
Buy the awning which is right for you. Instead of going for money off, it is better to make sure you buy an awning which comes with additional accessories and is of better quality. 
One final word on awnings for cars. Remember it is important to look after your awning when you are not using it. Set it up in your garden and let it completely dry out between camping trips. Mould and fungus spores can easily take hold. A few days in constant sunshine when you are not using your awning does not do it any harm at all.