We're reader-supported. When you buy through links on our site, we may earn an affiliate commission.
Looking for the best Cargo Drawers in 2023? Look no further! Our team has put together a guide to the best sliding drawers for your ute. Read on to learn about the different types of ute drawers available and find the perfect set for your needs. Whether you're looking to protect your goods from dust and dirt infiltration or keep them safe and secure, we have the perfect drawer system for you!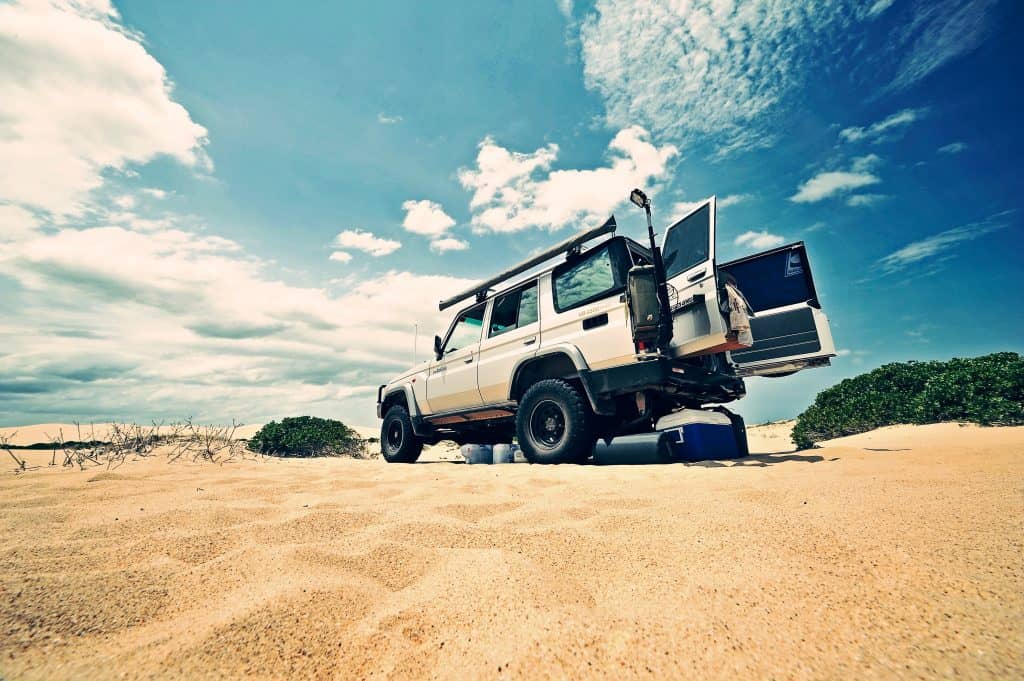 The Best Cargo Drawers in 2023
This year, more and more people have been satiating their desire to travel by setting out on road trip adventures or campings and hikes, especially after a long lockdown period. Many have opted to hit the road in their vehicles to get off the grid, relishing the freedom to travel to remote areas while basking in the beauty of nature.
The thing with trips is that you likely couldn't find yourself tearing away from it any time soon once you've experienced what it feels like. For adventurers and camping enthusiasts, this is especially the case, given that you spend plenty of time traveling here and there to find areas to camp.
While a great form of leisure, most campers often face a dilemma with storage. Both long and short-term travels involve plenty of preparedness, planning, and of course – equipment. Regardless of where you're headed or how long you're planning to hit the road, you can benefit from efficient cargo drawers in your vehicle to store your food, extra gear, as well as other essentials you may need outdoors.
That being said, this article will list down some of the best cargo drawers this year that can serve as convenient storage solutions for your adventure needs.
What is the Best Cargo Drawer?
The MSA Explorer Aluminum Storage Drawer System is one of the best cargo drawers in the country this year. Its 4WD drawers are 100% aluminum, allowing for increased durability and longevity that you can take advantage of for years. More than that, it also offers increased storage space unlike any cargo drawers available in the market while being corrosion resistant at the same time.
To know more, here are our top picks for the best Cargo Drawers to buy this year.
Our Recommendation for the Best Cargo Drawers 2023
Manufactured by Front Runner Outfitters, the 6 Cub box drawer that comes with a cargo sliding top is the full and efficient storage option. It is now more simple to access and reach areas in your trunk, thanks to the sliding top mechanisms.
Key Features:
113 kg drawer load capacity

Stackable weight capacity of 150 kg

UV-resistant nylon pile carpet deck

Interior and top drawers

With 2-year warranty
Verdict: Made for tough off-road adventures, the Front Runner's 6 Cub Box Drawer is the modular storage system for your car that you should consider getting today. This drawer can accommodate all of your belongings while still being durable enough to withstand the rigors of your ventures.
The SUV asymmetric drawer by Front Runner Outfitters is a 4WD drawer that can be customized depending on your storage solution needs. The medium-sized drawer comes with turnbuckles and carabiners for versatile installation.
Key Features:
Durable bearing slides that extend to 100%

1 large and 1 medium drawer
2 asymmetric drawers
6 tie-down rings and eye nuts for cargo attachment
2-year warranty
Verdict: Due to its spacious drawers, it can withhold 113 kg of weight for each and you can also add up some compartments such as cub packs and dividers for a more organized and decluttered storage. What we really liked about these drawers is their built-in security locks in which you can store your valuables.
One of the universal drawer and storage solutions for your vehicle is Front Runner Outfitters' pick-up drawers. It is engineered to declutter your belongings and free up space while you're on the go. With its hold-open feature and a 100% extent of bearing slides, it's surely the perfect companion.
Key features:
180 kg drawer load capacity

Medium-sized drawer with close latch
Backed with a 2-year warranty
6 eye nuts and 3 accessory channels
UV Nylon carpet deck cover
Verdict: Designed for tough, off-road ventures, Front Runner's pick-up and lockable drawers are a great decluttering option for your valuables and a clutter-free trunk space on your next trip. Installation hardware is on us!
The Titan twin drawers are one of the best deals in the market due to their built-in fridge slide and heavy-duty features. Cluttering your UTE is impossible and these twin drawers can lift off the task for you while you enjoy your travels.
Key Features:
Pressed galvanised steel frame

70 smooth roller bearings
Left fridge slide and tie-down points
With a secure lock hatch
Verdict: Being organized on your trip is hard to fit into your itinerary but thanks to Adventure Kings' titan drawer solutions, it won't be as hard anymore. You can keep all your outdoor essentials with these spacious drawers and have an unforgettable venture for life.
Dune's single 900mm drawer greatly fits any 4wd vehicle that organizes and secures your gears during your off-road adventures. Made from solid aluminium, it can accommodate a fair amount of storage.
Key Features:
26.4 kg overall weight

900mm sized drawer
Double bearings
Verdict: Due to its lightweight features, the Dune 4wd drawer is the best companion for your daily ventures. It is the perfect choice that can store and secure your belongings without breaking the bank.
Also known as Roller Drawers, Ute Drawers is an excellent addition to your vehicle if you're always on the go for brand new adventures. These lockable ute drawers – whether integrated as tray drawers or installed as slide-out drawers into your canopy – provide an extra layer of security to your gear and tools from weather conditions and prying fingers at the same time.
They also increase your ute's functionality since it allows you to keep your camping gear and tools organized and neat. These drawers provide separate storage areas within the same drawer space, all while being easily accessible.
Depending on what you need, you can choose from a range of single or double-drawer storage systems and deep-spaced or segmented drawers. The dimensions of the drawers will differ depending on the kind of drawer system you prefer. However, the materials remain the same: stainless-steel latches, aluminum body, heavy-duty and marine-grade UV-lined interior, and rails and runners.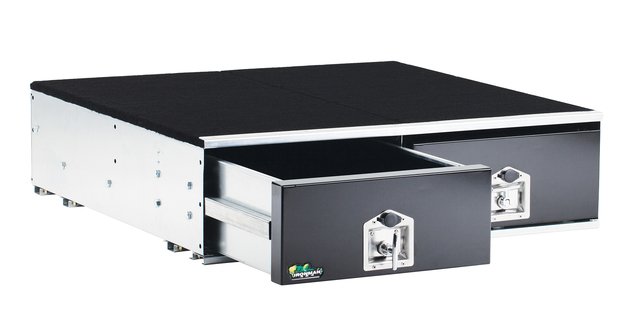 Key features:
 Key-Lockable
 Smooth-sliding rail system
 Designed or off-road and on-road touring
 UV commercial carpet to blend with the interior of modern vehicles
 The floor is cross-folded for maximum item support
 Self-locking and anti-rollback at full extension, eliminating the use for awkward locking pins
 Vehicle specific side floor kit completes installation and reduces redundant areas within the cabin
 Durable
 Increased flexibility brought by modular units
Verdict: Lockable ute drawers are great, especially if you want to increase your security since they provide fully-enclosed drawers with dual-security systems. Moreover, they're also convenient for people who often carry a wide assortment of cargo while being weatherproof and protected from the elements.
Depending on customization and the complexity of the drawer system, Ute drawers typically cost $2000 on average, though you can get a second-hand ute drawer for only around $250.
For over a decade, Best Off-Road has been committed to building and installing 4×4 drawer systems using state-of-the-art technology in machine-operated cutting. Its 4WD Cargo Drawers help store all your offroading equipment for camping. Moreover, it also works so that they evenly distribute the weight of your cargo so that the center of gravity for your car is lesser than if you were to put all your things on the vehicle's roof. This mechanism allows your vehicle to keep on the ground instead of stumbling over different tracks.
While 4WD provides excellent storage solutions, it can be quite tricky for beginners to get into the 4WD cargo drawer trend and understand what to pack and how to go about it. Best Off-Road 4WD drawers are custom-built to fit into your vehicle so that you can maximize all the space possible. More than that, it's also made of anti-slip liners, stainless steel bearings, lockable drawers, and galvanized rails for increased durability.
Key features
Lightweight
 High-weight capacity
 High-load bearing units
 Standard quality locks
 Custom wings at the side of the unit provide a clean look while maximizing storage space
Verdict: Best Off road's cargo drawers are a viable option if you want to take advantage of its high weight capacity and bearing units to store your camping essentials. However, it's still important to note that they may be on the pricier side due to the required fuel and maintenance.
Cargo Barriers offer premium drawer units that are tailored to fit perfectly into your vehicle. More than that, they have also been designed to comply with ADR 42/03 and have been crash-tested as well. Depending on what you need or prefer, you can choose between a twin-drawer module or a single-drawer module.
Key features
 Grab-handle slam latches
 Full-side access
 Stainless steel drawer and roller floor runners
 Anti-rattle guides
 Child-restraint anchor points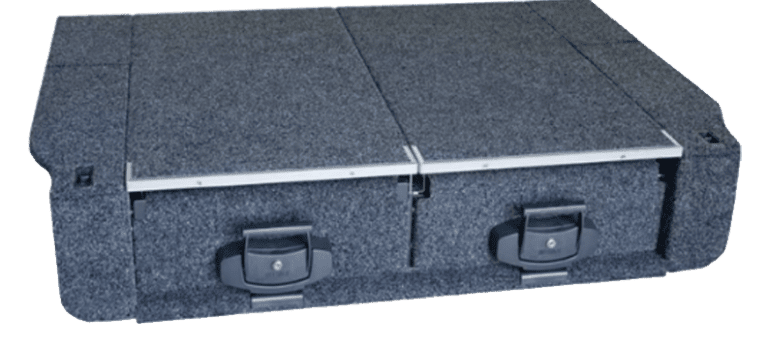 Verdict: Cargo Barriers Drawer units are guaranteed to be safe and efficient since they have been designed to comply with quality standards and have been crash-tested to ensure their effectiveness. Apart from storage space, it also provides convenient features such as grab-handle slam latches for easier access to your equipment.
Price: The price ranges from $305-$3,085, depending on the size and complexity of the drawer.
Drifta offers unique 4WD drawer systems that are custom-built for your vehicle to make for zero-wasted space. More than that, Drifta cargo drawers also allow you to showcase the vehicle's individual features applicable to third-row seats, spare wheel access, and more.
Its pioneered Teflon slides concept also makes the 4WD drawers a lightweight option, allowing more room for storage and less maintenance, all at a low cost.
Key features:
 Slide-out table
 Built-in fridge slide
 Modular systems
 Flush-fitting lockable latch
 Spring bolt at the rear
 Aluminum edge strip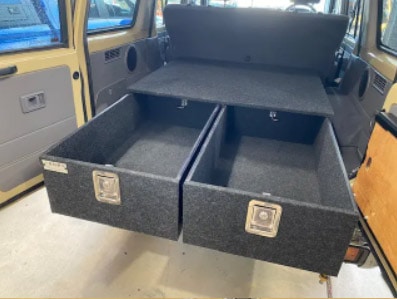 Verdict: If you're looking for a drawer that guarantees zero-wastage space as much as possible, then Drifta cargo drawers are your best bet. Apart from being affordable, you also get to custom-build your drawer however you want, especially since Drifta can tailor-fit any drawer system for your vehicle.
MSA's 4WD Drawer system offers plenty of features that make it stand out from the rest of the 4WD drawers available in the market today. For one, MSA drawers are made from 100% aluminum construction which adds to the drawers' increased durability and resistance from corrosion. Despite this, it's also lightweight compared to other generic steel drawers. Additional features such as its mold-design registered lock and pro-glide system also allow for increased security and storage space for your camping essentials.
Moreover, one distinctive feature of the MSA drawer is its very own "stay-open block' that allows the drawer to stay in an open position despite being on a 30-degree slope. This safety feature prevents an open and fully open drawer from suddenly slamming shut while in use. It also functions as two electrical contacts. This works such that when the drawer is currently open, it creates an electrical circuit without the use of moving wires to power the LED strip light. This strip light provides improved practicality, complete with an efficient manual override switch which is placed conveniently in the face of the drawer.
Key features
 100% aluminum
 Lightweight
 Patented Stay-Open block
 Patented Pro-Glide System
 Easy-to-pull out tailor-fitted wing kits
 Registered lock system with molded design
 Dust & water-resistant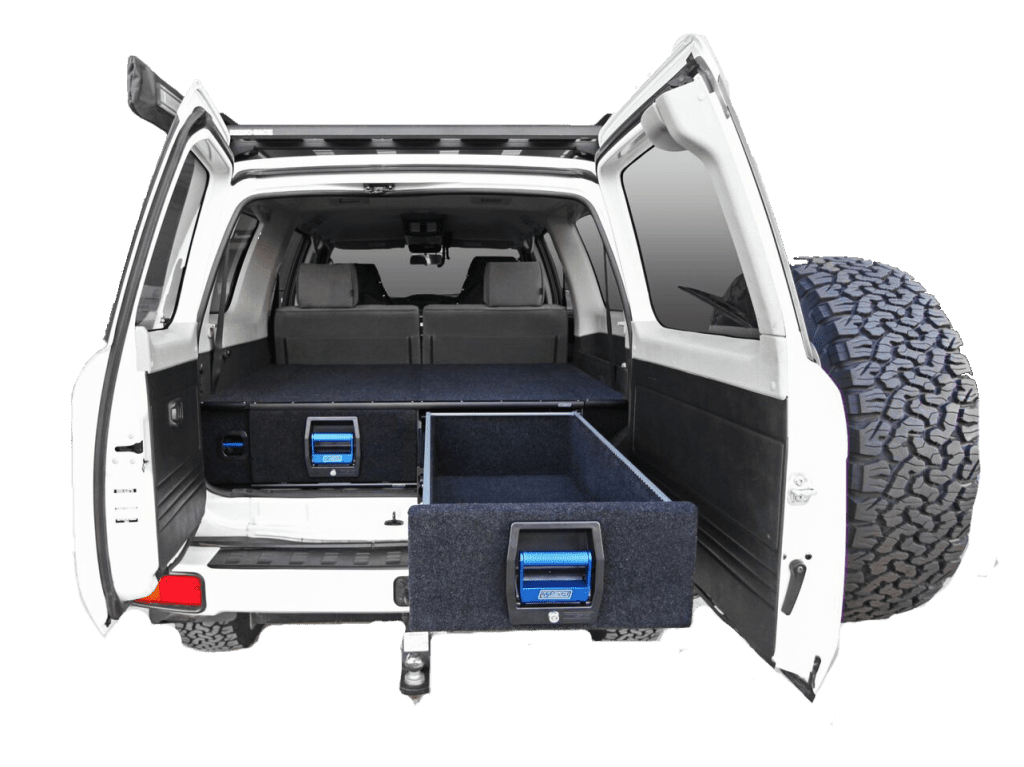 Price: $2000- $3,044 for double drawers
Verdict: MSA's 4WD drawers are a great investment if you're looking for a cargo drawer that provides additional benefits that you can't find in other generic drawers in the market. Its own pro-glide system and stay-open block allow you to ensure maximum safety and storage space, which you will need for your adventure.