Camping is a great way to escape the hustle and bustle of city life and enjoy nature. If you're planning your next camping trip for 2022, make sure you have the right gear! One of the most essential items you'll need is a camping bag. Not all bags are created equal, so it's important to do your research before purchasing one. In this blog post, we will discuss the 5 best camping bags for your next adventure.
Whether you're a seasoned or first-time camper, you need to make sure you have the right gear. And one of the most essential accessories you can bring along is a camping bag.
The best camping bags ensure that you have just the right amount of space to carry all the things you need on your trip without being burdened with too much weight.
But since camping bags vary greatly in design and other features, it can be hard to figure out what kind of bag best fits your needs.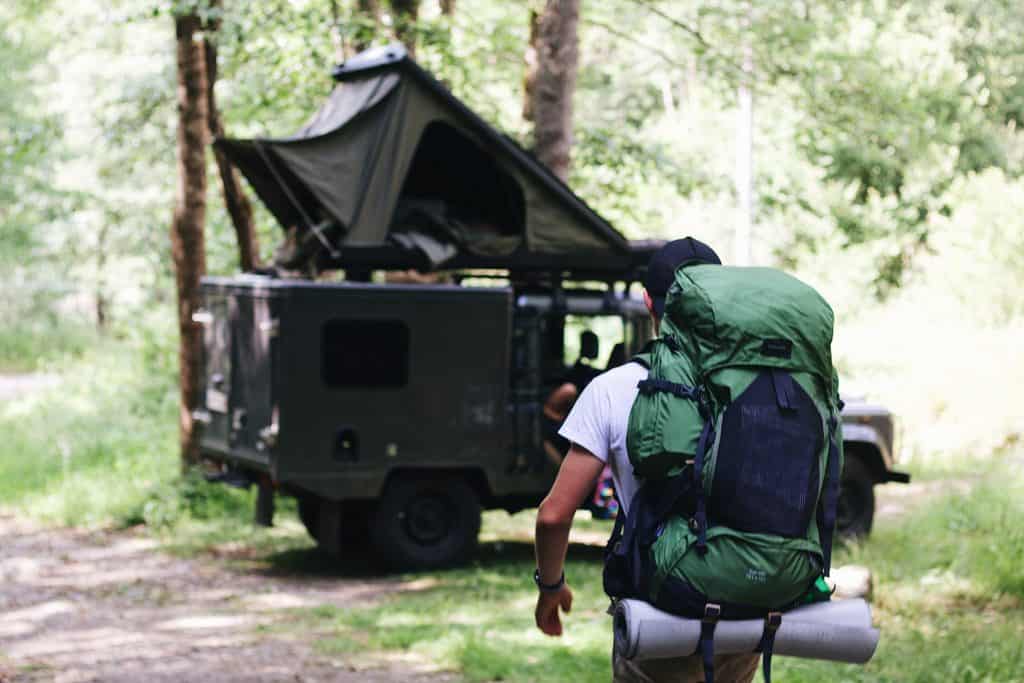 To help you narrow down your search, we've done our research based on the most important features — weight, fit, capacity, construction — to bring you our list of the
Top 5 best camping bags in the market today.
1. BLACK WOLF Tempo 30L Daypack
Black Wolf is one of the few Australian brands that produce high-quality outdoor gear at affordable prices — and their Tempo 30L Daypack is no exception. This camping bag is packed with state-of-the-art features including a primary compartment that is supported by an alloy frame all the way down to the hip belt. It also comes with compression straps that easily fold it into a compact size — so you can move freely in our out of the campsite.
Key Features:
Compression straps

Hydration compatible up to 3L

Alloy frame in the primary compartment

Slidable sternum straps

Built-in rain cover

Mesh water bottle pockets

Internal organizer

Padded waist strap

Removable key clip

#10 zipper

Padded shoulder strap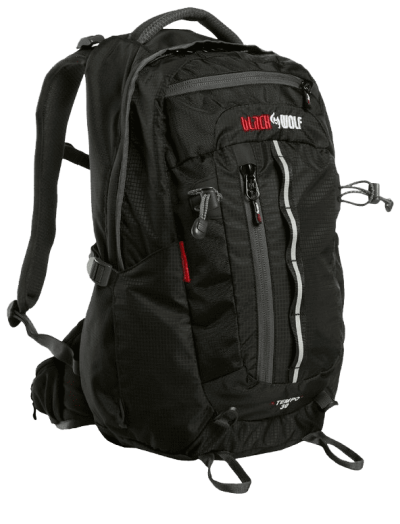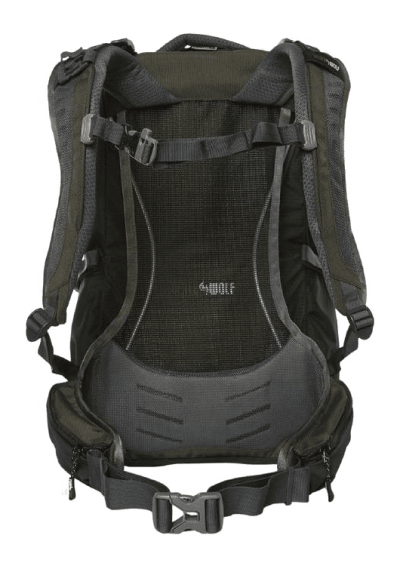 Verdict: This camping bag is jammed with features that suit any outdoor adventure, from day trips to overnight camping. This high-end backpack is extra comfortable to wear with an air-light harness equipped with vented foam shoulder straps and a padded waist belt.
2. TETON SPORTS Fox 5200 Backpack
Suitable for extended mountaineering and camping tours, the TETON SPORTS Fox 5200 Backpack is known for its large capacity — it is currently one of the largest available camping bags from this brand, with a cubic volume equivalent to 85 liters. Despite its size, this bag also focuses on comfort, featuring a contoured shoulder and lumbar pads.
Key features:
Padded waist straps with wide locking hip straps

Sturdy 600D ripstop and Oxford Canvas Shell

Front compression straps for added security

Large side zippered pockets

Side and lower gear loops for long item storage

Aluminum stays for adjustment

Hydration ready to 3 liters

Lifetime warranty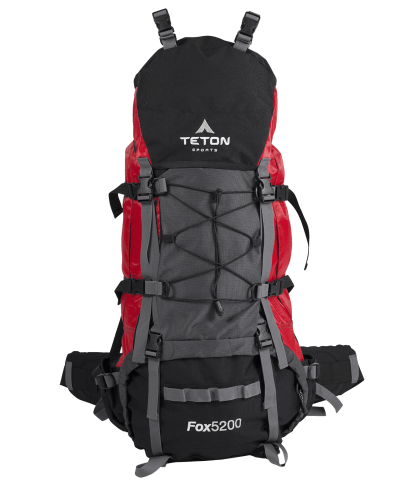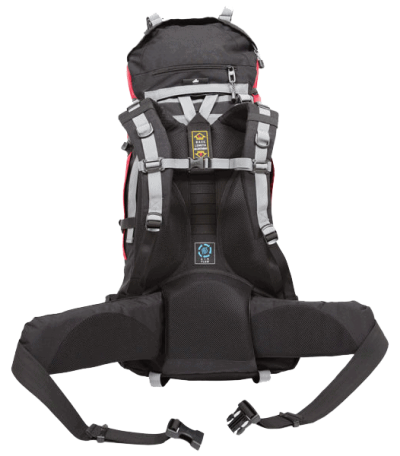 Verdict: To say that this huge pack is a practical buy is understating it. Its big capacity, comfortable design, and other key features make it perfect for any backpacking expedition, regardless of the terrain and weather.
3. Osprey Talon 22 Hiking Backpack
If you're looking for a compact and lightweight camping bag, then the Osprey Talon 22 Hiking Backpack is your best bet. With only a 22-liter capacity, this camping bag is small enough to carry around without much effort — the perfect companion while day hiking or overnight camping.
Key features:
Dual-zipped panel access

Internal zippered mesh pocket

LidLock bike helmet attachment

Lower side compression straps

External hydration reservoir sleeve

Tuck-away ax attachment with bungee tie-off

Large stretch mesh front panel pocket

Blinker light attachment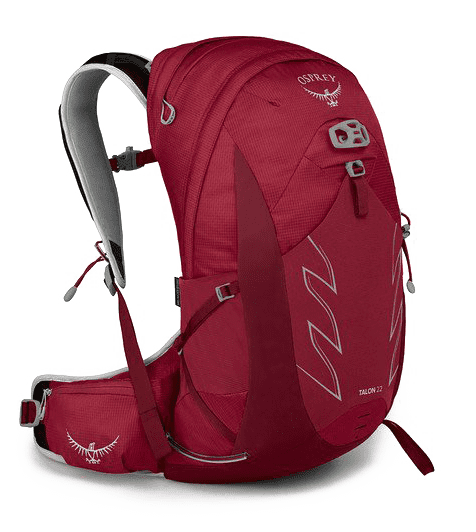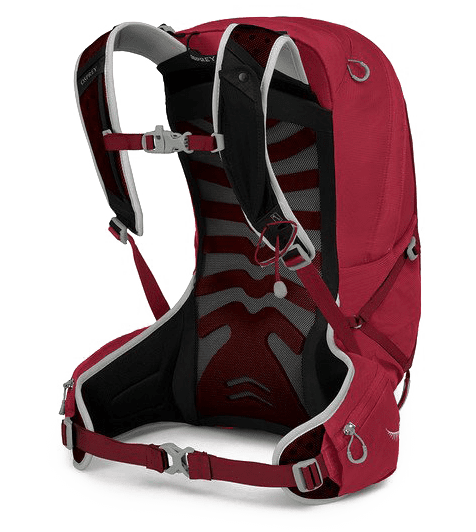 Verdict: Despite its small size and minimalist design, the Osprey Talon 22 Hiking Backpack offers exceptional ventilation with an updated AirScape back panel design so air passes through without any hindrance. It's also extremely comfortable with a BioStretch harness and hip belt that manages to keep heavy loads stable and well-distributed across your torso.
Waterproof and made of sustainable materials, the FE ACTIVE Dry Camping Bag is the best option for the eco-friendly camper. This camping bag is packed with features that keep you dry during your trip, being made with PVC tarpaulin material that is reinforced with radio frequency welded seams and nylon webbing straps — guaranteed to withstand all kinds of harsh weather.
Key features:
Environmentally safe PVC

5mm eco-friendly vinyl tarpaulin

High frequency welded stitching

Roll-top waterproof design

Dual mesh side pockets

Corded front design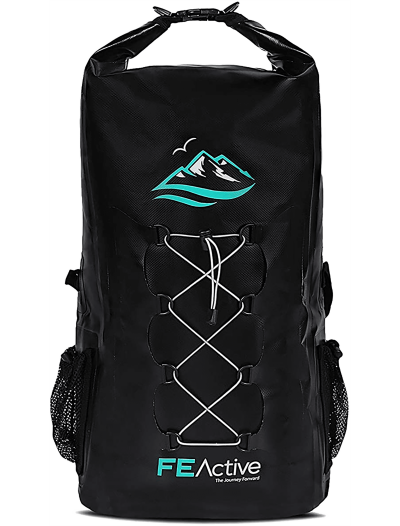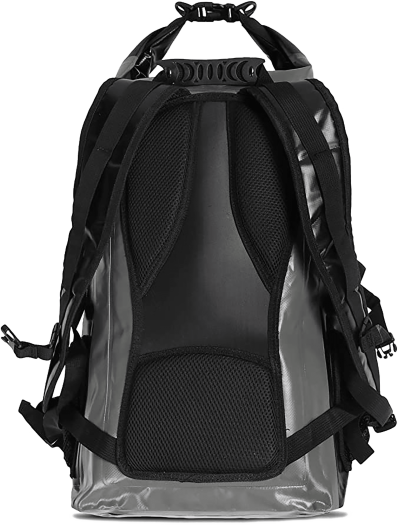 Verdict: Because of its waterproof features, the FE ACTIVE Dry Camping Bag is well suited not only for camping but also for hauling essential gear for watersports like kayaking or fishing. Its PVC material and hardcore build is heavy-duty and easy to clean.
5. OUTRAK Ravine Trekking Pack
Comfort is at the top tier when it comes to the OUTRAK Ravine Trekking Pack. This standard-sized camping bag is constructed from ripstop polyester fabric that is not only durable but also breathable and light for those long hikes around the campsite. It also features padded shoulder straps that give you enough support and balance even if you're carrying heavy loads.
Key features:
Ripstop 600D polyester

40 liters capacity

Side elastic pockets

Padded shoulder straps and waistband

Bottom zippered pocket

Elastic rope system and webbing loops in the front

Inside compartment for a water bladder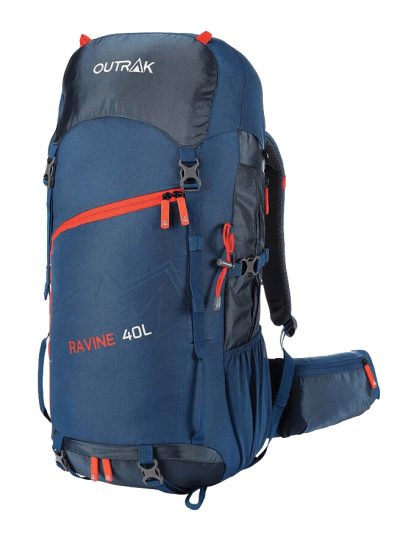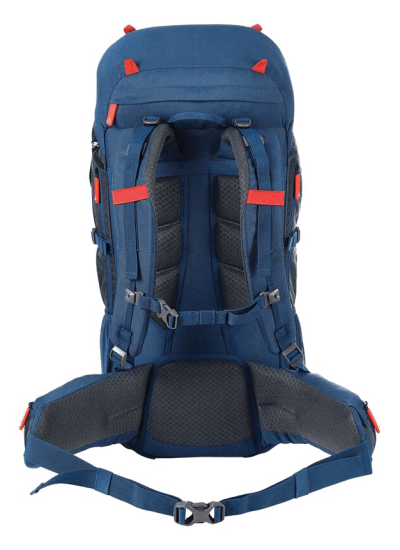 Verdict: The OUTRAK Ravine Trekking Pack focuses mainly on comfort and convenience. It has a padded waistband and back paneling to keep you supported and an elastic rope system and webbing loops to carry any larger equipment. It also includes a rain cover in case of unpredictable weather.
The Best Camping Bags: Buying Guide
The best camping bags should provide the perfect balance between capacity and weight, which is a crucial element especially if you plan to camp out for more than a night.
Here are some other important factors to consider:
The ideal bag should have multiple compartments where you can separately arrange supplies that become necessary for different stages of your camping trip — like flashlights for nighttime and guidebooks which are needed during the day. It also provides a place to store your nonessential camping gear when not in use, freeing the rest of your campsite from clutter.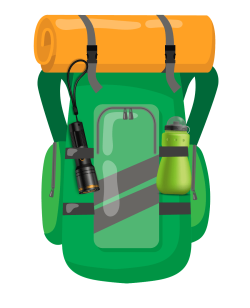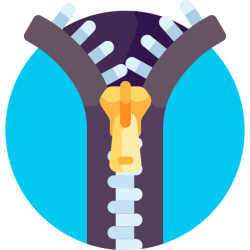 The best camping bags should be enforced with lockable double zippers on each compartment. It's a good tip to remember that camping can be a treacherous activity at times, especially when you're doing it in harsher weather. So your bag should leave no chance for items to get lost or fall off easily.
Camping bags are typically made of nylon which comes in different deniers – the higher the denier, the more durable and resistant to abrasion. But a higher denier also means a heavier fabric, so make sure to choose a bag that combines it with a different fabric blend and is reinforced with interwoven threads for better durability.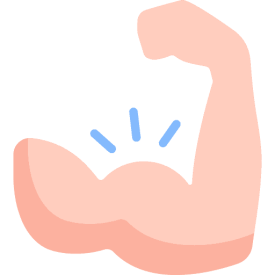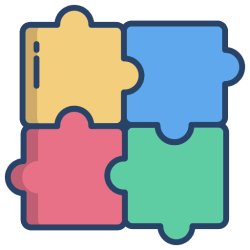 Finding the right fit for your camping bag can be a tricky task, but an important tip to remember is that your bag has to match your torso length. This is crucial because it has to sit comfortably on your back with the hip belt tight enough to fit your waist or hips circumference.