We all know how easy it is to fall asleep after a long day of hiking. But there's nothing that can ruin your trip like a night in the cold.
That's why you should never leave home for any adventure without packing a hiking tent.
Since energy and rest is required for hiking, a tent is instrumental in providing that much-needed sleep to prepare you for the day ahead. Unlike traditional tents, hiking tents are smaller, lighter, and easier to set up.
But like most hiking gears, selecting the best hiking tent requires a healthy amount of research and thought.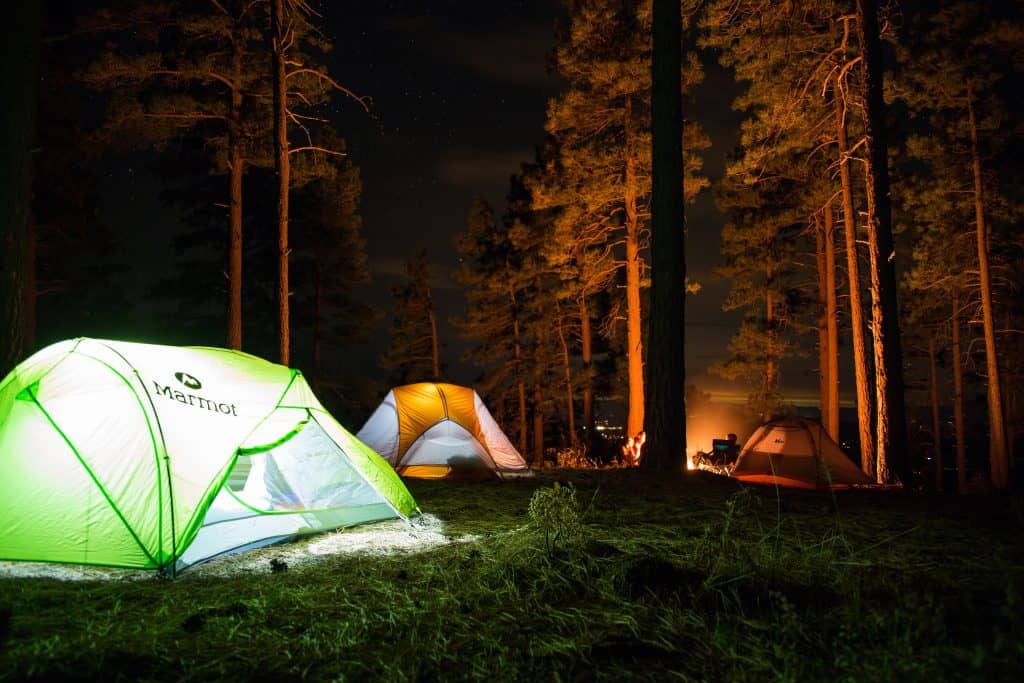 Whether you're shopping for your first hiking tent or looking to replace an old one, we'll help you make the right choice with our 
List of the top 5 best hiking tents that the camping world has to offer:
With a full interior length of 7 feet and 3 inches, the CLOSTNATURE Ultralight 3-Season Backpacking Tent is one of the largest hiking tents on our list — easily fitting two persons with more room to spare. More than its size, what makes this hiking tent stand out is its unique design. 70% of the tent is made of interior mesh walls from top to bottom along with two D-shaped doors, designed to provide maximum ventilation — making it the must-have when hiking in the summer.
Key Features:
210T polyester flooring

PU 5000 coating

Factory-sealed seams

D-shaped doors

Interior mesh walls

Aircraft-grade aluminum poles

High strength composite clip

SBS zippers protected by velcro sleeves
Verdict: The CLOSTNATURE Ultralight 3-Season Backpacking Tent is a free-standing hiking tent, so it can maintain in shape without needing to be staked out, so it's easy to move and relocate without having to disassemble the tent — the perfect choice for beginner campers with no experience.
We can't talk about this tent without mentioning its durable construction: it's built with aircraft grade aluminum poles with a high strength composite clip — guaranteed to provide sturdy shelter after long hiking trips.
Packing up extremely small at only 1.75kg, the COLEMAN Ridgeline Adventure Tent is the perfect compact and lightweight addition for your next camping trip. Despite being ultralight, this hiking tent is large enough to fit up to three people. It's built with a lot of waterproof features, including a 190T polyester fabric that is seam-sealed to prevent water leakage and bolstered with a PU 2000mm rainfly — ensuring that it will stand up to colder and warmer seasons.
Key Features:
190T seam sealed polyester

PU 2000mm water-rated fly

Heavy duty 190T polyester bathtub floor

Ultra-fine mesh inner

2-pole tunnel construction
Verdict: The COLEMAN Ridgeline Adventure Tent is a 3 season tent — which means it's designed primarily to keep your pack light while still offering protection from bugs, wind, and rain. For this purpose, it has been tested against winds of up to 100kph and is constructed with a heavy duty 190T polyester bathroom floor, so that adverse weather will not be an issue on your trip.
Planning to go on your first solo hike? The NATUREHIKE Cloud Up Tent will make a great addition to your gear checklist. Aside from being compact and lightweight, this hiking tent can be trusted in a range of different climates as it comes with a built-in rainfly made of 20D ripstop nylon that's bolstered with silicone coating with a waterproof rating of 4000+ — ready to provide instant rain protection.
Key Features:
20D ripstop nylon with silicone coating

PU 4000mm water resistance

UV 50+ sun protection

Anti-scratch 20D nylon mesh

7001 space aluminum poles
Verdict: The NATUREHIKE Cloud Up Tent is a great entry-level tent for solo hikers who want to spend more time exploring the great outdoors. It's a completely freestanding model that provides easy one-person setup. This hiking tent is both waterproof and windproof, combining all the necessary features to provide ultimate weather protection, including good thermal insulation and excellent UV protection.
With its lightweight and simple design, the OZTRAIL Nomad Hiking Tent is a great option for minimalist hikers who appreciate no-fuss set ups. Installation takes less than 5 minutes, since all it takes is fitting the fiberglass poles through the sleeve and pegging the ends of the tent. The interior is made from a no-see-um mesh lining that allows air to flow through while keeping insects out of your space.
Key Features:
No-see-um mesh interior

Short section fiberglass poles

190T polyester fly

Polyester tub style floor

UVTex coating

Internal storage pockets

Air flow vents
Verdict: Convenience is the name of the game when it comes to the OZTRAIL Nomad Hiking Tent. This minimalist hiking tent has internal pockets that provide a safe space to stash your valuables and extra hiking gear. The tent fits two persons and comes with tow large sized doors on either side — you and your hiking companion can get in and out of the tent with ease.
As its name suggests, the TETON SPORTS Vista 1 Quick Tent is one of the quickest tents to set up. The design resembles a typical pop-up tent, so that installation only takes three easy steps: roll it out, lock in the poles, and pull the drawstring — the entire process taking just over a minute to complete. The inner comes with a micro-mesh lining that provides sufficient ventilation, while a built in elite rainfly provides full coverage to keep you dry in case of inclement weather.
Key Features:
75D Taffeta fabric

Instant pop-up design

Micro-mesh inner lining

Built-in rainfly

Integrated aluminum poles

Comes with storage bag
Verdict: With a design that pops up in an instant, there are few tents that offer the same degree convenience of the TETON SPORTS Vista 1 Quick Tent. This hiking tent features a central hub for integrated poles that makes setting up extremely easy for beginner hikers. It also comes with its own storage bag so it's easy to carry on your back as you hike.
THE BEST HIKING TENTS -- WHY BUY ONE ANYWAY?
When you're hiking, you'll have to carry each piece of essential gear with you every step of the way –which means traditional tents can be too bulky and heavy.
This is where hiking tents come in: they provide on-the-go shelter — a home away from home in the backcountry.
Hiking tents are designed to be carried and lived in for multiple days in the middle of nowhere. They're compact enough to carry on your back for miles — providing the perfect blend of lightweight materials, weather-resistant layers, and durable construction, while still remaining comfortable enough for a good night's rest after a long day's hike.
THE BEST HIKING TENTS -- BUYING GUIDE
Because the success of your trip depends on it, the hiking tent you choose is one of your most important gear-buying decisions.
To help you choose the right hiking tent, take note of the following important factors to consider:
1. Type of hiking tent
Freestanding Hiking Tents — These tents can hold their shape on their own without needing to be staked out, and receive their support instead from included tent poles that can be picked up and moved around easily. They are easier to set up, but can be a bit bulky to carry.
Non-freestanding Hiking Tents — These tents require staking out to keep their shape. They are most often single-wall designs that prioritize low weight and packed size. They are extremely lightweight and compact, but can be difficult to set up especially for beginners.
2. Ease of Setup

Some of the easiest tents to set up are A-frame or Dome Tents, since they only have two or three straight poles. It's also a good idea to look for included features that make setup faster, like color-coded poles, grommets and webbing, and simple pole structures.
3. Weight and Dimensions

The lightest hiking tents for one to two persons usually weigh less than 4 pounds, especially those that are constructed with aluminum alloys. When it comes to dimensions, the interior peak height is sufficient if you can sit inside the tent with ease.

4. Material

Most hiking tents are made of nylon or polyester which isn't waterproof by itself, so look for ones that are bolstered with PU coating to make them waterproof. Tents that are seam sealed are also a good choice, as they help protect against water leakage and breaks in the fabric.