Darche Car Awnings sell a huge range of awnings and outdoor gear for family adventures. Whether you are thinking about going camping or spending a day on the beach. When it comes to outdoor gear, Darche has thought about pretty much everything and anything.
Let's take a look at some of the company's most innovative awning products.
Car awnings are what Darche excels in manufacturing. Compared to other car awning manufacturers, Darche has a staggering choice offering car awnings with the addition of 180 walls and 270 walls.
This awning brings you instant cover when you pitch up. It offers 8.2 m2 of cover from the sun or rain. If you would like to upgrade your Eclipse 180 awning, you can easily add the matching walls.
The Eclipse 180 suits a wide range of vehicles and setups. Erecting the awning is simple. The task is easy for one person to complete. Packing it away is just as easy as setting it up.
Thanks to its heavy duty hinge sytem, the entire unit is held in place while you extend the awning and adjust the tension. As you set it up, two leg poles which are cleverly stored in the rafters are released. That completes the set up process.
Mounting brackets are included and easily fit most roof racks or steel baskets. The awning itself is manufactured in 320 gsm ripstop polycotton which provides excellent protection against the elements.
Also included is PVC cover for storage when you are on the road or storing your awning at home. The complete set up weighs only 18kg and is offered with a 3 year warranty.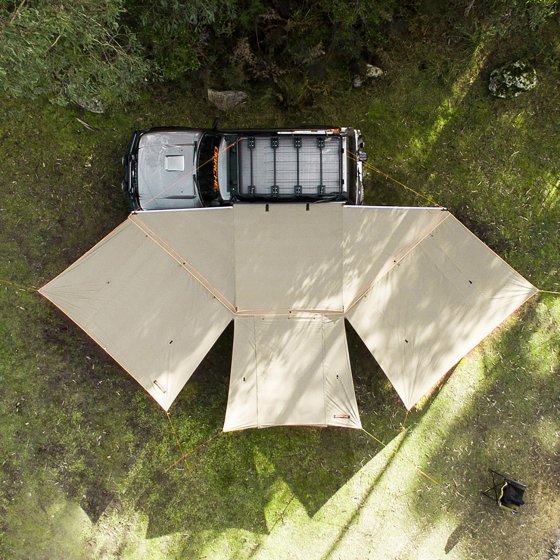 The awning fits in with most flat roof racks and steel cages. Nevertheless, you should always check with your manufacturer or give the company a call. Wall kits are available but are sold separately. Comes complete with a 3 year manufacturer's warranty.
Eclipse 180 Versatile Awning
When you are looking for a more flexible awning, you should consider buying the Eclipse 180 Versatile Awning. It gives you 4 m2 of protective cover. This awning has been designed for covering your vehicle it multiple ways. To offer you the ultimate flexibility, you can either side mount or rear mount this awning.
It is perfect for camp site use when you want to put up an awning more or less instantly. One person can handle both setup and take down in a matter of minutes. Included with the awnings are guy ropes and pegs to make sure it stays stabile once set up.
As with so many other Darche car awnings, it is manufactured using 320gsm polycotton which offers protection in both wet and dry conditions. Once again, Darche has thought about pretty much everything. Included in the package is a heavy duty cover for transportation and storage.
The awning fits in with most flat roof racks and steel cages. Nevertheless, you should always check with your manufacturer or give the company a call. Wall kits are available but are sold separately. Comes complete with a 3 year manufacturer's warranty.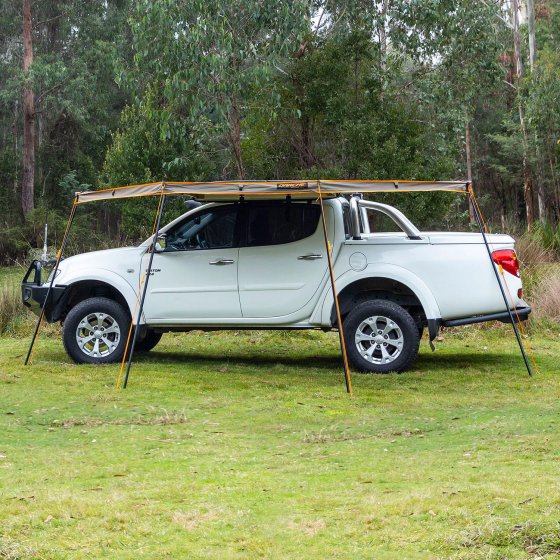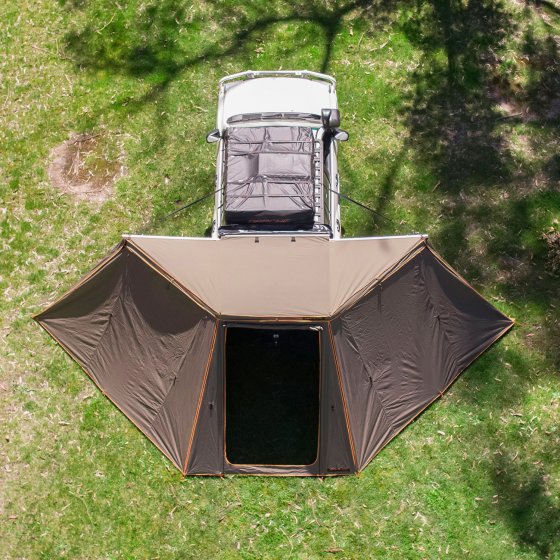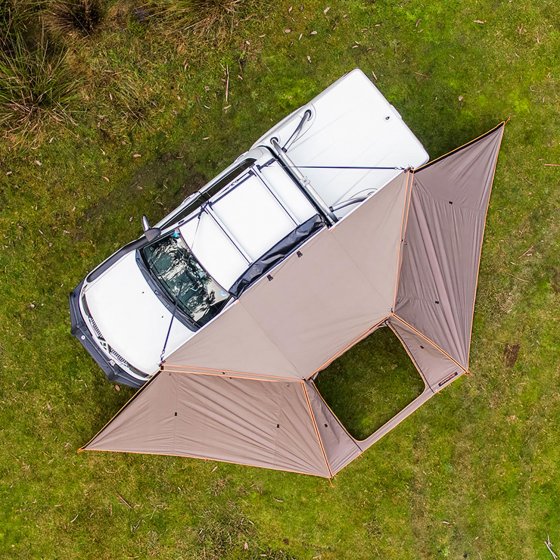 When you know that you are going to want extra shade and protection, this is the right awning for you. It offers 11.5 m2 instant cover. Despite the size of this awning, it is perfectly feasible to set it up and pack it away yourself.
This is a free standing awning offering you the best cover when it comes to protection from the elements. The sun can beat down or it can rain, you know you are going to be protected.
As an additional extra, you can add 270 walls to the Eclipse 270. In a short space of time, you can have all round protection for yourself and your camping buddies.
The material is 320 gsm ripstop polycotton. This awning is delivered you with a cover which makes it easy for you to transport and store the awning when it is not in use.
The awning weighs only 23kg but because of the weight distribution, it feels lighter. Darche offers a 3 year product warranty.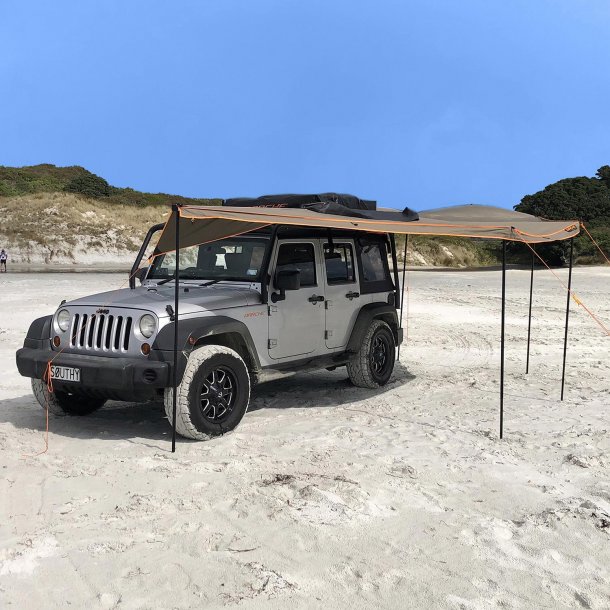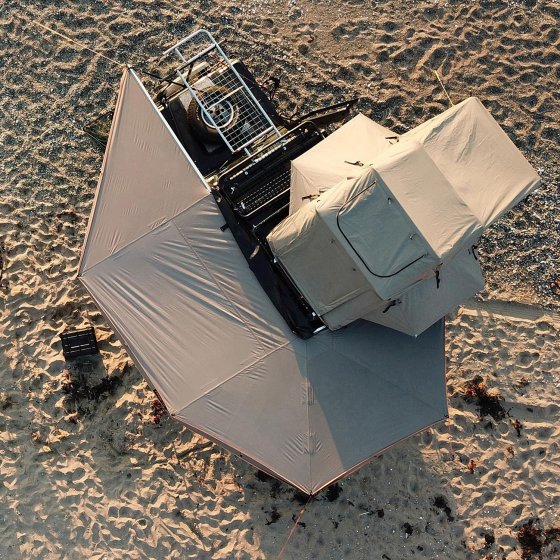 Another exciting large awning from Darche. Just as the Eclipse left, it offers you 11.5 m2 protection from the sun and other elements the weather may through at you.
The set up is easily completed by one person. The awning wraps around the side of your car and continues around the back. The leg poles are stored in the rafters of the awning and unfold as you unpack. Once unfolded, all you have to do is to attach the final leg poles and you are under cover.
Suitable for almost all straight roof racks and steel cage setups. Delivered to you in a storage and transportation bag for easy care.
It weighs in at 23kg and comes complete with a 3 year warranty.
Although not an awning, the Eclipse 2525 tent annex deserves a mention. This is a unique offering from Darche that gives you additional privacy. If you don't want to add complete walls to your awning but would rather opt for a tent like structure, the Eclipse 2525 is perfect.
Like so many other products offered by Darche, it offers the benefit of ripstop polycotton. A fantastic way of enjoy extra protection from the elements quickly.
Comes complete with a storage bag and everything you need to set up the annex. It is hard to believe the structure only weighs 11.6kg. A warranty of 3 years is also provided by the manufacturer.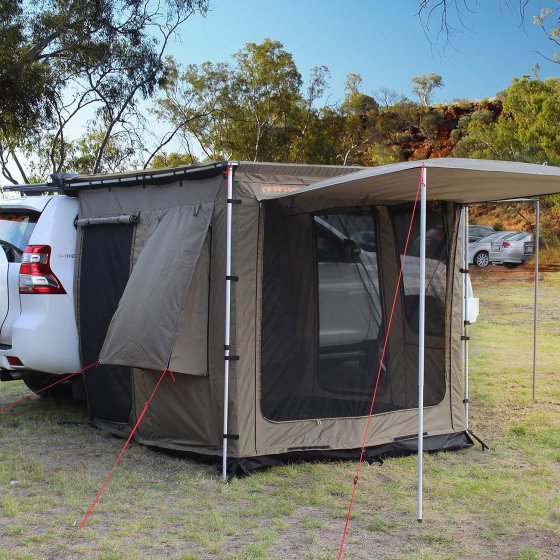 Conclusion
Darche offers a range of well thought out camping and outdoor products. The company's awnings offer excellent value for money. Thanks to the many exciting additional products, you can add and improve your awning at any time.
The 3 year warranty is also an integral part of the package and shows the manufacturer has confidence in its products. When you would like to know more about Darche car awnings or other products offered by the company, head on over to their informative website.