Here's the real deal — having the right type of bag for your outdoor adventure can make packing up and travelling a lot easier and less stressful.
If you're ready to hit the road, then it's the perfect time to shop for the best duffle bag.
Duffle bags have become a popular alternative to travel backpacks for good reason — they're roomy, easy to load and carry, and also look aesthetically pleasing. Despite being lightweight, they're built strong enough to take a beating. Plus, they can easily fold down and pack away flat for easy storage.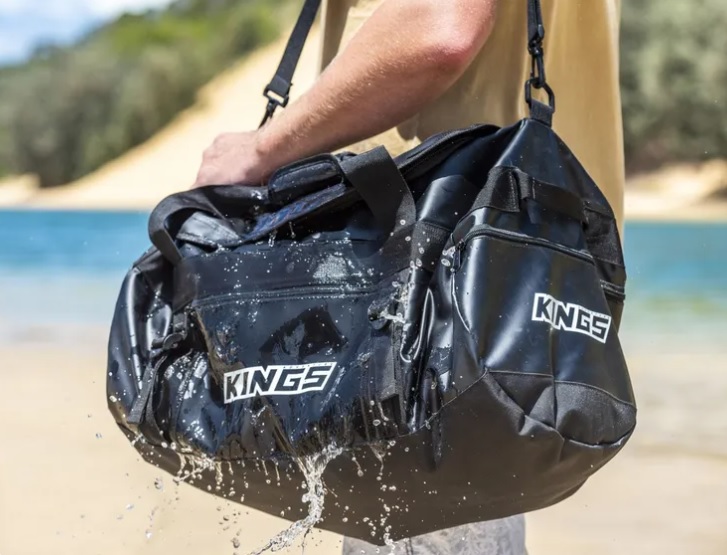 Today, there are a ton of duffle bags to choose from — including classic designs and even more modern convertible wheeled options.
Ready to level up your packing routine? Here are our picks for the
Top 5 best duffle bags on the market today
The MARMOT Long Hauler Duffle Bag stands out as being the perfect combination of durability and packability. It features an outer construction that's made of a strong blend of TPU laminated polyester with a standard thickness of 600-denier. This is bolstered by a secondary inner lining consisting of ballistic polyester — making it extra durable to brave the elements. Aside from having a large storage volume at 75 liters, it's also extremely easy to haul around with two main carrying straps joined by a Velcro handle, as well as removable straps that can convert it into an easy-carry backpack.
Key Features:
600D TPU laminated polyester

Ballistic polyester inner linin

D-shaped main zipper with protective rain flap

Side handles and haul loops

Convertible backpack straps

Double bottom for extra protection
Verdict:  With a versatile design and durable construction, the MARMOT Long Hauler Duffle Bag makes an excellent choice for the adventurer who travels with a lot of gear. Compared to other duffle bags on this list, this one has the most storage pockets with zippered compartments on the outside for larger items and internal pockets on the inside for your essentials. It opens up to a huge interior and has a reinforced bottom for extra protection.
Shopping for a duffle bag on a budget? At less than $30, the OZTRAIL Canvas Duffle Bag is a standard bag that's affordable but multipurpose — so it can be used in a lot of different outdoor activities from camping to hiking. Made with tough 14oz canvas material, it's strong enough to stand up against the elements but doesn't make any trade-offs when it comes to weight.
Key Features:
Tough 14oz canvas material

Heavy duty webbing handles

Continuous strap around the base

Reinforced bound seams
Verdict: The OZTRAIL Canvas Duffle Bag is the ideal option for overnighters or short holidays. The canvas material is bolstered with heavy duty webbing handles and reinforced bound seams for extra durability. The downside is that canvas isn't waterproof, so make sure to keep this duffle bag sheltered from the rain.
A lot of duffle bags on the market today are advertised as waterproof, which means they can withstand the usual rain showers. But what makes the YETI Panga Submersible Duffle Bag beat out the rest of the competition is that it's fully and completely water resistant — offering zero access points for wetness to ruin your gear. To say that this duffle bag is tough is an understatement: it's constructed with a laminated high-density nylon fabric that's reinforced with an EVA moulded base for superior protection against the elements.
Key Features:
Thick-skinned shell

Laminated high density nylon

EVA moulded base

Hydrolok zipper

Stowaway mesh pockets

Metallock hardware

Dry haul straps
Verdict: The YETI Panga Submersible Duffle Bag is a heavy duty bag that's the perfect choice for hardcore adventurers and athletes. Its heavy weight may not make it the ideal bag for overnight excursions but it definitely makes up for it by being both water-ready and air-tight — guaranteed to get you through the toughest outdoor conditions with ease.
Bigger is always better when it comes to duffle bags and the ADVENTURE KINGS Extra-large PVC Duffle Bag definitely delivers when it comes to size. As its name suggests, it has a large storage volume at 80 liters with a maximum length of 63cm — providing a lot of extra space to store your tools or camping gear. This dufflebag features tarpaulin-grade 600D polyester material that comes in a three layer design — making it not only tough but also hugely water resistant as well.
Key Features:
80 liter maximum capacity

600D polyester with tarpaulin-grade PVC finish

Heavy duty zipper

Tough metal buckles

Large top flap
Verdict: If your looking for a basic storage bag that won't empty out your wallet, then the ADVENTURE KINGS Extra-large PVC Duffle Bag is your best bet. At less than $70, you get a well-rounded duffle bag that's spacious, durable, and waterproof. This duffle bag is made even stronger with the addition of a heavy duty zipper and tough metal buckles for extra safety.
In terms of carrying comfort, nothing beats the OUTRAK PVC Duffle Bag. Its standout feature is its large and adjustable handles that puts less stress on the hands. This duffle bag also has compression straps that not only add an extra layer of protection when used as a sling bag but also brings in the bulk closer to your body for better weight distribution so it won't put too much strain on your arm.
Key Features:
90 liter maximum capacity

Waterproof PVC material

4 compression straps

Large U-shaped opening

Internal mesh pockets
Verdict: The OUTRAK PVC Duffle Bag is a great weekender bag for shorter outdoor trips. Its wide U-shaped opening makes it incredibly easy to pack and unpack your things. This duffle bag is equipped with mesh pockets in the interior that provides a lot of extra space to store your valuables while the PVC material ensures your gear is safe even during inclement weather.
THE BEST DUFFLE BAGS -- WHY BUY ONE ANYWAY?
THE BEST DUFFLE BAGS -- BUYING GUIDE
Duffle bags are a stylish and practical way to pack for a long weekend or road trip.
Whatever your priority is -- whether its style, durability, or capacity -- here are a few important factors to consider when buying your first duffle bag:
Storage Capacity
A duffle bag's capacity depends on the type of outdoor activity you'll be doing.
The minimum capacity is usually around 40 liters while the largest volume for duffle bags is in the 125 to 150-liter range. For intense outdoor sports like mountain climbing or diving, more extensive equipment is needed and requires a bag with a lot more space. But for general travelers heading on a camping holiday or road trip, standard sized duffle bags are enough.
Durability
 Duffle bags are constructed from different fabric, from nylon to canvas and even leather options. But to ensure your bag stands up against the elements, choose one that's made from nylon with polyurethane coating as well as one with a higher denier — ideally between 700 to 1000 — and waterproof coatings with reinforced bottoms for extra protection.
Most of the strain is on the straps and handles, to it's important to look for heavy stitching and seams on this particular area.
 Extra Features
 Here are some additional features to look out for:
 Organizer pockets
Laptop compartment

Wheels for easy transport

Backpack straps