Going outdoors doesn't necessarily mean going off-grid.
This is especially true if you're hiking or camping with a group, where constant communication is crucial to ensure everyone's safety.
That's where the best walkie talkies come in.
The idea of using a walkie talkie might seem a little outdated, but this hand-held device can offer two things your mobile phone can't — it allows you to connect to people in areas with no cellular coverage, and it has the ability to address a larger group of people at the same time.
Looking to stay connected but not sure which walkie talkie to pick? Don't fret — we've tested and determined the 9 best walkie talkies available today to help you find one that best fits your adventuring needs: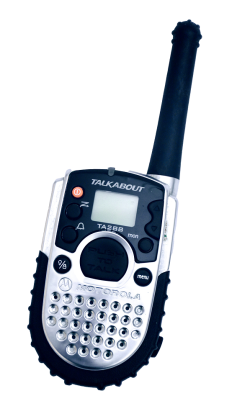 GME is an Australian brand that's known for producing quality antennas, radios and all types of accessories catering to the Aussie outdoor lifestyle — and their TX616OXO UHF CB Handheld Radio is one of the best products yet. This walkie talkie has unique features that caters to harsh conditions, including a class-leading 5 watt transmission power and an IP67 ingress protection rating that protects it against dust and also keeps it waterproof for depths of up to 1 meter. With a strong Li-Ion battery, this walkie talkie will last you for 30 hours of uninterrupted instant communication.
Key Features:
5-Watt switchable transmission

IP67 ingress protection

Up to 30 hours battery life

Built-in LED torch

Rotary power and volume control
Verdict: The GME TX616OXO UHF CB Handheld Radio is ideal for camping in remote areas with lots of thick forests. It stands out with its vibrant bright orange color that keeps you visible in foggy weather and dense bushland. This walkie talkie also comes with a built-in LED torch so you can use it at night.
If you're planning to go outdoors during rainy season, then the UNIDEN UH755-2DLX UHF CB Handheld Radio is your best bet to keep dry. This walkie talkie features a splashproof design — making it effectively water resistant and dustproof. It provides you with a solid 5-watt transmission that delivers up to 17km of wide range and has up to 80 channels for you to use. This walkie talkie is one of the most durable on the market today, with a metal alloy chassis that's built to withstand harsh environments.
Key Features:
6-watt selectable power

80 UHF channels

Backlit LCD display

Range extender capability

Shared quiet channel filter

17 km range
Verdict: The UNIDEN UH755-2DLX UHF CB Handheld Radio earns a spot on our list because it has an array of adjustability features. At the top of this list is its Shared Channel Quiet Filter that keeps it quiet — which is particularly helpful if you like to camp in crowded areas where channels are most often busy. Other features include an auto battery saver, voice scrambler, audio compander, and even has 10 different call tones.
If you're looking for a more modern option with advanced high-tech features, then the GARMIN Rino 750 Handheld GPS and 2-way Radio is the way to go. As its name suggests, this is a 2-in-one communication device — it's both a GPS navigator as well as a UHF radio. This walkie talkie is controlled via a 3-inch touch screen that also offers unit-to unit text messaging. Much like a mobile device, it also supports Bluetooth connectivity so you can use it with a wireless headset for improved communication.
Key Features:
5 watt radio with full function GPS

GLONASS Satellite reception

3-inch touch screen

Built-in position reporting

Altimeter, barometer and compass

Dual battery system
Verdict: The GARMIN Rino 750 Handheld GPS and 2-way Radio is the ideal option for adventurers who want to go off-grid, since it comes with a lot of security features that allows you to seek help fast in emergency situations, including a high-sensitivity GPS with GLONASS satellite reception in more challenging environments. It also keeps you informed with the latest weather updates with its animated weather tracking feature and 3-axis compass with barometric sensors.
More channels means more chances for communicating, and the ORICOM 2-Watt Handheld UHF CB Radio definitely delivers when it comes to this feature. This walkie talkie comes in a twin pack that offers up to 80 channels and also has a dual channel watch that's easy to scan. It provides you with strong 2 watts of transmitting power as well as the brand's signature duplex technology that extends and provides you with a wider range — even in places where there is little to no cellular coverage.
Key Features:
2 watt power transmission

80 channels

Duplex range extending technology

LCD display
Verdict: The ORICOM 2-Watt Handheld UHF CB Radio is the ideal choice for beginners because of its user-friendly interface. It features an easy-to-read LCD display that allows you to control the settings and scan channels with ease, and even comes with an auto squelch. This is a twin pack set, which means it comes with all necessary accessories like a charger base and belt clips.
No matter where you are, you are always connected during your land or even water escapades. With Oricom's waterproof portable radio, you don't need to be concerned about the tests of time, accidents, and environment situations.
Key Features:
5Watt switchable power
With 80 channels
Quick charge with 240v adaptor
30 hours battery life
Chassis made of diecast metal
Verdict: Oricom has been known for its durable radios and has been considering their clients' needs over the years. With its extensive LCD display placed on the body, this handy radio can be easily accessed and can be very dependable for communication. 
Make a difference by using this radio from GME. TheTX6160 radio pack is the all-in-one and rugged version of the TX6160OXO as it comes in a kit including all the necessary and additional accessories for your outdoor ventures.
Key Features:
5Watt switchable power transmission
30-hour operating time
IP67 rated ingress protection
With LED torch built in
Verdict: Beating its predecessor, the GME TX6160 5W radio pack is now one of the best option to choose from the market of UHF CB handheld radios. This versatile and class-leading radio is made from an ultimate demand of uninterrupted and high-quality communication experience.
Going on an offraod trip with families and friends? Get your hands and always stay connected with the Ecoxgear handheld radio pack. For a very affordable price, you get 4 multicoloured handheld radios and never fear on missing out!
Key Features
3km range
0.5 Watt transmission
20 hours battery life
Auto squelch technology
3-year warranty
Verdict: No more worrying about communicating to your huddle and stay updated with their latest happenings from afar.Don't miss this steal package for your next adventure. The range of colors available are sure to fit anyone.
For beginners that need basic communication from the main speaker, the GME GX625W handheld VHF marine radio is targeted and recommended not just for maritime professionals but for naval situations.
Key Features
Switchable 5Watt power transmission
1200mAh Li-Ion battery pack
Ingress protection rated at IP66
Wide LCD Display
International, USA & Canadian channel settings
Verdict: No more worrying about communicating to your huddle and stay updated with their latest happenings from afar.Don't miss this steal package for your next adventure. The range of colors available are sure to fit anyone.
If you're looking for a walkie talkie that won't break the bank, then the ORICOM 0.5-Watt UHF CB Radio should be at the top of your list. For less than $60, you get an efficient 2-radio kit that provides you with up to 80 channels and a duplex range extender that keeps you connected with a range of 3 km. Easy to use and compact, this is a great travel friendly option for you and your friends.
Key Features:
0.5 watt power transmission

Up to 3km range

80 channels

Duplex range extender

Channel scan

Power save mode
Verdict: The ORICOM 0.5-Watt UHF CB Radio works great when you're going on a 4WD adventure, as it provides you with clear interaction with the rest of your convoy. It comes with a hassle-free channel scan that's easy to use even for beginners, and also has a convenient power saving feature to ensure your battery's lifespan will last longer in the outdoors.
THE BEST WALKIE TALKIES -- WHY BUY ONE ANYWAY?
1. Unlimited Communication
Unlike your mobile phone, walkie talkies will provide you with a free way to instantly contact other people — without having to worry about cellular signal.
This is particularly helpful when you're camping out in remote areas, where it may be your only way of getting help in case of an emergency.
2. Easy To Operate
You don't need any technical knowledge to operate a walkie talkie.
Unlike mobile phones, you don't have to dial any number or have any apps installed. All you have to do is press the transmit button to establish instant communication.
3. Ideal for Outdoor Activities
Walkie talkies can be clipped onto your belt or shoulders, so you can use it hands-free. The push to talk button also helps you answer calls immediately even while you're busy doing other things, like setting up your tent.
4. Clear Interaction
Unlike mobile phones where call quality depends on a lot of factors, a walkie talkie allows you to communicate clearly with other people regardless of the area or environmental conditions.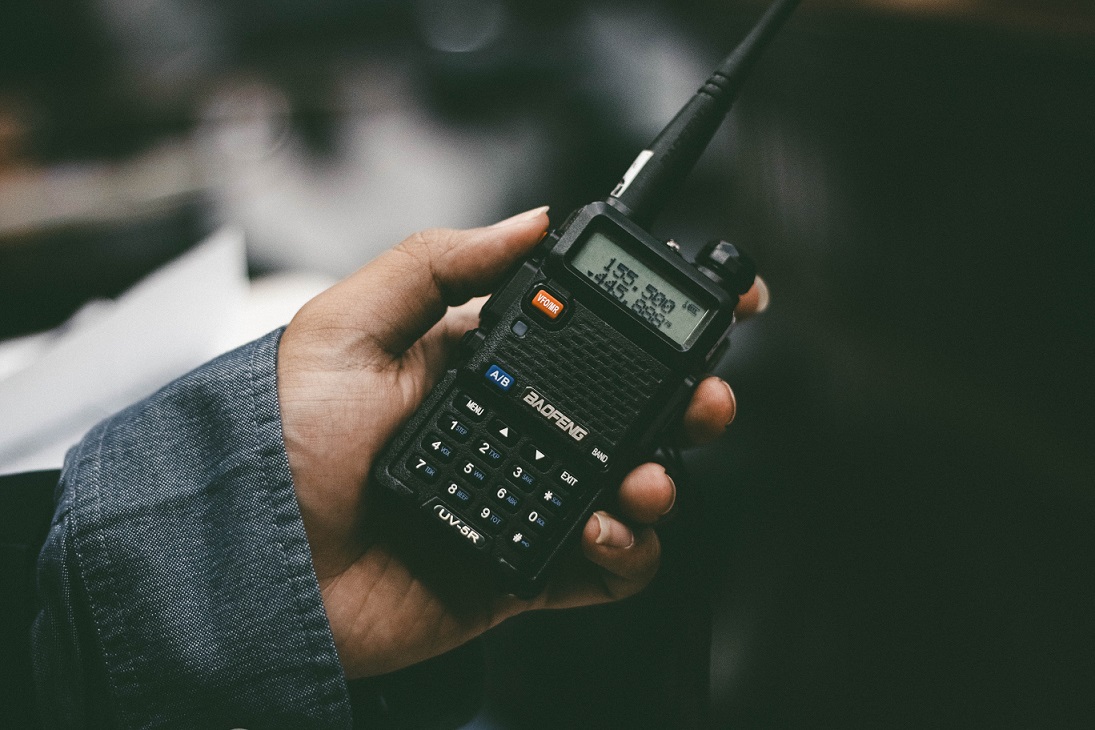 Car Awning Buying Guide
Choosing the best walkie talkie for your outdoor adventures can be a complicated task.
To help you get you one step closer to find one that suits your budget and needs, here are a few important factors you should consider: