Aussies are known for their laid-back attitude and love of the great outdoors, so it's no wonder why camping has become the most popular outdoor activity in the country.

But here's the real deal — because they're so in demand, most public campsites across the country are overcrowded and overbooked. In the previous year alone, Australians spent a record breaking 60 million nights camping and caravanning.

And with campgrounds packed to the hilt, finding a quiet site away from the crowds is next to impossible.

That's where Hipcamp comes in.

Hipcamp is a website and mobile app (Apple/Android) that offers outdoor stays and camping experiences — rightly described as the Airbnb for camping.

It also acts similarly to Airbnb — but instead of booking vacation homes, you're browsing through thousands of private campsites.
Private landowners (known as Hipcamp Hosts) offer up their private property for you (the Hipcamper) to book — a place to park your RV or pitch your tent. Most of the time you'll be the only one there — making it a peaceful and serene getaway as well as a nice break from the usual crowded camping grounds.
What types of locations are available on hipcamp?
Currently, there are over 50,000 Australian campsites available to discover and book on Hipcamp.
These campsites vary from primitive sites for tents only to RV sites with partial or full hookups. Some more unique bookings include romantic tree houses, beachfront parks, remote desert locations, and even fully functional cabins.
But keep in mind that this isn't Airbnb — so don't expect glamorous mansions or rich vacation homes. The website caters primarily to providing nature lovers with a chance to connect with serene and natural environments, so some locations might not have running water or electricity.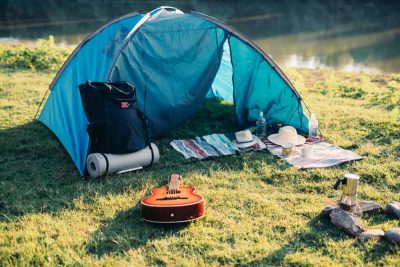 FAQS: WHAT YOU NEED TO KNOW ABOUT HIPCAMP
1. Is Hipcamp legit?
Yes — Hipcamp is a legal and legit business!
Hipcamp is trusted by thousands of users, with a verified rating of 4.7 in the Apple App Store and Google Play.
All Hosts are required to verify their identity, and Hipcamp undertakes an internal quality assurance process to ensure they abide by Hosting Standards and an Inclusion Policy. Hipcamp also has the confidence of Investors, with over $25million in funding and high profile investors including Will Smith and Jay-Z.
2. Is the Hipcamp App free?
The Hipcamp App is totally free to use!
For Hipcampers — Jump onto the Hipcamp website (www.hipcamp.com) and create a free account. Be sure to take a few minutes to fill out your profile completely. For Hosts — Creating a listing is completely free with no strings attached. You get to keep 90% of your earnings from bookings, and Hipcamp uses the remaining 10% for support team access and insurance.
3. Is Hipcamp only in the USA?
No. While Hipcamp started in the USA, the website has expanded abroad and currently exists in three countries — USA , Canada, and of course, Australia.
4. Is Hipcamp an Australian company?
No. While Hipcamp currently lists more than 50,000 campsites in Australia for bookings, the website actually originated in San Francisco, California in the United States.
5. How long has Hipcamp been around?
Hipcamp has been around for 9 years.
The company was founded in 2013 in San Franciso, California by CEO Alyssa Ravisio. Her goal was to unlock more ways for people to get outside and recharge, as well as help private landowners find alternative revenue streams.
6. How do I leave a review on Hipcamp?
Both Hipcampers and Hosts are given the opportunity to leave feedback after a completed trip.
Hipcampers have 14 days to leave reviews, while Hosts have 3 days. If both parties leave reviews, they will both be posted publicly at the same time. But if only one party posts a review, it will appear publicly after 3 days.
Hosts can also reply to a review on their listing after the review is published.
7. How do I get my Hipcamp refund?
If you have a negative experience and request a refund, the Hipcamp support team will first send an email to the Host and ask if they are willing to refund your payment. If the Host does not respond within 48 hours, Hipcamp will process your refund which will be deducted from the Host's next payout.
KEY FEATURES: HOW HIPCAMP WORKS
1. Free Sign Up

Creating an account on the website is completely free and easy. It allows you to sign up with your email or through other integrations like Facebook and Apple.
2. User Friendly System

The Hipcamp website works just like Airbnb.

You can simply search for a location, add your trip dates, and you'll be instantly presented with available options. After you've finalized a booking, Hipcamp charges you for payment only when your request to book has been accepted by the Host.
3. Lots of Helpful Filters

Hipcamp has many filter settings that can help you make sure that you get the type of accommodations you want.

For instance, you can narrow down your search by price point, RV length, number of guests of allowed, pet friendly options, and the like. You can also search based on available amenities, such as electricity and air conditioning — so you don't have to rough it in the outdoors unless you want to.
4. Easy Search Options

Aside from searching a location, Hipcamp also has an easy-to-use map that you can move around to find available sites near you. Using the zoom tools on the map, the website will sow you the closest campsites available (with a green tent icon indicating each campsite).
5. Minimal Hosting Requirements

If you want to list your property as a HipCamp Host, the minimum land requirement is generally just two acres — so you can expect some listings to look like ordinary suburban backyards.

Hosts have complete freedom to impose other requirements, like available dates, pet accommodation, and proper waste disposal rules.
6. Responsive Support Team

Hipcamp's support team is on call 7 days a week, whether you need help with a booking or have a quick question about your listing.
FOR CAMPERS:
1. Ultimate Privacy

After all, the whole point of camping is to go into nature, not into crowds.

Since Hipcamp sites are private properties, you are often the only person camping at the location. Many of the listings on the website only offer one campsite per landowner — so once you reserve teh spot, you can be confident that you have the place all to yourself.
2. Spontaneity Made Easy

Hipcamp makes it easy for you to come up with a spontaneous, last minute travel plan.

Unlike public campsites that have to be reserved at least a month in advance, Hipcamp allows you to choose sites that are available even within the day. The app lays out all the category options to help even the most indecisive camper choose a campsite.
3. Lots of Locations

With thousands of options across Australia, the possibilities are endless.
From glamping in rustic cabins to tent camping in a working 250-acre farm, Hipcamp helps you discover and book amazing campsites on private lands.
4. Join a Community of Conservationists

 Lots of campers have reported that the connections they form with their hosts and the land is one of the most rewarding parts of Hipcamp.

Visitors from all around the world get the chance to experience Australia from a different point of view — giving them a chance to connect with nature and ensure that their travel money goes towards the security and stewardship of private lands.
1. Additional Income
If you're not using an area of your land, why not turn it into a campsite?
Since Hipcamp doesn't have any specific requirements when it comes to amenities like electricity and running water, there isn't a lot of maintenance involved. It's one of the easiest ways to earn rental income without the amount of work you might need when renting a house.
2. Build New Skills
As a Host, you'll be essentially running a small business on your property.
Listing on Hipcamp will help you gain basic experience in land development, marketing, hospitality, as well as finance.
3. Inspiration From Other Hosts
The Hipcamp Host community gives you access to ideas from other Hosts across Australia — giving you important insight on how to better improve and develop your land to make it more profitable. Hipcamp also publishes its Host Journal regularly, with content that includes guides, newest trends, as well as ideas in land conservation.
4. Helpful Website Features
The Hipcamp website has a lot to offer landowners who list as Hosts. Some of these features include:
A money and tax management system
Calendar management software
1 million USD insurance policy
Fire ban notification tool
Professional photography to boost your listing
CONCLUSION

Hipcamp is an awesome option for individuals looking to book a unique camping trip.

There are some great pieces of private land across Australia — and Hipcamp allows you to enjoy a part of it for a short period of time. All you have to do is sign up for free to get access to some of the best locations around.