One of the most pressing questions every camper asks is: where can I find a power station for my essential appliances and gadgets?
The answer is simple — if you enjoy traveling light, solar power blankets are the best way to get all the power you need.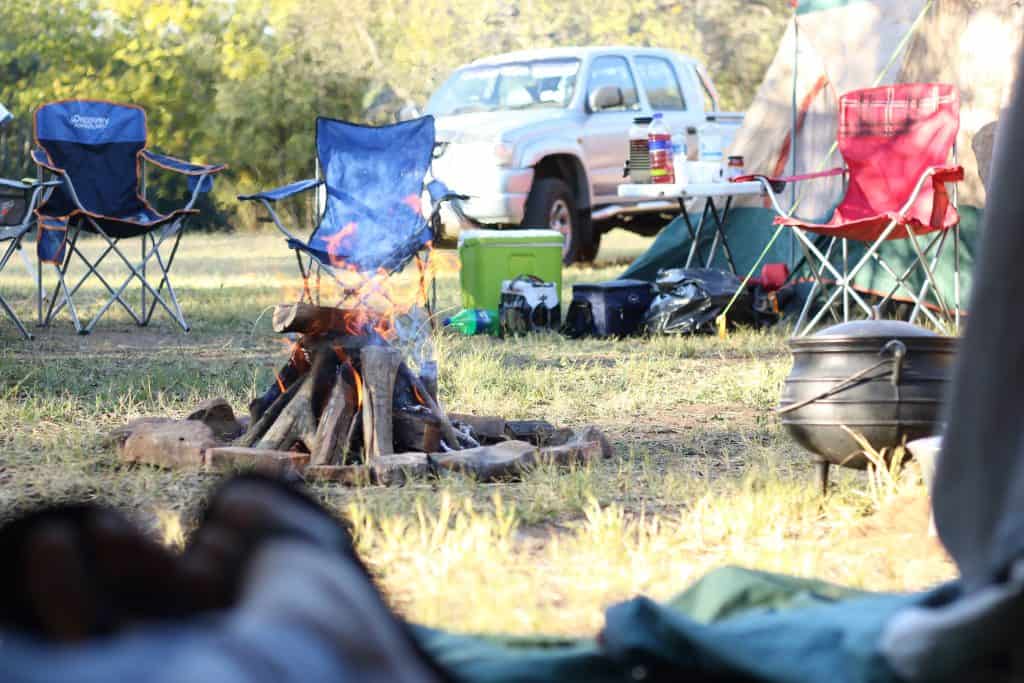 A solar power blanket is a device that consists of attaching solar cells to a flexible cloth backing –so you can easily fold it to its minimum size and pack it away with ease. Unlike traditional solar panels, these are more flexible, lightweight and convenient. They also come with a number of different features like USB ports that let you charge multiple devices at once.
Ready to power up your next camping trip?
Here are our top picks for the 5 best solar power blankets in 2022:
With its highly convenient and travel-friendly design, the EVAKOOL 200W EvaPower Ultralight Solar Power Blanket lands on the top of our list. This solar power blanket features a plug-and-play design so you can use it straight out of the box — no tools or complicated instructions required. This blanket is made of ETFE solar panels that features a 7-layer design which means they are more dirt resistant, have better heat transfer, a longer lifespan and better sunlight penetration.
Key Features:
ETFE solar panel

150W or 200W

4-panel configuration

A-grade monocrystalline solar cells

Built-in carrying handle

LED lights to show charge status

Anderson extension lead
Verdict: The EVAKOOL 200W EvaPower Ultralight Solar Power Blanket is a combination of the latest solar technology and the highest quality design. It is made even more durable with a construction composed of heavy duty canvas fabric in a 150W or 200W 4-panel configuration. Another standout feature is its flat-folding support legs at the back of each panel so you can easily adjust it to different angles.
2. REDARC 160W Monocrystalline Solar Blanket
If you want to go off-grid, the REDARC 160W Monocrystalline Solar Blanket is the perfect accessory to keep you powered up even in remote areas where they may be little to no electricity or power stations. This blanket has a high power output through its monocystalline cells which are smaller than traditional solar panels but do a better job of absorbing natural sunlight instead of reflecting it — making it a more reliable choice especially for remote travel.
Key Features:
160W monocystalline cells

Anti-reflective and scratch resistant ETFE coating

Standard Anderson plug connection

Canvas fabric
Verdict: Built for off road conditions, the REDARC 160W Monocrystalline Solar Blanket features a lightweight and rugged design. The construction is composed a heavy duty canvas covered in ETFE coating that not only makes it more durable but also keeps it safe from the elements like rainwater and rust. Lightweight and designed to be travel-friendly, this solar power blanket can be folded into a compact size for easy storage.
With a focus primarily on flexibility and portability, the ENGEL Powerfilm 60W is the perfect travel companion. This solar blanket can work under all kinds of light conditions and can be folded up into any size, so you can choose to drape it over your windscreen, hang it from the side of your awning, or even just lay it on the ground. It comes with a built in USB port so you can charge all your gadgets and electronic accessories.
Key Features:
60W PowerFilm solar cells

Compact fold-up design

Engel cigar socket for direct charging

Engel 4.5amp solar charger

3 year warranty
Verdict: Purpose built to accompany you on your travels, the ENGEL Powerfilm 60W is perfect for harnessing free power from the sun when you're out on the road or camping in more remote parts of Australia. Unlike other blankets on the market that need direct sunlight to fully charge, this one provides maximum absorption even in low light conditions. Because it has a wide range of output configurations, this blanket is capable of charging all types of batteries.
The BAINTECH 180W Foldable Solar Blanket earns a spot on our list because of one important feature: stability. One of the main concerns when it comes to solar power blankets is that since it is powered by sunlight, it may lead to unstable current and voltage that might damage your devices. To combat this problem, this solar blanket is equipped with its own voltage regulator to keep a consistent amount of current running and ensure stability.
Key Features:
180W power output

25% panel efficiency

2m extension cable with DC input

Voltage regulator

2 year warranty
Verdict: With a portable design equipped with a voltage regulator, the BAINTECH 180W Foldable Solar Blanket is a stable power source coupled with a high efficiency percentage. This solar power blanket comes with weather resistant features, including a durable outer coating and folding canvas. And because it provides up to 180W, this blanket is guaranteed to charge up your accessories faster.
No matter the weather, the Sunman eArc 235W Portable Solar Blanket promises to provide you with a steady supply of power. Its design features 48 solar panels that fold neatly into itself to form a carry bag with a handle, so that its easy to set up and pack away after use. The surface is textured and the top layer features a high strength flourine polymer that is resistant to both rust and stains — ensuring that they last longer through all kinds of weather conditions.
Key Features:
235W monocrystaline silicon solar cells

Anderson controllers

PWM charge controller with LCD display

Flourine polymer outer layer

Anderson connectors

Alligator clips for easy battery connection
Verdict: Weighing only 7kg, the Sunman eArc 235W Portable Solar Blanket is one of the most lightweight solar blankets on this list. This blanket works even in low light conditions and withstands all kinds of temperature variations. As an added bonus, it comes with a built-in storage pouch so you can neatly store all the cables when not in use.
THE BEST CAMPING SOLAR POWER BLANKETS -- WHY BUY ONE ANYWAY?
Adding a solar power blanket to your camping setup is one of the easiest and most efficient ways to power your appliances and get extra power back into your batteries.
1. They are convenient and easy to use

You no longer have to worry about charging your appliances wherever you go.

These blankets are both easy to set-up and even easier to pack-up and store. You can either drape it over your car, hang it from the side of your awning, or even just spread it out across the ground. Its lightweight design saves space and weight in crowded vehicles.

2. They are eco-friendly

Solar power is a renewable, carbon-neutral source of clean and natural energy, making them 100% environmentally friendly. It's a great first step for anyone who wants to practice sustainable camping.

3. They are low maintenance

Solar power blankets save you money in the long run since you're basically getting free power and avoiding fees for using power stations.

4. They allow you to travel to remote areas

If you always need to be near a power station, it limits the places where you can set up camp.

Using a solar power blanket will help you explore more remote areas where electricity isn't readily available — without having to worry about a power station to charge your equipment.
THE BEST CAMPING SOLAR POWER BLANKETS -- BUYING GUIDE
If you've only just started to consider solar power blankets, choosing the right one can be overwhelming, especially now that there are so may size and price options.
To guide you in search, here are a few important factors to consider:

1. Technological Features

Look for a solar blanket that uses monocystalline cells which are smaller in size and don't take up too much space. Solar blankest are generally considered less efficient than traditional solar panels, so it's important to look for a model with a high efficiency percentage — and monocystalline cells do an excellent job at absorbing natural sunlight.

2. Size of the Blanket

Choose a solar blanket that is big enough to provide enough power to run your appliances and charge your batteries. Start by estimating how much power your appliances will consume over a period of 24 hours (in watts or amp hours).

3. Design Features

Look for additional features like USB ports and in-built chips that prevent your gadgets from overcharging. Some even come with aluminum or stainless steel holes that not only drain water in case of sudden rain, but also ensure that the blanket is corrosion resistant.

4. Additional Accessories

Look for accessories that add convenience, like some solar blankets come with adjustable legs on the back so it can capture sunlight at different angles. Some even have velcro attachments that make it easier to mount onto your car.