With its open paved roads, rugged mountain ranges and remote deserts — Australia is the perfect destination to put your 4WD to work. 
But joy rides at night come with its own challenges, so you'll need some serious lighting to stay safe and guide you on your way.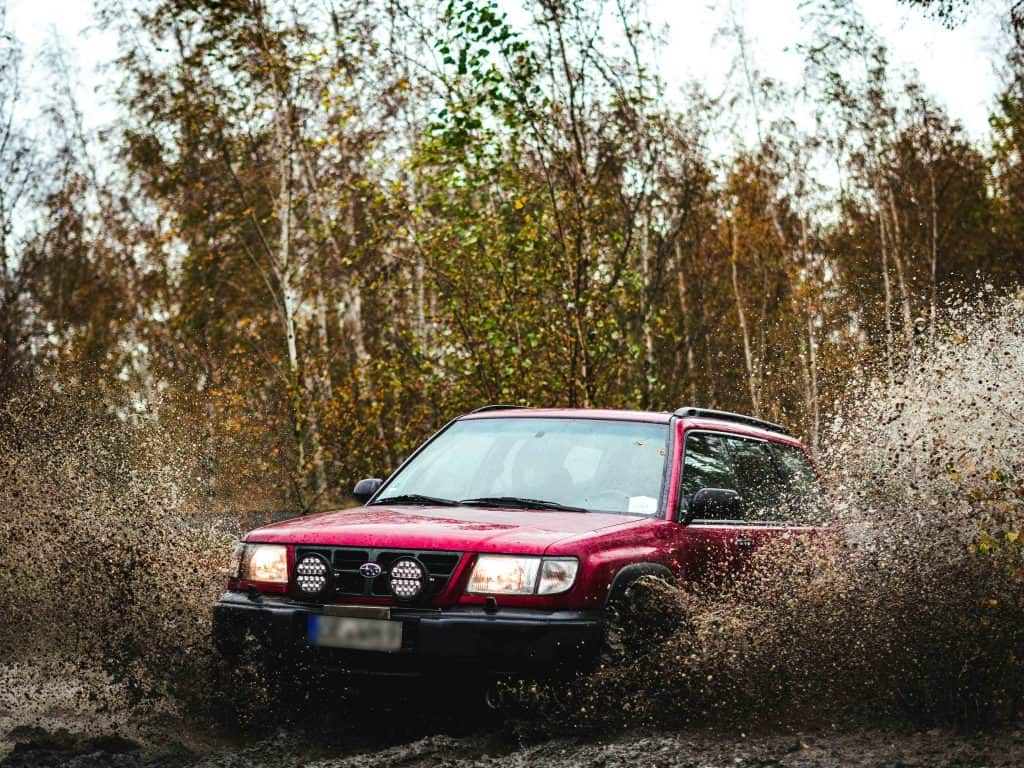 That's where the best 4WD spotlights come in. 
A solid set of 4WD spotlights mounted to your rig isn't just a cool look — it's a useful tool for illuminating your path especially during low light excursions in an off-road vehicle. They also help you manage dangerous driving conditions like facing mists or spotting crossing wildlife. They can even be used during emergency situations, like when you need to leave camp in the middle of the night. 
Ready to brighten up your night?
Here are our top 5 picks for the best 4WD spotlights available in the market today:
The ADVENTURE KINGS Lethal 9-inch Premium LED Lights tops our list because of its brightness and better contrast lighting. It delivers a powerful light output at 21,840 lumens — capable of illuminating even the most remote areas. What we like most about these lights is its warmer colour temperature at 5185 kelvin. This means that unlike most LEDs with a bright white light reducing your ability to focus on contrast, this one provides a more softer, warmer glow — still clear enough to see at night but a lot easier on the eyes especially when driving for long distances. 
Key Features: 
21,840 lumens 

Fitted with German Osram LEDs with flood reflectors 

5185K colour temperature 

Die-cast aluminium housing 

3mm thick folded steel mounts 

IP68 dust and waterproof rating 
Verdict: With excellent reviews across the board, the ADVENTURE KINGS Lethal 9-inch Premium LED Lights is one of the most trusted 4WD spotlights available today. It's fitted with 17 German-designed Osram LEDs that combine a spread beam with innovative flood reflectors on both sides — providing more light towards the sides of your vehicle and greatly increasing your peripheral vision at night. It's ideal primarily for long-distance driving through remote areas with little to no visibility. 
Durability is the name of the game when it comes to the HARD KORR BZR-X Series LED Driving Lights. It features a heavy duty housing made of aircraft-grade aluminium that's bolstered with powder-coated 4mm stainless steel mounting brackets — built to be strong enough to withstand the harshest outdoor elements. These spotlights pump out a high output of 22,588 with extra protection in the form of its IP68 waterproof rating — making them completely dust-proof and can even be submerged in water for an extended period of time. 
Key Features: 
22,588 lumens 

19 x 5W genuine Phillips Lumileds 

Precision engineered reflectors 

Aircraft aluminium housing 

Integrated daytime running lights 

IP68 rating 

6000k colour temperature

Anti vibration rubber case included
Verdict: True to its brand name, the HARD KORR BZR-X Series LED Driving Lights is a strong and durable product. Its ultra-slim design makes it easier to fit and is suitable for vehicles with narrow mounting surfaces. Despite its thinner build, these spotlights are capable of going the distance — shining in front of your 4WD up to 2.25kms with reflectors that provide a more concentrated light output. 
If you're looking for an affordable option but without any trade-offs when it comes to features, then the DUNE Round LED Driving Lights is your best bet. Each spotlight contains 37 units of 5-watt LEDs protected by a tough aluminium alloy housing. Its stainless steel brackets give you the range needed to come up with all kinds of mounting solutions on your vehicle by being fully adjustable for easy tweaking. A 3-bolt system ensures that despite its adjustable features, these lights are stable and remain in place even in the roughest terrain. 
Key Features: 
13,000 lumens 

37 5-watt LEDs 

Solid aluminium alloy housing 

IP67 rating 

3-bolt corrugation proof mounting system 

6000k colour temperature 

Adjustable brackets 

Stainless steel mounting bracket 

30,000 hours service time 
Verdict: With its affordable price tag and decent light output, the DUNE Round LED Driving Lights are an excellent choice for a first-time 4WD accessory purchase. Despite not being as bright as other lights on this list, it compensates by providing you with a long service life of up to 30,000 hours — recommended if you're planning to go off-grid for a long time. 
The BUSHRANGER Night Hawk VLI Series LED Driving Light pumps out a high output of up to 10,800 lumens while still remaining lightweight and compact at only 2.4kg for each spotlight. It features 37 German-designed genuine Osram LEDs which are durable and tough. But what makes this spotlight standout is its customizable design — you can change the beam from spot to flood using easy clip-on covers. A built-in temperature control system ensures that these lights always perform to their maximum potential. 
Key Features: 
10,800 lumens 

37 high output Osram LEDs 

Hard coated polycarbonate lens 

4mm steel bracket 

Die-cast aluminium housing 

PWM dimming for brightness control 
Verdict: Unlike other 4WD spotlights, what makes the BUSHRANGER Night Hawk VLI Series LED Driving Light unique is its combination of both a spot and flood beam — making it a great option for high-speed off-roading and at the same time, can be used as a stationary light to brighten up your campsite. It also comes with a lot of protective features, including a polycarbonate lens that not only improves optical efficiency but protects it from scratches. 
Low-profile design, advanced lighting and a durable build come together to give the XTM Paragon Laser Driving Lights the last spot on our list. Like most spotlights on this list, these lights also shine with OSRAM LEDs — but these go one step further by adding one laser LED in order to provide more power at a higher response speed. When combined, they produce a brightness of up to 16,600 lumens that go up to 1,989 per pair for long-distance illumination and visibility. 
Key Features: 
16,600 lumens 

24 Osram LEDs and 1 Laser LED 

Die-cast aluminium housing 

PMMA lens 

6000K color temperature

1 lux at 1,989m 
Verdict: The XTM Paragon Laser Driving Lights may be lightweight at only 3kg, but it's guaranteed to stand up against the harsh Australian environment. It comes with an array of protective features that include a die-cast aluminium housing, heavy duty lens cover that's scratch-resistant, and an IP68 rating to prevent damage caused by dust and water. 
THE BEST 4WD SPOTLIGHTS -- WHY BUY ONE ANYWAY?
There's a lot to consider when finding the best 4WD spotlights. So if you want to shop smart, here are a few important factors to keep in mind:
Type of Spotlights 
LED — the most common type of spotlights and popular among Aussies because they light up instantly while using just a little power, and provide excellent results in flood patterns. 

Halogen — they provide a yellow light that provides good contrast at night, but use a fair portion of power which is not recommended if you're going to remote places. 

HID — these lights use different reflectors and are able to shine several kilometres away. They use a lot less power but have a longer response time compared to halogen lights. 
Brightness 
If you usually drive at night, you'll need a spotlight with a high beam intensity that's capable of illuminating the terrain. The ideal light output should be around 5000 lumens or more, which should be enough to see you through most situations. 
Beam Pattern 
Spot Beam — provides long range lighting and a more focused circular pattern that's ideal for high-speed off road driving. 

Flood Beam — provides a wider pattern that illuminates both the area around and in front of your vehicle. It's used best as an alternative camping light, since it illuminates a larger area. 
Mounting and Installation 
Another important consideration is where you want your spotlights to sit on your rig. 
Take into account not only how they will look on your 4WD but more importantly, where they would provide a better performance and a higher intensity