Nowadays, the carbon footprint of the tourism industry is roughly 8% of the world's total. This includes the transportation emissions (planes, buses, boats) and all the industries that are part of tourism directly or indirectly. In other words, we are not living eco outdoor experiences.
But why is this important? Well, for us, who love being outdoors on an adventure, we fear our world is at stake. Indeed, we are nature's guests, and as such we should behave. So, instead of thinking of the wild outdoors as our own backyard, we should think of it as a place we have been very kindly invited to and need to leave exactly as we found it.
With that goal in mind, we created this short guide so you can enjoy the outdoors as much as the next generations.
Read on, take care of nature, and enjoy it for decades to come.
First, Eco-Conscious Gear
Going the extra mile for the planet is not a cheap decision for most companies. Therefore, those who do it will be more than happy to show it. Moreover, it will very likely be part of their presentation card and merchandising.
Among others, we can find jackets made entirely or partially with recycled plastic bottles, companies minimising the use of harmful chemicals, and ethical harvesting.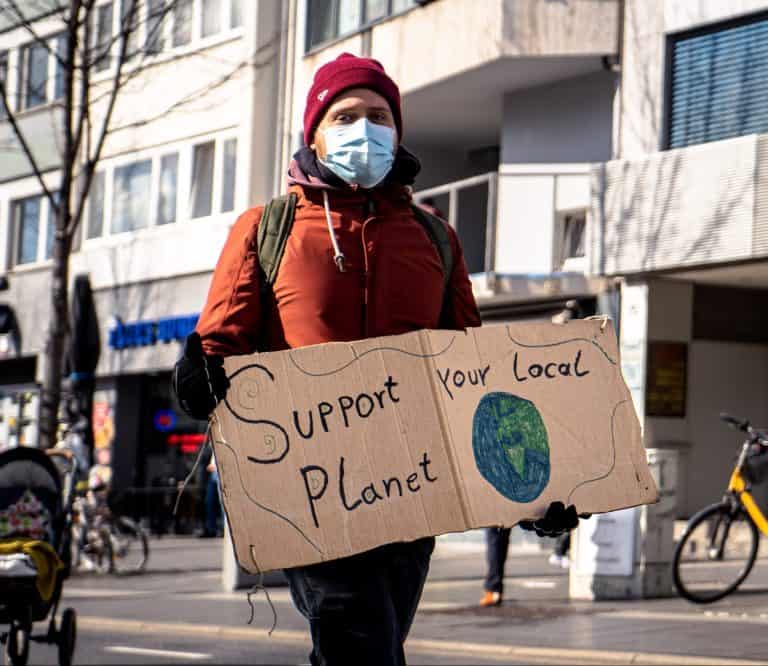 Here are some of the certifications you should be looking for:
Bluesign – This sign means that every step of the production was designed with an eco-conscious approach. By this, we mean reducing the use of harmful chemicals, and natural resources and maximising efficiency.
RDS – The acronym stands for Responsible Down Standards and it means that the down harvesting was done in an eco-conscious way meaning the least amount of suffering and harm to the animals as possible.
RWS – This acronym stands for Responsible Wool Standards and whenever you see it, the piece of wool you have in your hands was made with high standards in ecology and ethics. In other words, the sheep that was kind enough to lend you its wool suffered the least possible during the process.
Fair Trade Certificate – Finally, this certificate is for us, humans. It means that the people who crafted the goods with this seal were paid well, worked in human conditions, and weren't abused in any way.
When you buy from eco-conscious brands, you're pushing other brands to follow their example. Finally, although you might be spending a little more it's a minimal effort for the environment.
Second, Recycle, Repair, and Reduce
We live in a world in which buying new is much cooler than buying used, recycling, repairing, or reusing. Yet, that brought us to our current state of affairs; a highly-polluted world that keeps on utilising natural resources to manufacture new items to replace others that can still be used.
Well, when outdoors, we have the chance to break that cycle and do it differently. Let's see how the three Rs work:
Repair
For this, we need to bear in mind to bring a "personal repair kit" to fix anything that gets broken instead of throwing it away and buying something new. This goes for tents, backpacks, and clothes.
Recycle
Many items we buy along the way come in recyclable packaging. Also, most of the things we bring on the road can have a second, third, or fourth life. For example, you can donate all plastic and metal to recycling hubs and reuse bottles as much as possible.
Reduce
Reducing the amount you consume on the road is a tad easier than in cities because you have to take everything on your shoulders. Thus, if it's not paramount for the trip, it's dead weight. In this sense, a great way of reducing is trying to resolve all situations with what's already on your backpack, refilling instead of buying new and being conscious about things you can donate along the way.
Third, Minimise Single-use Things in your Backpack
When on the road you'll be tempted to buy "travel size" solutions that are handy, take up very little space, and are easy to get rid of. Still, that is not an eco-conscious move; on the contrary, it fosters single-use goods to be sold. An example could be travel-size shampoo or buying a water bottle in every town you pass by.
The eco outdoor approach we are pursuing in this piece is entirely different; it requires travellers to refrain from buying these goods and instead try to buy reusable receptacles. For example, buy a water bottle and refill it in every town. Better yet, you can pack some water filtration systems.
Also, buy a small bottle with a cap and refill it with shampoo as needed. In the same vein, buying biodegradable toiletries is a must. Finally, there are a lot of one-for-all biodegradable products that can be used as soap, shampoo, and dishwashing soap.
Fourth, The "Leave no Trace Behind" Universal Rule
This is a universal rule we have to use every time we hit the road. Indeed, there are absolutely no excuses not to leave a camping spot or any other destination modified from its original form. This can be achieved by following three simple steps:
Read your destination's rules – Every natural space we go to spend the day or the night has its own set of rules. Always be aware of them, use Google, read the signs, and don't overlook any details. Follow the rules at all times.
Before & after photo – The first thing I do when I reach a new camping spot is to take a picture with my cellphone before setting up the tent. Once we've collected it and are ready to go, I compare the photo with the spot and check I'm following the no-trace rule.
Flora and Fauna – Some places on Earth have more complex and strict rules about our interaction with flora and fauna. Be aware of that, and, if you're in a protected area surrounded by other species, make sure you behave and don't pick a flower, play loud music, or make fire.
Fifth, Take Good Care of Your Garbage
Finally, this is paramount when it comes to going for an adventure into the unknown: make extra room to get back with your garbage. Indeed, the further away into nature we go, the fewer the chances of finding dedicated trash bins or recycling stations.
Therefore, make sure you can physically bring back your garbage with you always.
The outdoors is always an invitation to go on an adventure. The irresponsible use of this privilege endangers natural beauties, is a hazard to the planet's future and harms the ecosystem, including flora and fauna. We need to embody change with an eco outdoor approach and matching behaviour; starting today.
Therefore, follow our tips above when planning your next adventure and have fun while protecting the environment at the same time.

Happy outdoor enjoying!