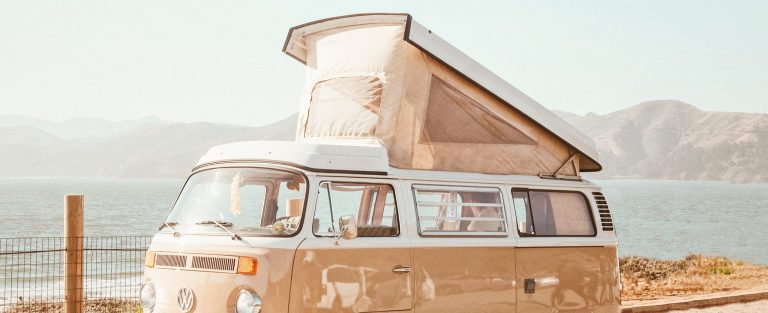 With stunning scenery and some of the best natural landscapes in the world — one of the best ways to enjoy Australia is to go on a camping adventure with your family.
But taking your camping trip off-road doesn't mean you have to forego all comfort and luxury.
So if you're looking for a new home on wheels but can't decide between a caravan or camper trailer, here's the good news — you can get the best of both worlds by investing in a hybrid camper.
If you're wondering what a hybrid caravans camper is, what it's benefits are and if it's worth it, then you've come to the right place.
This guide will cover everything you need to know about hybrid caravans and why it's one of the best investments for every adventure-loving family.
What is a Hybrid Caravans Camper?
A hybrid camper is basically a cross between a pop-up camper and a traditional bumper-pull travel trailer.
The term "hybrid" refers to the unique combination of caravan luxury and camper trailer convenience.
Its construction features a hard body and roof, but have lots of pop-outs made of canvas — giving you more interior space without the added length or weight. They are lightweight, spacious, and perfect for many camping families.
Key Features: What makes a Hybrid Camper Different?
1. Lots of Pop-outs
Unlike a traditional travel trailer, a hybrid camper is more expandable — designed to fit more people.
They feature slide-outs or pop-outs that are found on both ends of the camper (front/back or even on the sides) that are manually opened and are made of fabric walls — usually heavy duty canvas.
These pop-outs greatly expand the sleeping capacity without requiring a much larger overall length. This means that hybrid campers fit more queen size beds than a traditional trailer, since pop-outs are not as heavy and easier to implement.
2. Hard Sidewalls
Despite having lots of fabric pop-outs, the body of a hybrid camper — which contains the main living area — is made of hard sides, similar to a traditional trailer.
During bad weather, you can pull in the pop-outs and you're left with a hard-sided camper that offers protection and insulation from the cold. They also provide more privacy and sound installation compared to traditional pop-out campers.
Solid sidewalls also allows you to fit extra accessories such as electric awnings and LED camp lights.
3. Lightweight and Easier to Tow
A hybrid camper is generally more lightweight than a traditional hard-sided trailer.
This is because the pop-outs — which hardly add any weight at all — allow the hybrid camper to expand to a much bigger size without making it heavier.
Because of their smaller profile, hybrid campers can be towed with mini-vans or smaller sized SUVs, making them convenient for those new to camping.
4. External Kitchen Facilities
With hybrid campers, you get the high-quality kitchen of a caravan — but you also get the enjoyment of cooking outside.
To keep the size and weight down, the kitchen in most hybrid campers slides out of the body so you can cook outside the camper.
FAQS: Everything you need to know about Hybrid Caravans Campers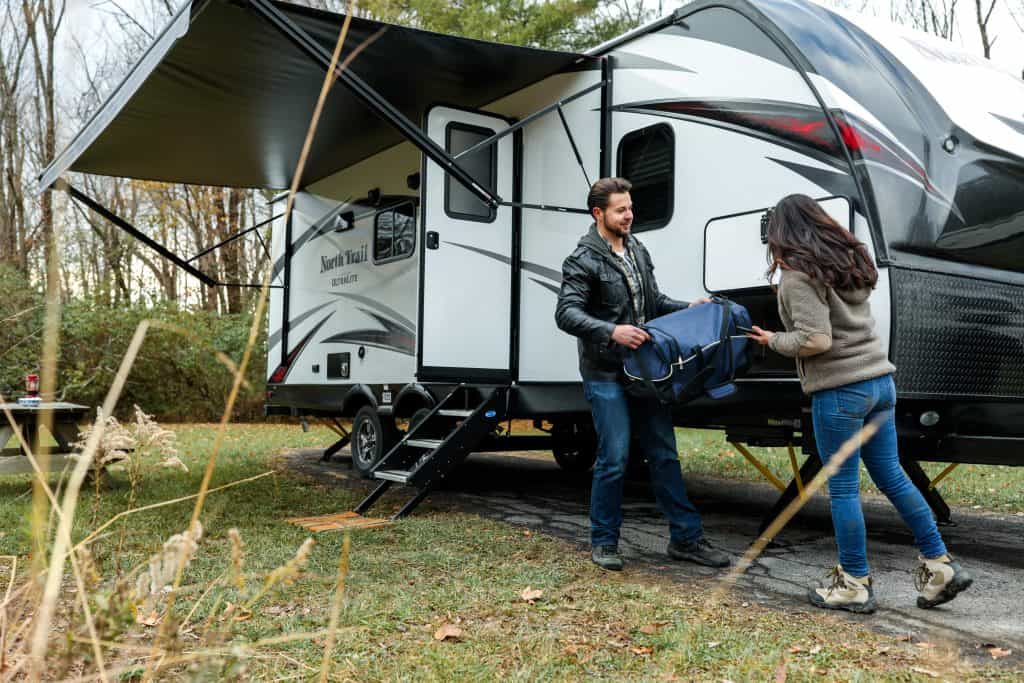 1. Are hybrid campers the same as hybrid caravans?
Yes! The two terms can be used interchangeably. They are sometimes also referred to as compact caravans.
They come in three different categories:
Micro-hybrid — generally less than 5.5 overall length and under 2.2m tall. They feature hard walls and a pop top roof with internal seating.
Full-size Hybrid — ranges from 5.6m to 7m long. The standard layout includes a lounge and table setup.
Hypercamper — features solid walls and roof to minimize setup efforts. It's characterized by its low storage and travelling height.
2. How much does a hybrid camper cost?
Hybrid campers that are manufactured overseas and imported to Australia start off at around $40,000.
Fully Australian-made hybrid campers, on the other hand, can cost as little as $36,000 and go up to around $200,000 for a high end, fully featured model.
3. What's the difference between a hybrid caravans and a caravan?
The main difference between a hybrid caravan and a caravan falls down to two factors: weight and size.
A hybrid caravan has a smaller profile — often the same width as a 4WD Awning – making them suitable for off-road use.
And because it's smaller, a hybrid caravan is also more lightweight compared to a traditional caravan. The addition of extra space comes in the form of fabric pop-outs which barely add any weight at all — making it easy to tow through narrow bush tracks.
4. Are any hybrid campers made in Australia?
There are many hybrid campers that are made in Australia, and there are also those that have components manufactured overseas and put together here.
Some of the most popular Australian brands include:
Mars Campers
Austrack Campers
Fantasy RV
Opus
Apache
Jawa Campers
Jayco
Kelly CAmpers
EzyTrail
Australian Offroad (AOR)
5. Where are Jawa hybrid campers made?
The components of Jawa Hybrid Caravans campers are imported from China but the full fit out and assembly is done at Jawa's main premises in Queensland, Australia.
6. Who owns Australian Offroad (AOR)?
AOR is locally owned and operated in Australia, with its main business conducted in Sunshine Coast, Queensland. All the components and fittings of their hybrid campers are 100% Australian made, ensuring total control over quality and build.
7. What is a hybrid off-road caravan?
As its name suggests, a hybrid off-road caravan is one that is off-road capable.
This means it is jampacked with off-road features like off-road suspension, off-grid capabilities (solar, water and waste tanks), angled rear end, bash plates, and stone guards.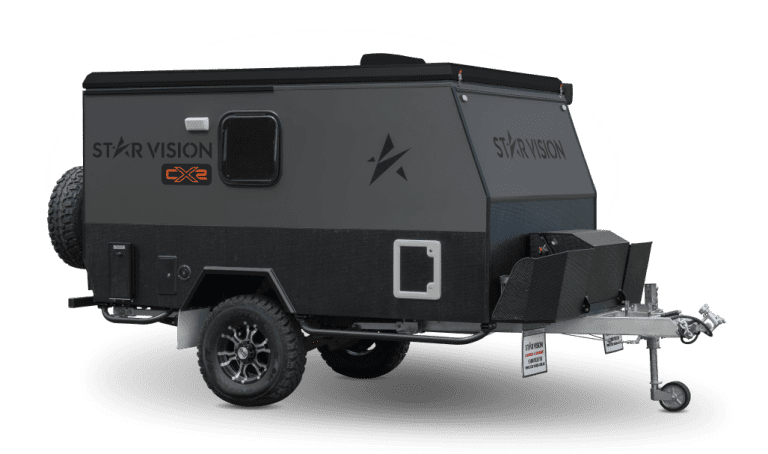 8. Are hybrid campers worth it?
Hybrid campers are an excellent choice for families or group camping, since they offer a spacious floor plan with a lighter weight for towing.
Having a lighter weight also means less gas — saving you money in the long run. And since most modern hybrids are built to last, you won't have to worry about water damage and leaks which are common problems with traditional pop-up campers.
9. Can you use a hybrid camper in the winter?
Absolutely! The great thing about a hybrid camper is that you can use it without having to pop-out the beds.
During winter or colder months, you can pull in the pop-outs and you're left with a hard-sided camper that offers protection and insulation from the cold.
Take note though that the area near the pop-outs will still remain a bit chilly because of the fabric, but the middle section and interior area of the hybrid will remain warm and cozy.
Benefits of Hybrid Caravans
Hybrid caravans offer several benefits that most standard campers don't. Here are a few:
1. Comfort of home in the outdoors
Comfort and convenience is one of the biggest reasons more Australians are choosing hybrid campers.
They often have built-in features such as large beds, dining tables, solar panels, air conditioning, and toilets that can make you feel at home during camping. They also have a spacious and well-organized kitchen that provides for a great cooking experience.
2. Less weight and more floor space
Hybrid campers keep the weight low but offer more floor space compared to traditional campers, since most of the sleeping areas are located in the pop-out sections instead of occupying the main interior living area.
3. Good security
Safety always comes first when camping.
Hybrid campers are equipped with lockable doors, while the floor, roof, and sidewalls are completely solid — so you can sleep easier knowing you're safe in the outdoors.
4. More amenities and storage
Since a hybrid camper is fully expandable through its pop-outs and slides, you get drastically bigger kitchens, fridges, and more storage space for your camping gear, cooking supplies, clothes, and more.
5. Simple and quick setup
Since most facilities in a hybrid camper are already built-in, you can get everything ready to go in just a matter of minutes. Unlike a traditional trailer, you don't need to set up the tent every time you go camping.