Camping chairs are a must-have for any camping trip. They provide comfort and relaxation after a long day of hiking and exploring. But with so many camping chairs on the market, it can be hard to choose the right one for your needs. To help you make the right decision, we've surveyed the market to bring you a list of the 5 best camping chairs in 2023!
There's nothing quite as relaxing as kicking back at the campsite after a long day of outdoor activities.
 And while there are plenty of rocks and stumps to sit on, they will never compare to the best camping chair.
Camping chairs should be on everyone's camping checklist. Unlike ordinary chairs, camping chairs are made to withstand various weather conditions. They are versatile and will help you relax in different environments — whether you're camping at the beach or out in the woods.
But with so many camping chairs to choose from, picking one that meets your needs can be confusing.
From camping, picnics, or even backyard barbecues, the COLEMAN 5 Position Padded Chair has everything you need to have a relaxing time outdoors. As its name suggests, this camping chair locks into 5 different reclining positions with an easy-to-use arm mechanism — customizable to fit your needs.
Key Features:
Completely folding

Powder-coated 25mm steel frame and steel arm for extra strength

5 position reclining chair with easy to use arm mechanism

Fully padded seat and back

Fully padded fold back headrest

Fold-out drink holder

Safety locking device
Verdict: To say that this camping chair is comfortable is definitely an understatement. With a fully padded seat and back, and a double padded back headrest, you can bet that the COLEMAN 5 Position Padded Chair is bound to give you the comfort of home in the outdoors. It also has enough back and height support to keep you a few inches above the ground and is secured with a safety locking device.
The OZTRAIL Moon Chair is designed to maximize comfort while minimizing space. The best part of this chair is that it's easy to set up — it folds up in seconds and has wrap-around arms for more comfort. When folded, it becomes small enough to fit into a compact carry bag and even has a wine glass holder for those long camping nights.
Key Features:
High tensile 17.5mm powder-coated steel tube frame

600D polyester fabric with a PVC coating

Comfortable armrests

Built-in oversize drink holder

Double-layer fabric with padded foam support

Wine glass holder
Verdict: The OZTRAIL Moon Chair has a single-piece seat design with padded fabric on all four sides for added comfort. With a high-quality steel tube frame, it's built to be durable and thick, with a single cover fabric for easy installation.
A fantastic way to enjoy trips is by having best camping chairs that is lightweight but compact and sturdy. This camping chair is ideal for all kinds of outdoor activities or events, it is durably made with 600D polyester and a steel frame coated with black powder making it look sleek yet functional!
Key Features:
115 kg loading capacity
Media & utility pockets
Designated cup holder
Made of rugged steel
Comfortable seat height
3-step folding
Verdict: The Expander Camping chair is an outstanding chair to sit in and carry around. It provides comfort and portability, and the design of it makes storage easier, especially for 4wd camping. If small side pockets are not a big deal for you, this camping chair might be the one.
This Oztrail Titan Arm camping chair is sure to make you the envy of all your friends at the camping area due to its sturdy steel frame, jumbo-sized cup holders, extra padding, insulated cooling bag, and mesh organiser to keep your essentials clutter-free.
Key Features:
Durable 3 cross-bracing hubs
With Stowaway technology for cooling drinks
Removable side pockets
600D double weave polyester fabric material
High-tensile steel frame
Verdict: The Oztrail titan arm camping chair boasts a 450 kg weight rating which is made and designed considering individuals who are on the plus size. The camping chair is equipped with all the necessary features at the right price, and we cannot see anything bad about it. 
The Dometic Guv'Nor camping armchair is made with a robust aluminium frame. It is lightweight, comfortable, portable and can be folded up neatly into its carry bag which also  functions as its headrest when set up.
Key Features:
600D polyester fabric material

Strong aluminium frame and rigid armrests
Cushioned storage pocket
2-year warranty
Verdict: As a drawback of the materials used for maximum portability and convenience, the Dometic Guv'Nor camping armchair can only provide a 120 kg load capacity. But even with this one flaw, this camping chair is a very comfortable to sit in, that you would wish you had more than one. 
The Oztrail Festival Arm Chair is the perfect size to lie in the sun and relax by the campfire or the outdoors without feeling as if it's small. What makes this as one of the best camping chairs in the market is because of its low seating position. It is also compact and very easy to carry around. 
Key Features:
16mm steel frame

Double-padded 600D polyester fabric
With 2 Cross-bracing hubs
Wide arms
Jumbo-sized cup or glass holders
Carry bag included
Verdict: The Oztrail Festival arm chair works like magic. With it being small and designed for low seating positions, it also compensates for its easy-to-fold feature, portability and light weight. It is perfect for camping, especially with children—all in all, a very well-made camping chair.
The Mountain Designs high-back adjustable chair is super compact but very comfortable to sit in. Built with sturdy materials, it features an adjustable padded headrest and back webbing tension straps. This is the perfect camping chair for warm conditions as it provides a mesh backrest for better airflow.
Key Features:
Only weighs 1.6 kg

Durable and portable
Made with breathable materials
Carry bag included
With a cord frame system
Verdict: This high-back adjustable chair is an excellent camping chair to carry and use indoors or outdoors because of its sturdy materials. Aside from being made for hot conditions, this chair is the perfect choice for people who prefer high headrest and lika reclined position when relaxing.
Heavy-duty and extremely durable, the KingCamp Folding Quad Chair is designed to be used by heavier people — capable of holding up to 350 pounds. The chair surface structure adopts double-layer quilting technology, which makes it more durable and comfortable. It also features an ergonomic high back design that provides sufficient support.
Key Features:
22mm quality steel frame

Durable 100% polyester

600D oxford fabric

Maximum weight capacity: 350 pounds

Ergonomic high back design

Double layer quilting technology

Cup holder and cooler bag
Verdict: The KingCamp Folding Quad Chair is built for tall people. With its high-quality steel frame, this chair is built to last for years, with its big leg cap preventing the chair from sinking on wet ground or sand. Another standout feature is its multiple storage bags, one on the left and one located at the top of the backrest.
Weighing just over a pound, the HELINOX Chair Zero is one of the lightest and most portable camping chairs on the market today — folding smaller than a water bottle for easy transport in your camping bag. But don't let its small size fool you; this compact chair can hold up to 265 pounds with a durable frame made from DAC aluminum alloy.
 Key Features:
DAC aluminum alloy frame

UV resistant ripstop polyester

Waterproof material

Single internal bungee cord for self-assembly

Packable size: 1.1 pounds

Maximum weight capacity: 265
Verdict: The HELINOX Chair Zero does an excellent job of balancing the trade-off between weight and comfort. The chair seat and carrying sack are made from durable and lightweight ripstop polyester that is both waterproof and weather resistant.
If proper back support is your main concern, then look no further than the TIMBER RIDGE TRFCH011LA Camping Chair. The backrest is high, with a full length of 42 inches from the ground to the top. Featuring an ergonomic design, this chair is fully reclinable to meet your comfort needs. The front legs are also adjustable for better weight distribution.
 Key Features:
Heavy-duty stable steel tube support

22-inch seat width

Fully adjustable backrest and front legs

Fully padded with a special high side cushion design

Maximum weight capacity: 300 pounds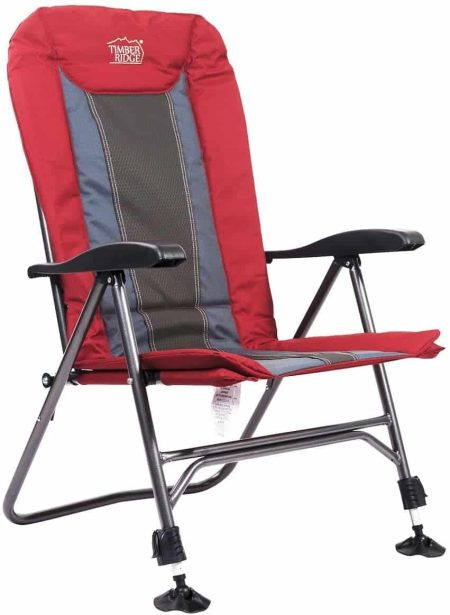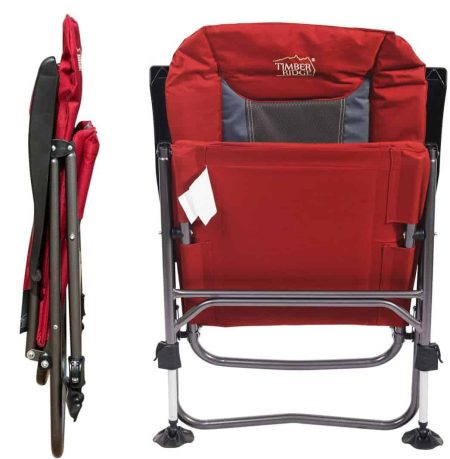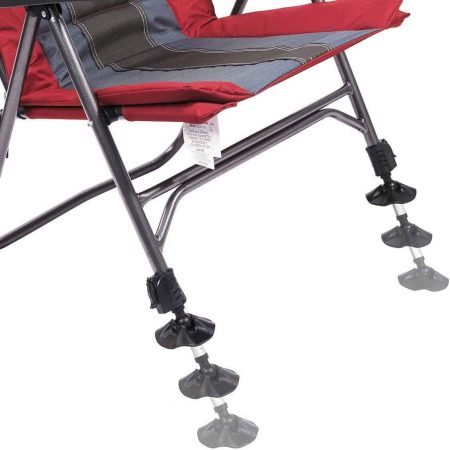 Verdict: With a fully adjustable backrest and padded seat, the TIMBER RIDGE TRFCH011LA Camping Chair is the best choice for back support. It provides the right balance between stability and comfort, with fully adjustable legs and breathable fabric that helps ease joint and back pain after a long day hike.
THE BEST CAMPING CHAIRS: BUYING GUIDE
Whatever your comfort level is, there is a camping chair available to accommodate your needs.
Bigger isn't always better when it comes to camping chairs. Low chairs are ideal for uneven or sandy terrain, but high chairs are easier to get in and out of, especially on leveled ground.
It's important to pack light when camping, so a lightweight chair is always the best option. A rule of thumb is that your camping chair should weigh only around 2 to 5 pounds, and not a pound heavier.
The best camping chairs should come in a compact size. There are even some that typically come with a carrying case that has a strap for easier carrying.
There are a variety of materials to choose from, but it's a good tip to choose chairs with legs made of either stainless steel or aluminum for their phenomenal strength-to-weight ratio. The fabric should be durable, water-resistant, and at the same time comfortable. Coated ripstop nylon, closed-cell foam padding, and similar blends are a good start.
To get the best value for money, choose camping chairs that come with built-in accessories like cup holders, extended pads, and armrests.